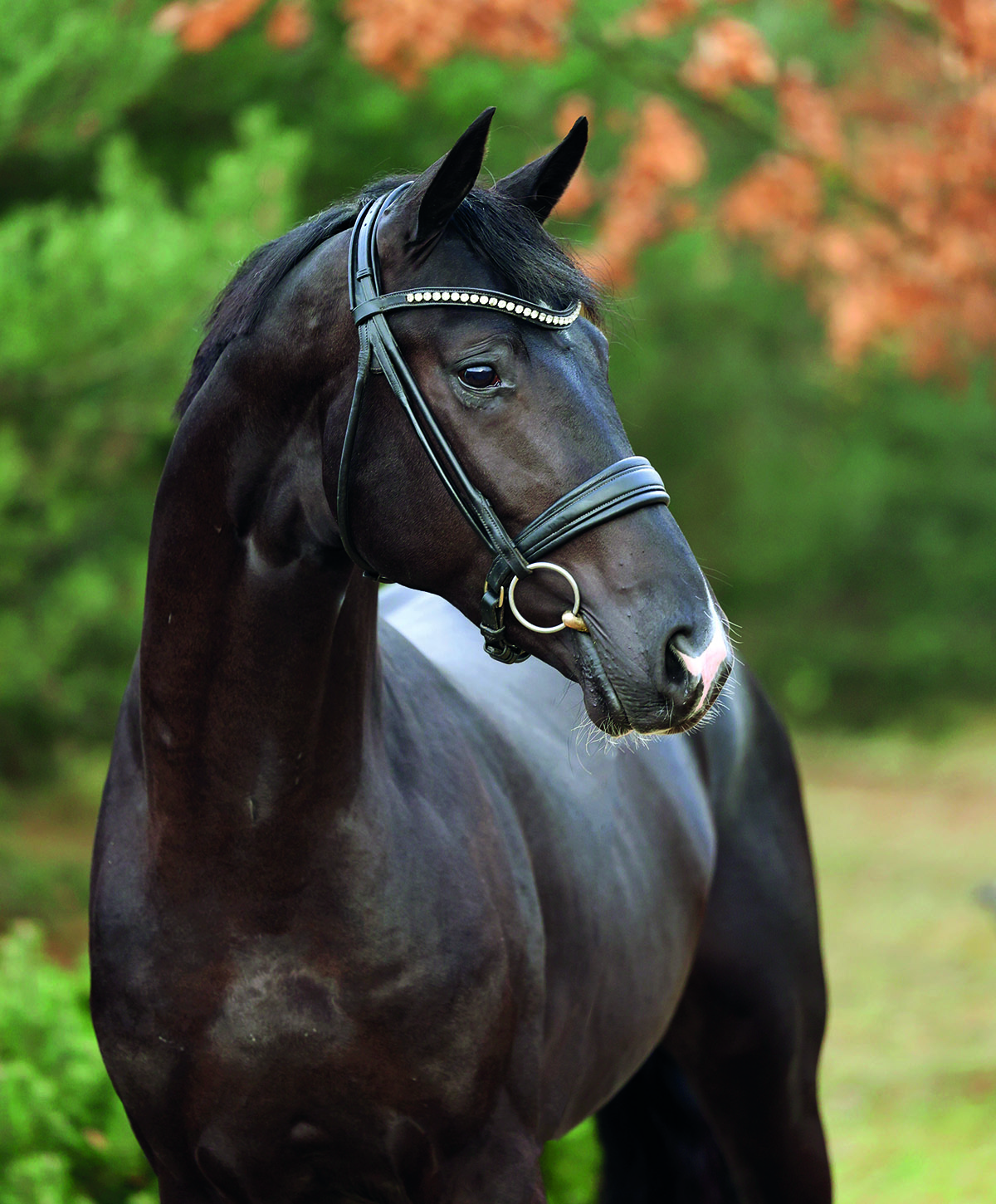 Bienvenue
Motion opulence in dreamy look
| | |
| --- | --- |
| Color | Black |
| Date of birth | 2019 |
| Height | 170 cm |
| Stud fee | 250,- € |
| | + 700,- € if the mare ist certified in foal (by 1.10.) plus VAT |
Description
This powerful, striking youngster inspires with all attributes. His excellent movements combined with his beautiful type tailored in an ideal frame, Bienvenue's overall construction leaves nearly nothing to be desired. Furthermore, there is his modern, interesting and thoroughbred-typed pedigree, which offers many precious options in view of pairing in breeding.
Bienvenue impresses with an extraordinary mechanic of movement in trot. Distinguished with much carrying-power and cadence, this athletically built stallion keeps the rhythm in trot right from the first step he makes through the arena. Thereby, his inherited power of movements is marked by springiness and natural suppleness as well as elasticity.
The canter is developed just as extraordinary. With a clear uphill sequence and always stepping under the centre of gravity this stallion knows to attract convincingly when cantering. A supple walk, stepping far over in a clear four-beat sequence rounds off the ideal impression of three excellent basic gaits.
The Hanoverian licensing committee appreciated especially Bienvenue's mental relaxedness and focused attention. Despite of his young age, he behaves with much vision and a clear mind in every new situation.
The breeding of Bienvenue is characterized by various blood lines. With nearly 42 percent of Thoroughbred blood in his breeding, Bienvenue can pass a lavish dose of the seldom seen noble blood that is often demanded for the dressage horse breeding.
His sire Bon Coeur is shooting star of the current dressage scene. At all licensing venues and championships, the offspring of Bon Coeur place with the best. In sport, the black stallion with Swedish owners celebrates victories in international classes up to Inter I level.
Lauries Crusador xx, found in second generation, is certainly the most significant Thoroughbred of Hanoverian breeding history. So, this trademark stallion is the only Thoroughbred that has ever been proclaimed Hanoverian Stallion of the Year. 71 licensed sons, 109 offspring competing successful in the advanced level (S) dressage arena and offspring's lifetime winnings of more than 1 million Euro give prove of the heredity power of the English Thoroughbred.
In the descending line of ancestors, the beautiful black stallion His Highness established the performance in the pedigree of Bienvenue. Due to an accident His Highness died at the age of seven and was able to set milestone in only a very short time in breeding. The former Hanoverian Champion Stallion presented 16 licensed sons as well as 40 advanced (S) dressage level successful offspring.
The pedigree is round off by the performance blood of the Celle state stud sire Wolkentanz I, who is especially known for his dynamic mechanic of movements. 796 offspring give prove of his traits in sport.
Bienvenue's dam, state premium mare Luciana, was celebrated reserve champion mare at the Herwart von der Decken Broodmare Show in 2012. The granddam, state premium mare Hexe, presented the successful advanced (S*) level dressage horses Quinada by Quasar de Charry as well as the premium awarded daughter Diamanda Dea by Dancier at the Herwart von der Decken Broodmare Show in 2018. The great granddam Whitney produced another advanced (S) level successful dressage horse named Roberto Cavalli (by Riverside). The fourth dam, Danja by Dakar, delivered the Grand Prix horse Wondrous Fox, when bred to Wolkentanz I.
The birthplace of success is the Hanoverian mare line of Carla, which is well-known for many licensed stallions and successful athletes.
WFFS status: negative (NON carrier)
show more
Results
2021:
Licensed for the Hanoverian society
Approved for
Hanover, Oldenburg (OL), Southern German studbooks