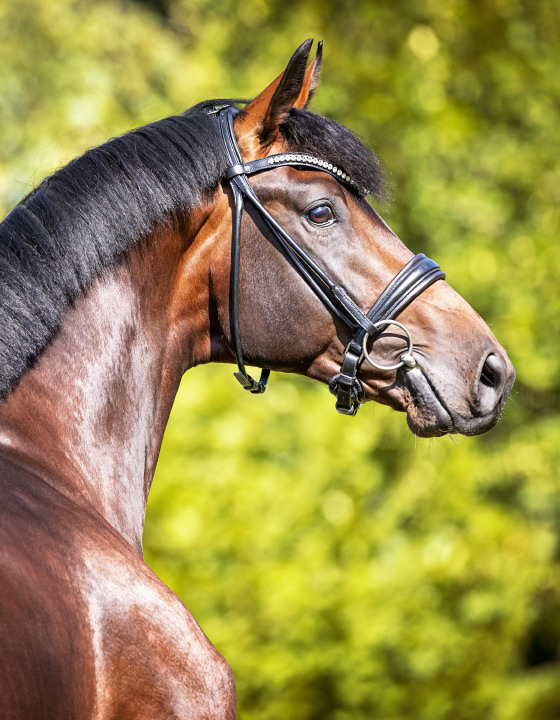 Confess Color
Absolutely extraordinary stallion of licensing season 2019
Description
Confess Color attracted a lot of attraction at the Hanoverian stallion licensing. As celebrated premium stallion he caused enthusiastic cheers from the audience.
Heike Kemmer, who is member of the Hanoverian licensing committee and multiple Olympic team winner, summed up in Verden: "The presentation of our premium lot started spectacularly with this truly to type noble young stallion distinguished with fantastic movements stepping powerfully under the centre of gravity! And it must be pointed out that this horse fits into an ideal rectangular frame. Furthermore, the stallion's maternal line brings us the precious blood of Licosto. From the stallion selection up to now, he has developed himself enormously and has inspired everybody when he moved on the lunging-rein or freely!" Ulrich Hahne, Head of Breeding, agreed with this opinion: "A true to type stallion with three excellent basic gaits."
Confess Color knows to convince the audience with his breath-taking basic gaits as well as his wonderful charisma. His phenomenal quality of movements in total and the high elasticity is unparalleled in the world. His mechanic of movements stands out due to his energetic hindquarters stepping powerfully under the centre of gravity and an ideal freedom of shoulders that shows us an optimum in both, trot and canter, that has seldom been seen. Another absolute highlight of this stallion is the excellent walk that is always regular and supple right from the spot.
Confess Color is sired by Cadeau Noir, who is also at home at Bonhomme stud. Beside his extraordinary breeding record, Cadeau Noir is currently well-known in sport under Lena Waldmann. The qualifier for the Nurnberger Burg Trophy and serial wins at advanced level with results up to 80 percent speak for themselves.
On the dam's side of the highly interesting pedigree Confess Color originates from the Hanoverian dam line of Schwaby. Dam's sire is the thoroughbred-typed stallion Licosto. He celebrated many victories in advanced level dressage classes and took seventh rank at the World Championships for young dressage horses.
The Grand Prix star Damsey FRH can be found in third generation. Currently, he is highly successful in the top group of the international dressage sport under Helen Langehanenberg. In 2019 this pair inspired with successes such as the win of the Nations Cup as member of the German team at the CHIO Aachen as well as winning the bronze medal for the Grand Prix Freestyle at the German Championships in Balve. In 2017 Damsey FRH took the gold medal with the German team at the European Championships in Gothenburg.
Lauries Crusador xx, one of the most significant Thoroughbreds of German dressage horse breeding, can be found in fourth generation. His offspring gained more than 1 Mio. Euro, among them are 115 advanced level successful horses as well as 71 licensed sons – therewith, this English Thoroughbred has influenced the Warmblood breeding decisively.
WFFS status: negative (NON carrier)
show more
Results
2019: Premium stallion and price highlight at the Hanoverian stallion licensing in Verden
Approved for
Hanover, Oldenburg (OL), Westphalia, Southern German studbooks, Rhineland, Hessen, Poland, Baden-Württemberg, Bavarian, Brandenburg-Anhalt, Mecklenburg-Vorpommern, Rheinland-Pfalz-Saar