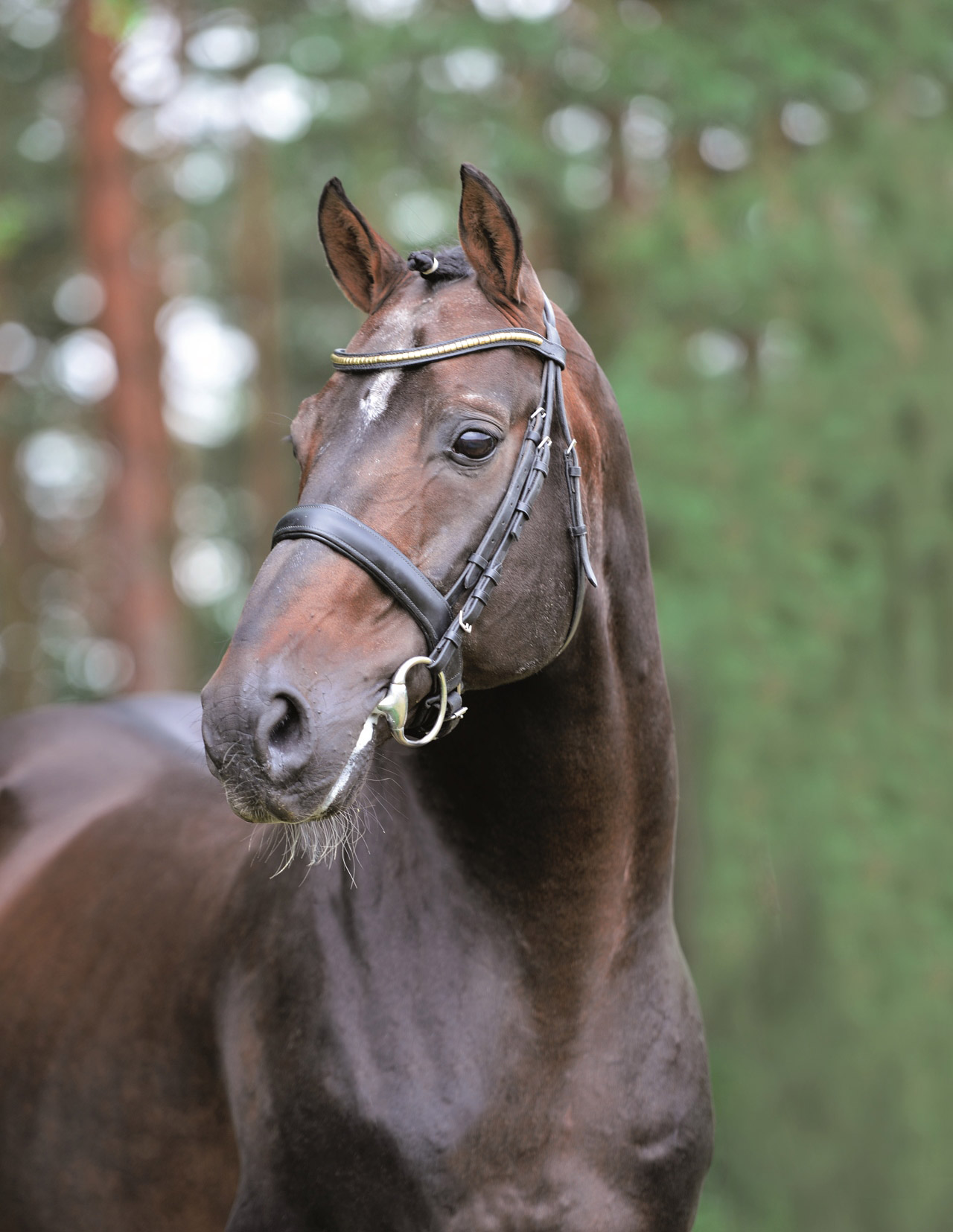 Fabergé
Serial winner with successful offspring in sport
Description
A really beautifully built dressage stallion with exemplary character, who also impresses with a maximum of charm and charisma. Fabergé is a stallion who is distinguished with enormous basic gaits, excellent willingness to work as well as rideability – traits, which he resoundingly passes on to his offspring.
Fabergé had been serial winner in tests for young dressage horses up to elementary (L) level until a serious accident finished his career at the age of five unfortunately. But several offspring have collected many ribbons in dressage up to the highest classes. With his proud age of 26 he has been enjoying a phenomenal horse life since his injury and inspires the public as "action trotter".
The sire Freiherr was the most significant son of the line-founding stallion Furioso II in the Oldenburg breeding area and produced top horses for all disciplines.
The dam Carol is a daughter of the highly esteemed Thoroughbred Cardinal xx, who produced numerous outstanding dressage horses (e.g. Colorado 17/M. Theodorescu, Cortino 4/P. Epping). The granddam Erlentaufe delivered the first-class Celle state stud sire Derneburg, who had produced striking performance-horses for advanced class in both dressage and show jumping in just a short time in breeding. Furthermore, she presented her daughter Landbirke (by Lateran/T.), who herself was granddam of top sire Graf Gotthard Z and, as well, great granddam of the internationally successful dressage stallion and stallion performance test winner Wie Weltmeyer /Emma Hindle.
This Hanoverian dam line 608 is also known for the famous stallions Acord's Son R and stallion performance test winner Rathenau (private stallion Bavaria), Weinberg (state stud sire Warendorf) and Windspiel As (private stallion Westph.).
show more
Results
1995:
Serial winner in novice (A) and elementary (L) level tests for young dressage horses
1994:
Serial winner in tests for young riding horses
show more
Approved for
Oldenburg (OL), Westphalia, Rhineland, Baden-Württemberg, Bavarian, Brandenburg-Anhalt, Rheinland-Pfalz-Saar, Sachsen-Thüringen