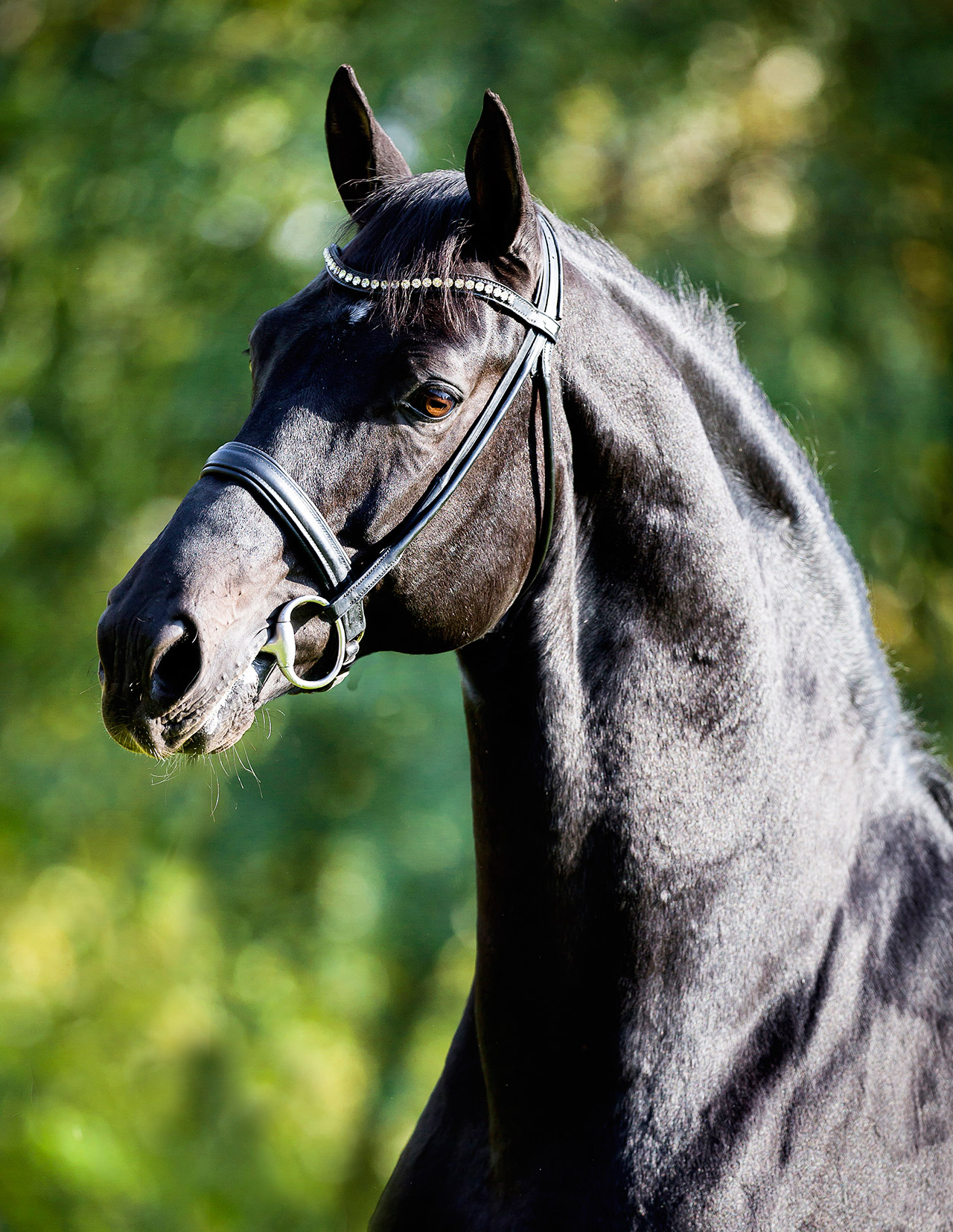 Fio
Serial winner: Following his sire's track of success
Description
Beautifully built performance-model with a perfect silhouette, being the first licensed son of his equally looking sire Fiorissimo, who competes successfully under Ingrid Klimke in dressage at the highest level. Moving at the finest in view of all three basic gaits. Especially his trot is distinguished by his powerful and impulsive mechanic of movement clearly emanating from the engaged hindquarter – so a trot of an extraordinary quality. Premium Stallion Fio proved  this quality through becoming serial winner of international dressage tests up to Inter I-level under the Swedish team member Michelle Hagmann.
In the pedigree Fio unites the top sires, which are very important for Gestüt Bonhomme, named Fiorissimo, Sandro Song and the Trakehner Consul.
The sire Fiorissimo was serial winner in countless tests, from tests for young riding horses and dressage horses up to advanced level, with Léonie Bramall and later with Ingrid Klimke. Unfortunately, an injury disabled his participation in the Olympic Games in Athens.
The grandsire Werther – "1992′ Hanoverian Stallion of the Year"– belongs to the most successful and versatile sires in Germany.
Bolero, by Black Sky xx, has characterized an entire generation of Hanoverian dressage horses, produced Bundeschampions and top auction horses in series.
The dam Suleyka is a daughter of the legendary Sandro Song and right sister of the stud-owned stallion Sarafino, who competed successfully up to Inter I-classes. She originates from the Trakehner line of Rieta 285 (Draufgänger-St. Georg etc.; Mack-Althof), which is also known for the licensed stallions Rastenberg (private stallion Rhld., stallion performance test winner), Raubritter (Denmark), Refrain (Switzerland), Ressort (Netherlands), Rheinklang (private stallion Rhld.) and Rubin (private stallion Rhld.).
The great grandsire Consul is said to be one of the greatest performance-sires in the breeding of Trakehners, Hanoverians and Oldenburg horses. He passed on his traits resoundingly, presented significant sons and numerous daughters have proved themselves as dam of sires. Successful sport horses such as Donnersberg TSF, Enchante and dressage team gold medalist Bonaparte as well as the Hanoverian Stallion of the Year 2012, Don Frederico, carry his genes.
show more
Results
2012:
Serial winner up to Inter I-classes at international horse shows, such as Neumünster, Saumur or Fritzens under Michelle Hagmann
2010 - 2011
Victories and placings in medium (M* and M**) and advanced (S) level dressage tests
2006:
70-day test in Adelheidsdorf: Reserve winner of partial index dressage with 135.66 points
2004:
Premium Stallion at the main licensing in Kreuth
show more
Approved for
Hanover, Oldenburg (OL), Westphalia, Rhineland, Poland, Baden-Württemberg, Bavarian, Brandenburg-Anhalt, Rheinland-Pfalz-Saar, Sachsen-Thüringen