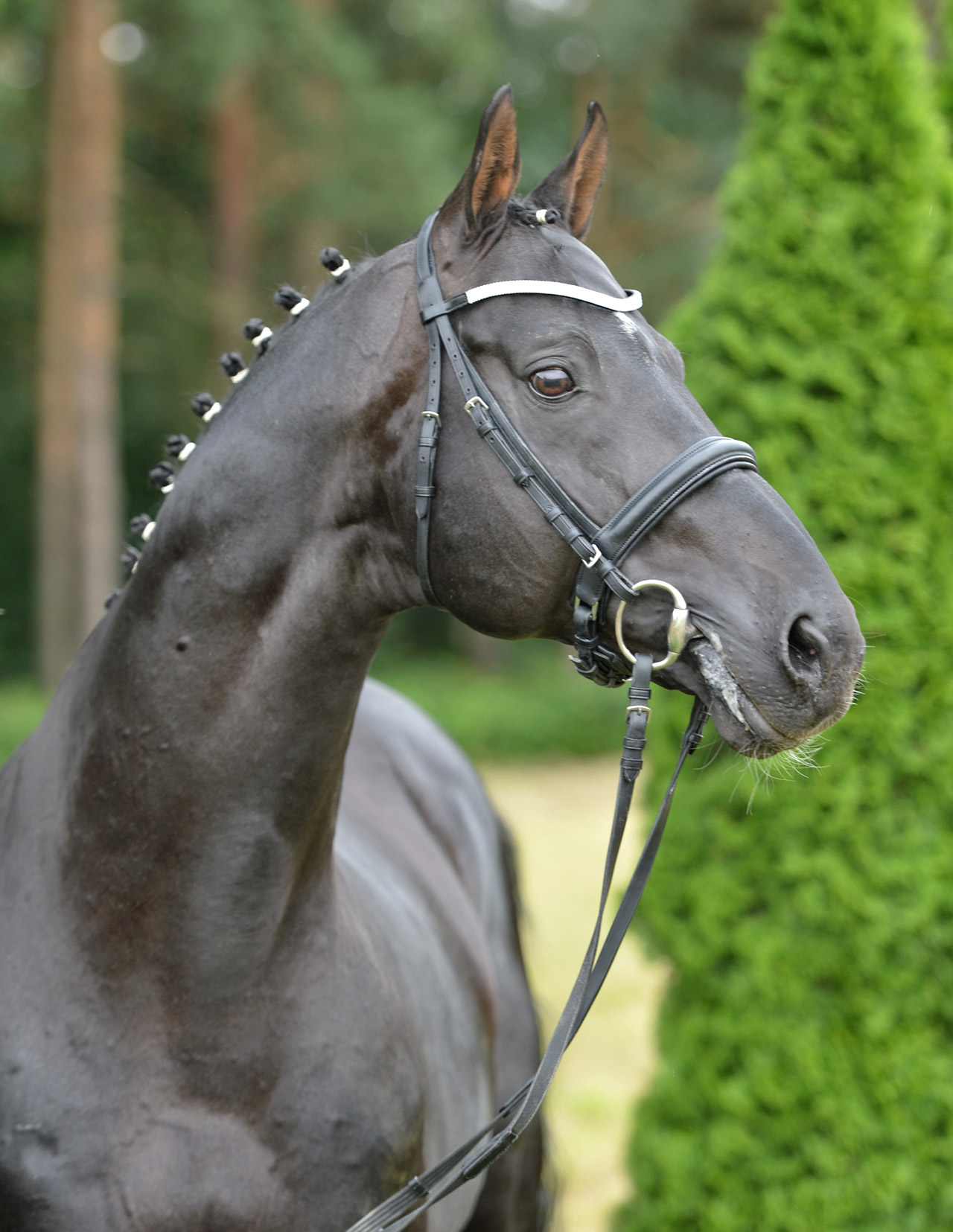 Gambler's Star
1995' Hanoverian Champion and serial winner
Description
A charismatic halfbred stallion, who attracts with his extraordinary beauty, noblesse and elegance. His toughness, his self-confidence and courage characterize his willingness to work, not only for dressage, but also for the high demands in eventing.
These characteristics plus his three fantastic basic gaits are inherited by Gambler's Star to his descendants. Additionally, his dark coat is homozygous. Unfortunately, Gambler's Star died in 2015 at the grand age of 24.
In 1996 he passed his stallion performance test in Redefin in performance class I, whereby he was clear winner of the partial index rideability with 136.10 points. In the cross-country, too, he fully played off his particular strengths receiving top scores. At young age, Gambler's Star was multiple winner in tests for young riding horses with scores over 9.0, became 1995' Hanoverian Champion and, in 1996, he took the Verden Winners Trophy. Furthermore he was victorious and placed with the best in tests for young show jumpers at elementary (L) and medium (M) level.
The sire Gambler's Cup xx inherited a versatile talent to his offspring. The dam's sire, Wendulan, originates from the tradition-rich Holstein dam line 162, which is preserved carefully by the Eggers family in both Holstein and Hanover.
In the pedigree special toughness comes from the esteemed jumper-maker Saluto. This Hanoverian dam line 491/Fobuza (by Feiner Kerl- Deisterkönig II etc.) is also known for the stallions Partisan, Sender I and II and Woermann (all state stud sires in Celle), Ariston (private stallion Han.), Dior (state stud sire Warendorf), Arzano, Dornheld, Firn, Gutachter, Jupiter, Seemann and Sempach (all state stud sires in Neustadt/D.) as well as Mylord (state stud sire Marbach).
show more
Results
1999:
victorious up to medium (M) level tests for young show jumpers
1997 & 1998:
numerous successes in novice (A) and elementary (L) level tests for young show jumpers
1995 & 1996:
Verden Winner's Trophy 1996
Hanoverian Champion of young riding horses in 1995
in total 12 victories in tests for young riding horses
show more
Approved for
Hanover, Hanover, Oldenburg (OL), Westphalia, Baden-Württemberg, Bavarian, Brandenburg-Anhalt, Rheinland-Pfalz-Saar, Sachsen-Thüringen