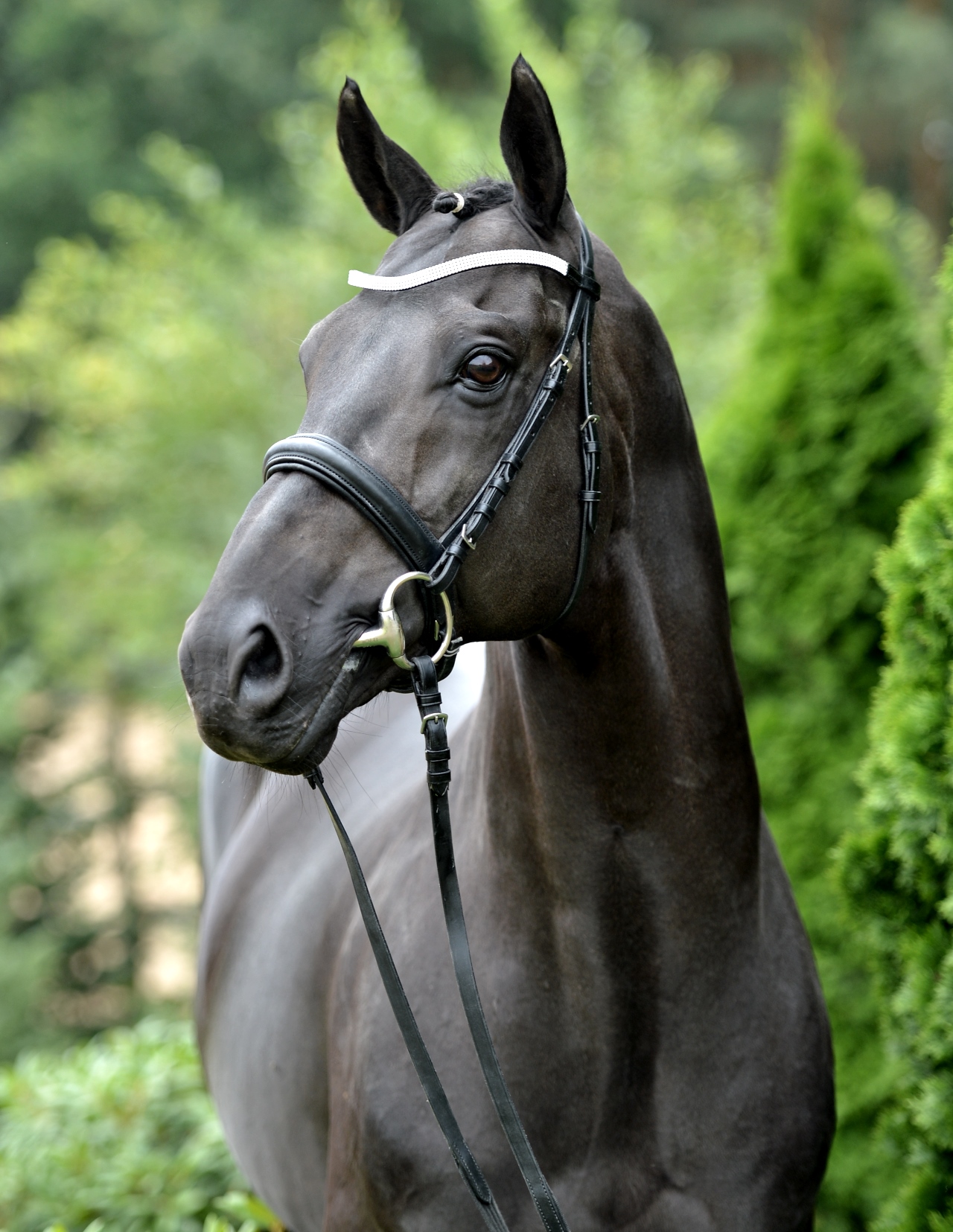 Genios xx
Courage to take blood that refines
Description
The thoroughbred Genios xx (GAG 88.5) finished his sports career after 47 starts, 7 victories and 11 national and international placings with a winning sum of € 92,480.00 in 2009 – after becoming winner of his last race on the "Neuen Bult" in Hanover he moved to Bonhomme Stud Farm directly.
Noblesse, beauty and willingness to work are beside special toughness the characteristics of this brown stallion. He stands out due to his extremely sound nerves, his serene character as well as his wonderful rideability and is additionally gifted with three above-average basic gaits.
Genios xx was licensed by the Hanoverian Verband in 2008. Then, at Bonhomme Stud Farm he transformed with exemplary ease from a race horse to a dressage horse.
Already in ancient times Thoroughbreds have been used for the improvement of toughness, constitution and conformation in Warmblood breeding. Especially Genios xx has caused an enormous breeding progress in our dressage horse breeding with his offspring.
Genios xx is a son of Oxalagu xx (top GAG 100 kg, winner of "Grand Dallmayr Trophy" 1997), who is sired by the legendary Faehrhofer derby winner Lagunas xx (five licensed sons, e.g. Sugunas xx and Ridwan xx). Nijinsky xx appears two times in the pedigree of Genios xx. He is also sire of Green Dancer xx, who himself is sire of Akitos xx (leased stallion Warendorf, offspring's winning sum € 120,000.00, dam's sire of Isovlas Pialotta/Edwina Alexander) and Solo Dancer xx (sire of Cupric and SRH Leonas Dancer/Andreas Dibowski). Luthier xx, who appears twice in the pedigree of Genios xx as well, presented a licensed Holstein son named Galant Vert.
His dam Glacial Star xx is a daughter of the famous champion-sire Royal Academy xx (winner of the American Broeder's Cup and sire of the extremely true to type Painter's Row xx). This dam line of Genios xx is also known for Northern Sound xx (offspring's winning sum € 71,00.00), breeding in Westphalia.
show more
Results
47 starts, 7 victories as well as 11 national and international placings
GAG [German time form] 88,5
winning sum of € 92,480.00
show more
Approved for
Hanover, Oldenburg (OL), Westphalia, Southern German studbooks, Rhineland, Baden-Württemberg, Brandenburg-Anhalt, Rheinland-Pfalz-Saar, Sachsen-Thüringen