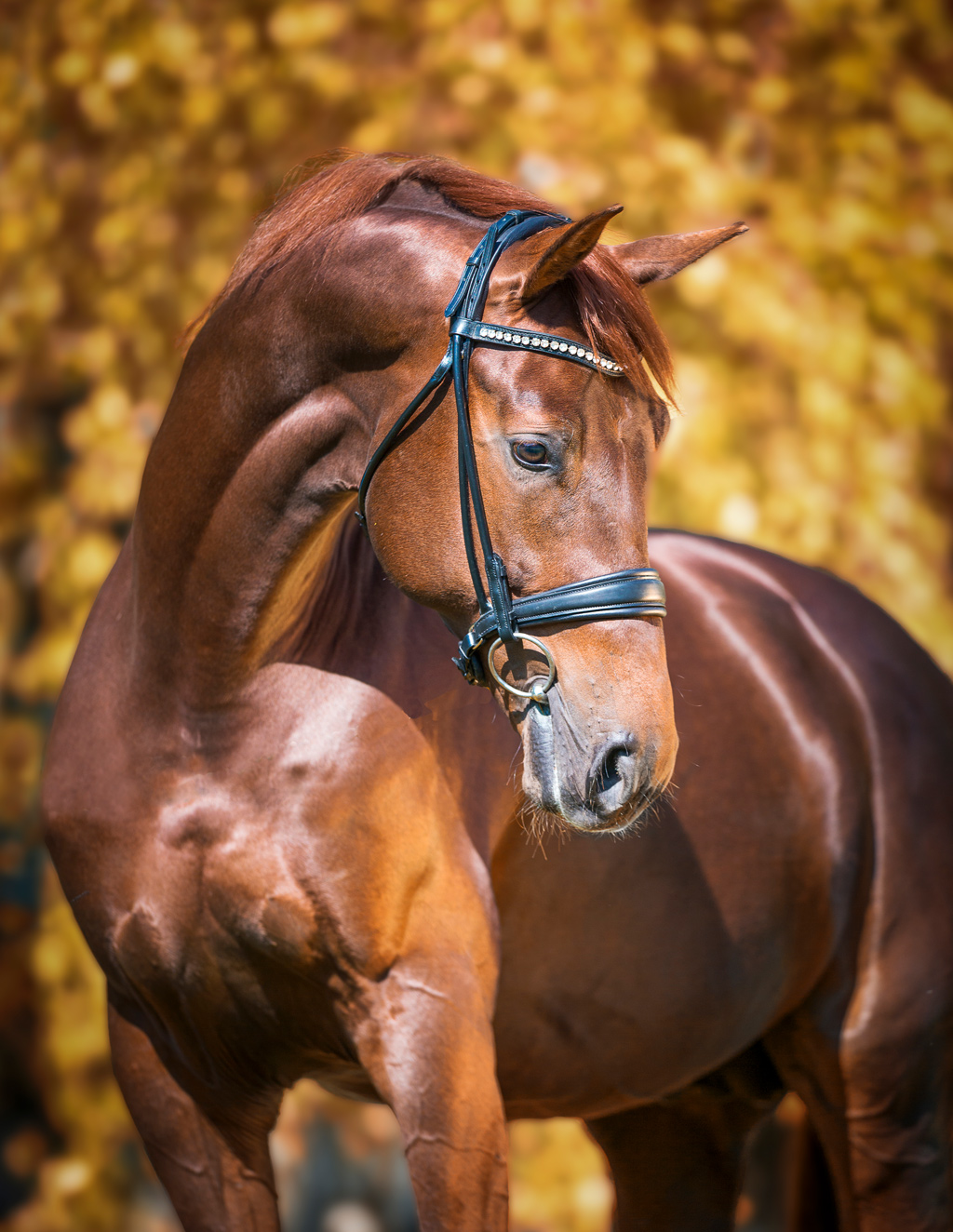 Dimagico
Model student with top character
Description
In the course of the Hanoverian licensing in Verden, this eye-catcher became the celebrated Premium Stallion and darling of the audience. Dimagico impressed with his strong type and ingenuity of movements as well as his special liver chestnut color that gave him that certain something. His highly interesting pedigree offers an exciting alternative of blood.
The Premium Stallion convinces with three outstanding basic gaits. He is captivating through his especially supple, elastic and fluent action of movements combined with always engaged hindquarters as well as high knee action and enormous freedom of shoulder. Under the saddle this lovely liver chestnut stallion scores with natural balance. Furthermore, he stands out with his incredible strength of nervs. At all times, this stallion presented a first-class walk right from the very first step.
In 2021 Dimagico impressed with serial wins in dressage classes up to advanced (S**/Inter I) level. Thirteen victories in medium (M) and advanced (S) classes were towered by the victory in an international Prix St. Georges as well as the silver rank in the Inter I-class of the small tour of the World Cup in the Polish Zakrzów. Already in 2020 and 2019 Dimagico gave prove of his athletic talents with his impressive performance record: bronze medallist at the Hanoverian Championships in Verden, fifth rank in the international youngster tour at the Whitsun horse show in Wiesbaden as well as numerous victorious performances in further competitions.
In his 14-day test Dimagico fascinated especially with his excellent rideability, scoring 9.25. For walk, character and willingness to perform he receiveda 9.0 each. In total, Dimagico finished with a score of 8.19 with emphasis on dressage. He also passed both sport tests in Verden sovereignly. In his second sport test he was celebrated as the reserve champion of his age group.
Dimagico's crops exceeded all expectations. Distinguished with noblesse, modern long legs and enormous quality of movements many of his offspring became elite foals rightaway. Dimagico's foals, too, present themselves with a certain coolness, strength of character and the gentleness inherited by their sire.
His sire Dimaggio, who unfortunately died in 2015, is one of the most significant sons and heirs of the precious D-blood. In 2000, Dimaggio was celebrated World Champion of five year old dressage horses. In his sports career, this stallion, who was an extremely modern and impressively moving horse at his time, collected many achievements up to Inter I-classes. Over 60 offspring compete successfully in advanced classes, about 25 sons are licensed.
The dam's sire Jazz Time inspires with a highly successful career in sport. At first, he was introduced to the advanced sport by Lisa Wilcox, catching attention due to his bronze rank in the final of the Nürnberger Burg Trophy. Then, Jazz Time celebrated many Grand Prix successes. Jazz Time, born in 1995, embodied, as one of the first ones, a breeding revolution due to the pairing of Dutch genes from Jazz with proven German blood lines such as Romadour II, sire of Double Olympic Champion Rembrandt (Nicole Uphoff).
In third generation Escudo I, who is especially known as trademark stallion in breeding of show jumpers, rounds the pedigree. Beside countless successful show jumpers, Escudo I, who stands for a beautiful type and quality of movements, produced five offspring competing successfully in advanced (S) dressage classes.
Dimagico comes from the Hanoverian dam line of Narenta. This line is well known for numerous licensed stallions and international sport horses, who are successful all the way up to the highest levels.
WFFS status: positive (carrier)
show more
Results
2021
victorious S* level dressage, 69,722 %, Tremsdorf
2nd place S**-dressage Intermediaire I, 71,079 %, CDI2* Zakrzów (Polen)
victorous international Prix St. Georges, 70,912 %, CDI2* Zakrzów (Polen)
victorous S* level dressage, 70,746 %, Uetz
victorious M* level dressage, 71,919 %, Görlitz
victorious M* level dressage, 72,828 %, Görlitz
victoroius international Prix St. Georges, 67,696 %, CDI3* Herzlake
victorious S**-dressage (Intermediaire I), 69,342 %, Rastede
2nd place S* level dressage, 72,659 %, Rastede
victorious S* level dressage, 72,895 %, Neustadt/Dosse
2nd place St. Georg Special, 72,033 %, Neustadt/Dosse
2nd place M** level dressage, 72,207 %, Neustadt/Dosse
victorious S* level dressage, 8,0, Pausin
victorious M* level, 8,3, Pausin
7th place qualification for the Nürnberger Burgpokal final, 71,073 %, Mannheimer Maimarktturnier
victorious Prix St. Georges, 71,098 %, Buchholz
victorious M** level dressage, 71,275 %, Buchholz
4th place S* level dressage, score of 7.9, Pausin
4th place M* level dressage, score of 7.6, Pausin
2020
victorous M level test for young horses, score of 8.0, qualified for the Bundeschampionat of 6y. old dressage horses, Moritzburg
2nd place M** level test, 69,559 %, Moritzburg
victorious M level test for young horses, Neustadt/Dosse
5th place M level test for young horses, score of 8.0, Essen-Herbergen
victorious in his first M level test, Wartenberg-Angersbach
2019
Bronze medal in the Hanoverian championships for five year old dressage horses, Verden
victorious in the qualifier for the Bundeschampionat with a total score of 8.3, Verden
qualified for the Bundeschampionat with a total score of 8.3, Redefin
2nd place in his sport test in Verden with a total score of 8.06
2nd place L level test for young horses
victorious in novice (A) level test for young dressage horses with a score of 8.5
More

2018

successful sport test in Verden
victorious in novice (A) level test for young dressage horses with a score of 8.5

2017

successful 14-day test: final score with emphasis on dressage: 8.19 (rideability: 9.25, walk: 9.0, character: 9.0, constitution 9.0, willingness to perform: 9.0)

2016

Premium Stallion at the Hanoverian licensing
Approved for
Hanover, Oldenburg (OL), Westphalia, Southern German studbooks, Rhineland, Poland, Bavarian, Brandenburg-Anhalt, Mecklenburg-Vorpommern, Sachsen-Thüringen