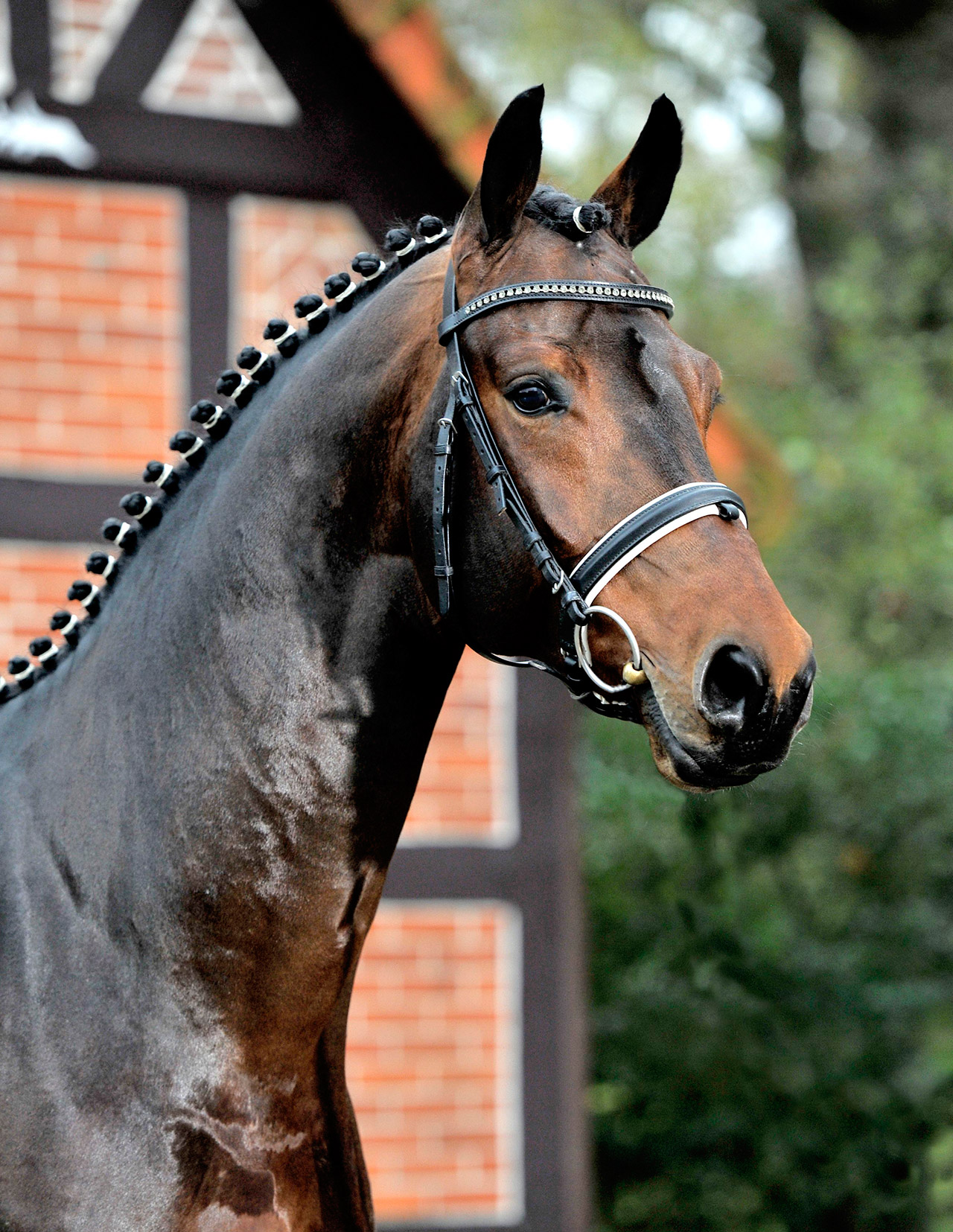 Don Dynamo
Interesting blood alternative at the highest level
Description
Don Dynamo does not fascinate just with his high elasticity, but also with enormous power from the hindquarters and an excellent uphill canter. Furthermore, his trot is light-footed, always in rhythm and characterized by a powerful push-off. Due to his exemplary freedom of shoulder and his very good work attitude he got ideal prospects for a sports career in the grand arena.
Don Dynamo proved his excellent talent for dressage many times: He was already placed in front in international tests for young dressage horses and qualified for the world championship of young dressage horses. At his 70-day test in Schlieckau he received top scores up to 9.5 for his superb trot and completed the test with emphasis on dressage with 131 points in total. In 2016 Don Dynamo collected ribbons in dressage classes up to Prix St. Georges level.
This charming, highly noble motion artist proves that consistent breeding is no matter of chance. His impressive pedigree unites ingeniously the very best Dutch performance-blood and represents numerous exceptional athletes of the international Grand Prix scene.
The sire Painted Black, who is half brother of Totilas, has been one of the most successful dressage horses in the past year – was highly successful with Anky van Grunsven and belonged to the Spanish Olympic team with his current rider Morgan Barbancon in 2012. His dam Litchy, who competed successfully up to medium (M) level, is sired by the legendary Olympic Ferro.
The grandsire, sire of the century el.st. Gribaldi, collected countless achievements with Edward Gal and caused repeatedly sensations with his top-class offspring such as el.st. Hofrat, Distelzar, Sisther de Jeu as well as our Grey Flanell.
The dam's sire Jazz, son of Olympic Cocktail/A. v. Grunsven, is as well international Grand Prix winner and was member of the Dutch dressage team at the WEG in 2002. As breeding stallion he is given the title "preferent" and has been among the top three in the dressage sire's world ranking for several years. His famous son Parzival/Adelinde Cornelissen is currently one of the most successful horses in the dressage sport: He is a guarantor for medals, was World and European Champion as well as Olympic silver medalist in 2012.
This highly interesting pedigree is additionally secured through the Westphalian sire Römer, who influenced the international breeding significantly and found here on the descending maternal line. Over Rousseau Römer's genes are also represented in the breeding of Blue Hors Zack and Ampère as well as in the ancestry of the international Grand Prix horses Undercover/E. Gal, Picobello/E. Ward and Armani/H. Beresford.
show more
Results
2016:
high placings in Prix St. Georges
2015:
victorious in international tests for young dressage horses and, thereby, qualified for the World Championship for young dressage horses
2013:
70-day test in Schlieckau: stallion performance test breeding value dressage of 131 points, subscores of 9.5 for trot and constitution as well as 9.0 for character
show more
Approved for
Oldenburg (OL), Hanover, Rhineland, Baden-Württemberg, Bavarian, Brandenburg-Anhalt, Rheinland-Pfalz-Saar, Sachsen-Thüringen