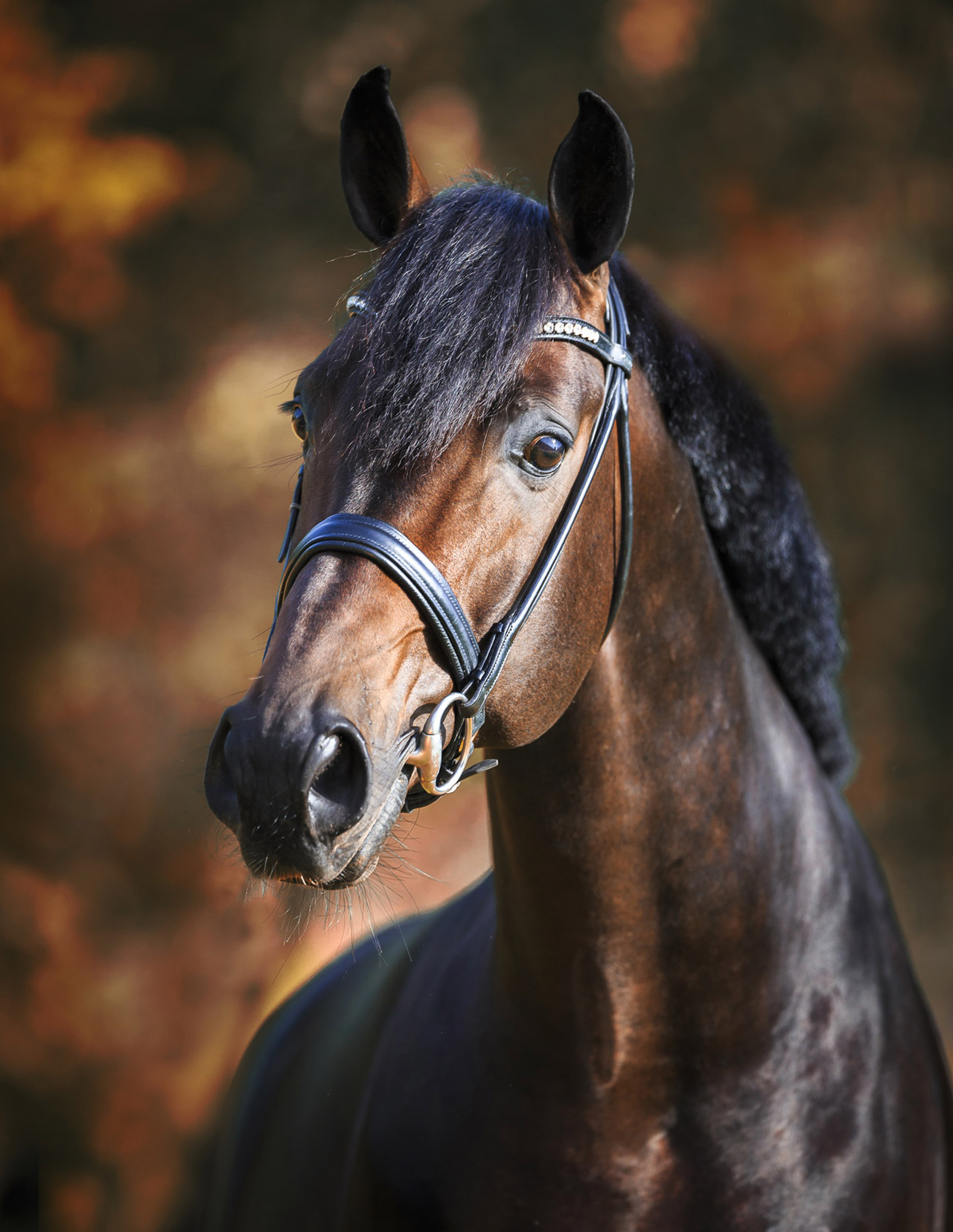 Feu D'Or
Best performance-genes and top character
Description
Feu D'Or attracts with his charming type and his breath-taking look. The supple, impulsive action of movements with his striking dynamic, the outstanding canter as well as the ground-covering walk inspired also at the 2011′ Oldenburg licensing in Vechta, where he was awarded Premium Stallion. A spotless conformation and an absolutely lovely character complete the excellent attributes of this stallion.
The first horse show season (2013) couldn't run better for Feu D'Or: six competitions – six victories, three of them were tests for young riding horses, the others were novice (A) level tests for young dressage horses. Here he clearly proved his rideability and quality of movements. The year 2014 wasn't less successful: He won in elementary (L) level tests for young dressage horses, placed with the best and crowned the season by winning a qualifier for the Bundeschampionat.
In 2o16, the only seven-year old Feu D'Or celebrated high placings in advanced (S*) level dressage classes, founding the basis for a promising career in the upper dressage sport. He already met our expectations with current achievements up to Prix St. George Special in 2018.
In breeding, too, Feu D'Or proved himself – so some foals received the coveted admission for the Elite Foal Auction in Vechta. Furthermore, Feu D'Or presented his first licensed son at the Oldenburg Verband. In sport, too, his eldest offspring compete successfully in tests for young dressage horses. They stand out due to their excellent character passed on by their sire Feu D'Or.
The sire Fackeltanz OLD, 2nd reserve Champion at the 2007′ Oldenburg licensing, is meanwhile victorious under Olympic rider Dorothee Schneider in dressage classes up to Grand Prix.
The grandsire Florencio I was Vice Bundeschampion and won twice the World Championships of young dressage horses in Verden with record scores.
Rohdiamant was serial winner in the international dressage arena under Lisa Wilcox and belongs to the world's best dressage-sires. 110 daughters received the state premium, about 50 licensed sons including the Champion Stallions Ron William, Rhodon and Glock's Romanov, about 1,000 successfully competing offspring such as Responsible OLD, Rocelli, Rosselini G, Royal Classic and the 5* Grand Prix victorious Rohjuwel give prove of Rohdiamant's resounding power of heredity.
The dam Bonita is a Thoroughbred-typed Elite Mare and is as pretty as a picture. Beside Feu D'Or, her son Sir Niro (by Sir Donnerhall I) was as well nominated Premium Stallion in 2009 and her daughter Bellissima, sired by Sir Donnerhall I, received the title State Premium Mare. She produced the Oldenburg premium stallion Follow Him's Schönweide when bred to Follow me.
The granddam of Feu D'Or, State Premium Mare Bellevedere, was "Brilliantring" Mare in Rastede.
WFFS status: negative (NON carrier)
show more
Results
2020:
victorious in an advanced (S*) level dressage test, 71,111 %, Zweibrücken
2nd place Prix St. Georges, 70,526 %, Zweibrücken
3rd place Intermediaire I, 70,702 %, K+K Cup in Münster
5th place in an advanced (S*) level dressage test, 70,952 %, K+K Cup in Münster
2019:
2nd place in an advanced (S*) level test, score of 7.9, Elisenau
2nd place in an advanced (S*) level dressage test, 71,913 %, Neu-Anspach
2nd place Prix St. Georges Special, 71,138 %, Neustadt-Dosse
victorious in Prix St. Georges freestyle, 77,200 %, Werder
victorious in Prix St. Georges, 73,421 %, Werder
victorious in an advanced (S*) level dressage test, 72,34 %, Dallgow
victorious in Prix St. Georges Special, Teuplitz
5th place in an advanced (S*) level dressage test at the K+K Cup in Münster
8th place in an Intermediaire I class at the K+K Cup in Münster
2018:
many high placings in (S) level dressage tests
2016 - 2017:
3rd place in an advanced (S) level dressage test
victories in medium (M**) level dressage tests
Feu D'Or presented his first licensed son
2015:
placed with the best in medium (M) level tests for young dressage horses
2014:
victorious in the qualifier for the Bundeschampionat with a score of 8.5
victorious and placed with the best in elementary (L) level tests for young dressage horses
2013:
serial winner in tests for young riding horses and novice (A) level tests for young dressage horses
2011:
premium stallion at the Oldenburg licensing in Vechta
show more
Approved for
Oldenburg (OL), Westphalia, Southern German studbooks, Rhineland, Poland, Baden-Württemberg, Bavarian, Brandenburg-Anhalt, Rheinland-Pfalz-Saar, Sachsen-Thüringen