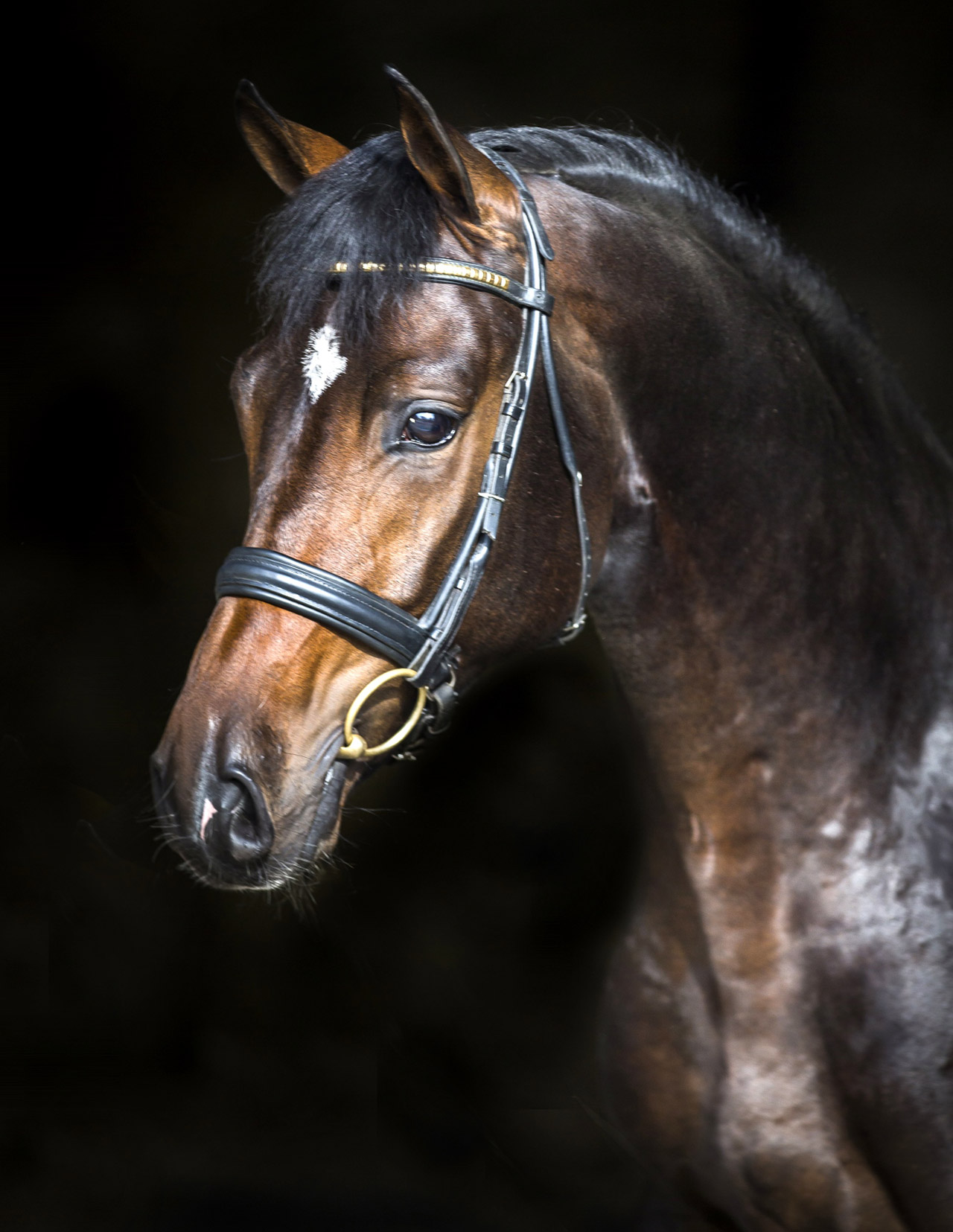 DSP Quindale
Extraordinary motion artist
Description
Dark coat, stately built conformation, combined with correct legs and majestic charisma – all this positive characteristics have seldom been seen united as with this especially impressive stallion.
With the title East German Champion Quindale (whose name had been Quintessenz at the beginning of his sports career) crowned his first competition season in 2014. That year he also achieved numerous victories in tests for young riding horses and qualified for the Bundeschampionat in Warendorf. Due to his high number of achievements in sport Quindale  is now allowed to carry the name affix "DSP". Therewith, the breeding association "Deutsches Sportpferd" has honored his extraordinary talents. In 2015 this impressively moving stallion inspired with victories in novice (A) level tests for young dressage horses. Furthermore, DSP Quindale attracted attention by winning the qualifier for the Bundeschampionat. Now DSP Quindale is trained for a dressage career in the advanced class arena.
In fall 2014 DSP Quindale completed his 30-day test with above-average results in Münster. Among a group of very strong competitors he convinced with top scores: A 9.38 for the character, a fantastic 10.0 for his constitution, a 9.5 for trot, an 8.5 for canter and an 8.25 for his ground-covering supple walk – scores that placed him among the very best of the test.
DSP Quindale's foals stand out with their long legs, large frames and an eye-catching mechanic of movements. His offspring placed with the best in the finals of significant foal championships right away and were sold for top prices at all leading elite auctions.
The sire Quaterback has well established as sire: His about 70 licensed sons don't operate only in the German breeding but worldwide, countless daughters are awarded the state premium and about 40 offspring are already successful in advanced (S) level dressage classes.
With Samarant, one of the most significant sons of Sandro Hit, the needed noblesse and desired modernity establish themselves on the dam's side. Samarant is active in breeding in Denmark, where he competes successfully up to advanced (S) class.
There are two highly-esteemed trademark stallions in the further generations: There is, on the one hand, World Champion of young dressage horses Fürst Heinrich, who presented countless offspring succeeding in sport and breeding; on the other hand in fourth generation there is the sire of the century Sandro Song, who is origin of the S-line and, therewith, founder of the basis for breeding of Gestüt Bonhomme.
This ultramodern, long-legged son of Quaterback has a very interesting blood-connection over his dam line: He originates from the prestigious Neustädter P-family, which is known for many heroes in sport and breeding such as Poetin and Samba Hit I -V.
WFFS status: negative (NON carrier)
show more
Results
2016 & 2017:
victorious in the qualifier for the Bundeschampionat of five-year old dressage horses
victorious and placed with the best in elementary (L) level tests for young dressage horses
2015:
Victorious in novice (A) level tests for young dressage horses
2014:
East German Champion of three-year old stallions
qualified for the Bundeschampionat
many times victorious in tests for young riding horses
30-day test: final score with emphasis on dressage of 8.49, subscores of 10.0 for constitution, 9.5 for trot, character and temperament, 8.5 for walk, canter, rideability and willingness to work
show more
Approved for
Westphalia, Hanover, Oldenburg (OL), Southern German studbooks, Rhineland, Poland, Baden-Württemberg, Bavarian, Brandenburg-Anhalt, Rheinland-Pfalz-Saar, Sachsen-Thüringen