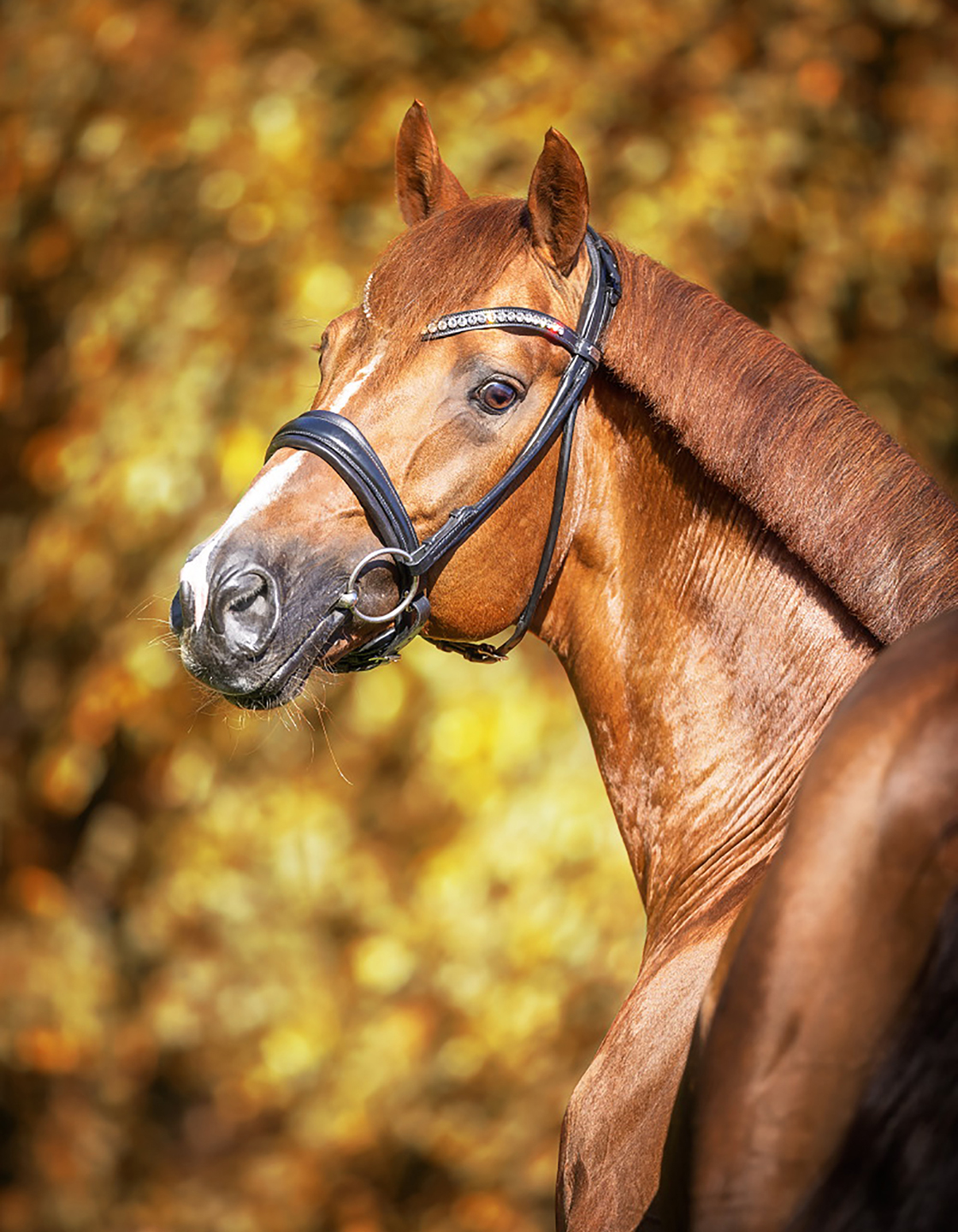 Balzaci
Int. top star with first-class breeding record
Description
Well-known under the name of Horsegym's Balzaci, this stallion has competed among the best show-jumpers of the world under his rider Felix Haßmann. Their career is characterized by outstanding successes such as the victory of the Global Champions Tour in Monte Carlo  in 2018, winning the bronze medal of the Riders Tour and the Grand Prix of Munich in 2017, the victory of the Global Champions Tour in Berlin in 2017 and second place in the STAWAK Trophy at the CHIO Aachen.
His performance record is really impressive: 23 international victories, countless victories and placings at CSI5*-level (1,60m), Nations Cup gold medal as well as 179 placings in advanced classes in total. More than half a million Euro in prize money was gained by the extremely fast Balzaci during his sports career. After nine extremely successful years in the international sport Balzaci crowned his last year with great achievements such as the win of the show-jumping ranking in Neumünster and second place in the qualifier for the Longines World Cup at the CSI5* in Leipzig. Now, in a really good shape, this beautiful stallion, gifted with smartness and charisma, has the chance to pass his top traits on to the next generations at Bonhomme stud.
By now, Balazaci' s breeding record shines with a brilliant success rate. The Haßmann family, who got this stallion as foal, was clearly focused on the top sport. Therefore, Balzaci has only produced 10 progeny, but, those inspire already with an international winning sum of more than 60,000 Euro all along the line: Barolo/Felix Haßmann competes successfully in 1.55 classes, Blue Moon/David Jennings (USA) is successful in 1.50m classes, Bandolero/Angelique Rüsen celebrates achievements at 1.45m level, Bachus/Felix Haßmann wins in advanced (S*) classes and, just recently, Balzaci's youngest son, out of a Lordanos dam, was licensed at the Westphalian licensing where he was auctioned for 47,000 Euro.
Balzaci is characterized by his competitive spirit, his extraordinary rideability as well as his outstanding vision and smartness in the jumping-course. His phenomenal scope is combined with a natural caution and the great willingness to win. Toughness, elasticity and his really good character make him a world star.
His sire Balou du Rouet shines among the top ten of the WBFSH ranking for the world's best jumper-sires. He is the most successful son of the famous Baloubet du Rouet, who made history as one of the most successful horses of all times, being Olympic winner and treble World Cup winner under Rodrigo Pessoa. Beside Balzaci, he sired WC individual and EC team medalist Bianca/Steve Guerdat (SUI) as well as more than 65 licensed sons.
His dam Luisa was also dam of the international 1.60m show jumper Balance, a full sister of Balzaci, who, too, collected int. successes such as the victory of the prestigious Grand Prix of the Golden Whip in Nörten-Hardenberg under Felix Haßmann. When bred to Cellestial, Balzyna, another full sister of Balzaci, delivered Catch Me/Felix Haßmann, who was Bundeschampion of six-year-old show jumpers and is now internationally successful at advanced (S**) level.
Dam's sire is the thoroughbred-typed KWPN stallion Ex Libris who produced top horses for both dressage and show-jumping. Pandur (by Praefectus xx), who celebrated international victories under the saddle of Heinrich-Wilhelm Johannsmann, can be found in third generation.
WFFS status: negative (NON carrier)
show more
Results
Under the saddle of Felix Haßmann, Balazaci celebrated 23 international victories and 177 wins and placings in advanced show-jumping classes up to S***** level in total. Therefore, only the most important int. successes are mentioned here:
1st place in Global Champions Tour  in Monte Carlo 2018 ( CSI5*, 1.60 m)
1st place in Global Champions Tour in Berlin 2017 (CSI5*, 1.55 m)
1st place in the Grand Prix of Munich, Munich Indoors 2017 (CSI4*, 1.60 m)
2nd place in STAWAK Trophy at CHIO in Aachen 2017 (CSIO5*, 1.50 m)
8th place in World Cup, Longines Grand Prix of La Coruna 2017 (CSI5*, 1.60 m)
11th place in World Cup, Land Rover Grand Prix of Helsinki (CSI5*, 1.60 m)
1st place in World Cup Grand Prix of Poznan/Polen 2013 (CSI3*-W, 1.60 m)
1st place in Nations Cup in Sopot/Polen 2013 (CSIO5*, 1.60 m)
1st place in S***-World Ranking jumping class in Neumünster 2019 (CSI3*, 1.50m)
2nd place in 2. qualifier for World Cup Grand Prix of Leipzig 2019 (CSI5*, 1.55 m)
2nd place in S***-class in  Zwolle/Netherlands 2019 (CSI3*, 1.50 m)
1st place in 2. qualifier for Grand Prix of Spangenberg 2017 (CSI3*, 1.50 m)
1st place in Grand Prix of Balve 2017 (CSI3*, 1.50 m)
1st place in S***-class in Linz-Ebelsberg 2017 (CSIO4*, 1.50 m)
2nd place in S***-class at Stuttgart German Masters 2015 (CSI5*, 1.50 m)
1st place in S***-class in Odense/Denmark 2015 (CSI3*, 1.50 m)
1st place in S***-class in Ommen/Netherlands 2015 (CSI3*, 1.50 m)
2nd place in  2. qualifier for German Championships in Balve 2015 (CSI4*, 1.55 m)
3rd place in fina results of Riders Tour 2014
1st place in  2. qualifier for Grand Prix of Munich 2014 (CSI3*, 1.50 m)
5th place in Grand Prix of Kiel 2014 (CSI3*, 1.55 m)
4th place in World Cup Grand Prix of Warschau 2014 (CSI3*-W, 1.55 m)
1st place in S***-class in Braunschweig/Löwen Classics 2014 (CSI4*, 1.50 m)
1st place in 2. qualifier of Grand Prix of Neumünster 2013 (CSI3*, 1.50 m)
1st place in 1. qualifier of Grand Prix of Sopot/Polen 2013
4th place in Grand Prix of Munich, Munich Indoors 2012 (CSI3*, 1.55 m)
Approved for
Hanover, Oldenburg International (OS), Westphalia, Southern German studbooks, Poland