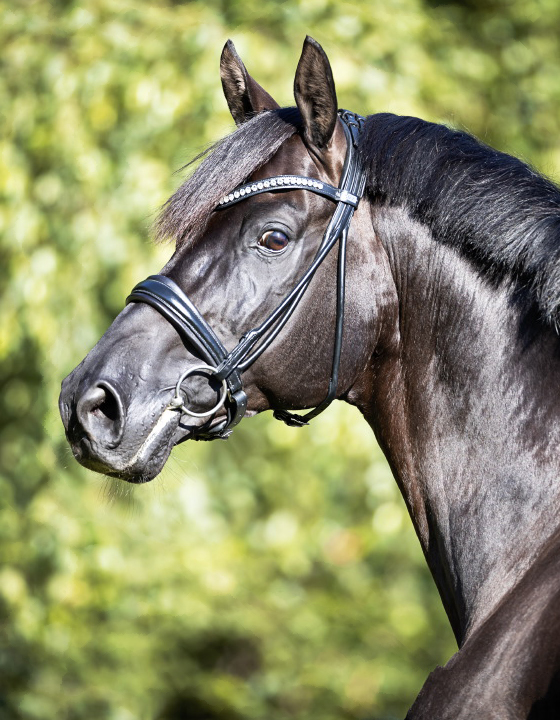 Cadeau Noir
A model of a winner
Description
Cadeau Noir impresses with a striking charisma as well as powerful action of movements. Due to his towering presence as sire and athlete he embodies a model of both a significant stallion and sport horse.
Cadeau Noir established himself sovereignly in the royal class of dressage sport. Under Simone Pearce, Cadeau Noir celebrated wins in Grand Prix classes several times. His international performance record leaves no doubt that this impressive black is simply made for the grand dressage arena. For starting his career, Cadeau Noir chose the Nürnberg Burg Trophy, Germany's most prestigious series for young dressage horses. In its final he took the bronze medal. And in the following freestyle final Cadeau Noir took sovereignly the winner's ribbon with a phenomenal score of 9.5 in the sold-out festival hall.
Cadeau Noir completed his 30-day test with an exemplary result: with scores up to 9.0 for the basic gaits he also convinced all down the line in view of rideability and character. As second placed in the total dressage result with a final score of  8.43 and a breeding value of 137 points he went past the group of competitors including two champion stallions effortlessly.
The crops of this stallion created several sensations: Numerous Premium and Champion Foals were awarded throughout Germany. Twice he sired the price highlights at the Elite Foal Auction in Verden. Regularly, Cadeau Noir's offspring attracted a lot of attention at Elite Foal Auctions. Cadeau Noir distinguishes his foals with a strikingly beautiful type as well as first-class action of movement with exemplary forward thrust.
In total, Cadeau Noir sired four licensed sons including the premium stallion Confess Color and the ZfdP champion stallions Colany C and Classico Deluxe C. Cadeau Noir's first offspring inspire already under the saddle with victories in tests for young dressage horses. In 2020 Cadeau Noir presented his daughter Candy Noir as Bundeschampion of six-year-old coach horses. Cadeau Noir's foals are typically distinguished by a beautiful type as well as first-class movements with energetic hindquarters.
His sire Christ positioned himself among esteemed sires with 18 licensed sons. Christ was second reserve Champion Stallion in the group of stallions with emphasis on the dressage at the Hanoverian licensing in Verden in 2007 and finished his 30-day test with top scores. In the meantime, Christ competes highly successful in dressage up to Prix St. Georg.
The breeding of his dam, State Premium Mare Delicia, is very interesting too. Here, the sire-legends De Niro – Donnerhall on the paternal side meet Calypso II – Cor de la Bryère on the maternal side. The dam and her both daughters, who are both sired by Christ, were awarded premiums as mare family on the occasion of the Herwart-von-der-Decken Show in 2013. Cadeau Noir's half brothers Nymphenburgs Finest Ampere by Ampere as well as Influencer by Asgard's Ibiza are also licensed. Cadeau Noir's mare line originates from a venerable and very successful Thoroughbred line, which can evenbe traced back to the 17th century.
Cadeau Noir is homozygous for dark colour.
WFFS status: negative (NON carrier)
show more
Results
2022:
victorious Grand Prix, 70,980 %, Dressurfestival Neustadt/Dosse
victorious Grand Prix, 73,733 %, Stubben-Brunshausen
3rd place international Grand Prix, 69,873 %, CDI3* Herning, Denmark
8th place international Grand Prix Special, 69,612 %, CDI-W Neumünster
2021:
2nd place Grand Prix, 73,267 %, Redefin
3rd place Grand Prix, 72,520 %, Schenefeld
3rd place Grand Prix Special, 72,778 %, Schenefeld
2nd place Grand Prix, 73,720 %, Görlitz
2nd place Grand Prix, 73,647 %, Görlitz
7th place international Grand Prix Special, 69,043 %, CDI3* Herzlake
victorious Grand Prix, 70,400 %, Rastede
victorious Intermediaire II (S***-dressage), 72,325 %, Rastede
3rd place Grand Prix Special, 71,503 %, Redefin
3rd place Grand Prix, 71,833 %, Redefin
2nd place Intermediaire II (S*** level), 71,895 %, Verden
3rd place Intermediaire II (S*** level), 73, 421 %, Vechta
More

2020:

6th place Kurz-Grand-Prix, Louisdor-Preis Finalqualifikation, 70,302 %, Verden
3rd place qualifier for the Louisdor-Preis Finalqualifikation, 71,684 %, Verden
victorious Intermediaire II (S*** level), 71, 886 %, Stubben-Brunshausen
victorious Intermediaire A (S***level), 70,439 %, Stubben-Brunshausen
victorious Kurz-Grand-Prix (S***level), 72,763 %, Zeven

2019

victorious in the freestyle of the final of NÜRNBERGER BURGPOKAL, 9.5, Frankfurter Festhalle
3rd place in the final of NÜRNBERGER BURGPOKAL, 75,537 %, Frankfurter Festhalle
victorious in both Prix St.Georges, 75,789 %, Kreuth
presented the champion stallion for the ZfdP Kreuth: Classico Deluxe C by  Cadeau Noir - Blickpunkt
presented premium stallion Confess Color by Cadeau Noir - Licosto - Damsey for the Hanoverian licensing, sold for 1.890.000 Euro at the auction
victorious in Prix St. Georges freestyle, 80,000 %, Guxhagen-Dörnhagen
victorious in Prix St. Georges Special, 77,073 %, Guxhagen-Dörnhagen
victorious in the qualification of NÜRNBERGER BURGPOKAL, 74,366 %, Wintermühle Neu-Anspach
2nd place qualification NÜRNBERGER BURGPOKAL, 74,366 %, Werder
2nd place Intermediaire I, international show "Pfingstturnier Wiesbaden"
champion of Berlin-Brandenburg with Lena Waldmann, indoor championships for dressage riders (Prix St. Georges, Intermediaire I)
victorious in Intermediare I, 71,754 %, Berlin-Brandenburg chamionships, Tremsdorf
victorious in Prix St. Georges, 71,754 %, Berlin-Brandenburg chamionships, Tremsdorf
2nd place in a dressage test at advanced (S) level, Potsdam-Uetz
victorious in Prix St. Georges, Braunschweig
victoroius at the K+K-Cup Münster

2018

victorious in Prix St. Georges
2nd place in Prix St. Georges
2nd place in a dressage test at advanced (S) level

2017:

placed with the best in medium (M) level tests for young dressage horses
again numerous price highlights at the Elite Foal Auction in Verden

2016:

sired the winning stallion at Zfdp in Kreuth
numerous price highlights at the Elite Foal Auction in Verden
victorious in elementary (L) level tests for young dressage horses

2015:

qualified for the Bundeschampionat of five-year old dressage horses
placed with the best in elementary (L) level tests for young dressage horses

2014:

high placings in novice (A) level tests for young dressage horses

2013:

several victories in tests for young riding horses

2012:

30-day test in Moritzburg: Reserve Champion in the overall index dressage with a final score of 8.43 and a breeding value of 137 points with scores up to 9.0 for basic gaits, rideability and character
Approved for
Hanover, Oldenburg (OL), Westphalia, Southern German studbooks, Rhineland, Poland, Baden-Württemberg, Bavarian, Brandenburg-Anhalt, Mecklenburg-Vorpommern, Rheinland-Pfalz-Saar, Sachsen-Thüringen