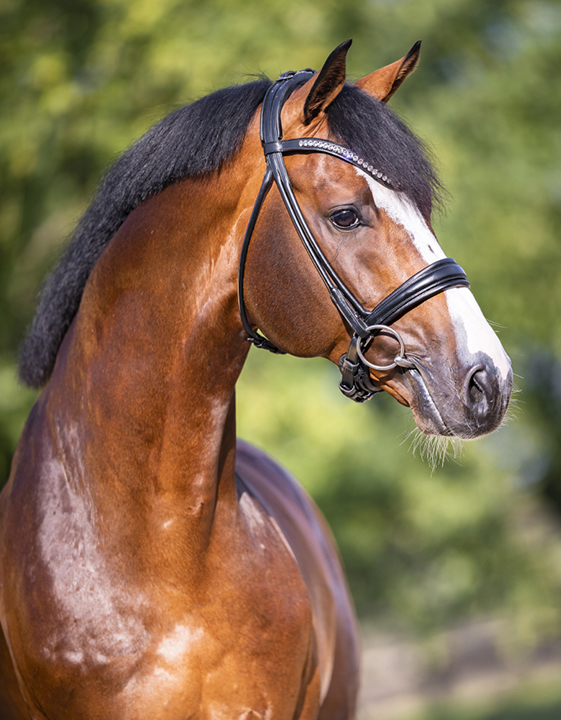 Cashmere
Vice Bundeschampion with amazing riding comfort
Description
Cashmere is a perfect gentleman. Enchanting beautiful, extremely likable, really uncomplicated and lovely – these attributes describe Cashmere best in addition to his outstanding quality in the jumping-course, where he also gives prove of his first-class rideability and character.
In 2020 Cashmere shone in the final of the Bundeschampionat of five-year old show jumpers, taking the silver medal under Marco Kutscher. Now, Cashmere inspires through his first international achievements such as in the youngster tour of San Giovanni in Marignano/ITA.
In the jumping-course Cashmere presents himself with a lot of scope, elasticity and an extremely attractive bascule. His light-footedness, natural suppleness and modernity make him ideally distinguished for passing technically advanced jumping-courses. Furthermore, Cashmere's motivation, rideability and great attitude to sport make the riding experience becoming pure joy. Already in his stallion performance test Cashemere's canter and rideability were honoured with a score of 9.0. In total he received a score of 8.71 with emphasis on jumping. In his 14-day test Cashmere underlined his double-talent with a score of 8.43 with emphasis on jumping and an 8.14 with emphasis on dressage. At the stallion licensing in Westphalia Cashmere caused a stir by taking the title of both, a premium and a reserve champion stallion.
Cashmere's offspring attract frequently with the same enchanting look of their sire. Often colourful, with beautiful faces, big eyes and a spotless conformation, Cashmere's offspring are really special, distinctive eye-catcher. Cashmere passes no red colour trait, meaning, none of his offspring have a chestnut-coloured coat.
Just like Cashmere, who celebrated several successes in tests for young riding horses, his offspring impress with very good movements which enable a career in both dressage and show jumping. Furthermore, they know to attract with their lovely and uncomplicated manner.
Cashmere's sire, Cristallo I, celebrated himself international achievements in the top sport under World Champion Henrik von Eckermann. Over 60 advanced (S) level successful offspring and 12 licensed sons give prove of the inheritance of this guarantor of success.
In second generation one of the most successful trademark stallions of the Holsteiner breeding history can be found: Contender. His offspring gained an impressive life time sum around 11.2 million Euro. 130 sons are licensed.
In the following line of ancestors Cashmere unites the highly successful combination of Holsteiner C and L blood. With the direct Ladykiller xx- son Lorenz Cashmere's pedigree bases on another advanced (S) level guarantor for performance. None other than the line-founding stallion Cor de la Bryère, found in fourth generation, completes this noble lineage.
As the dam side originates from the highly successful Holsteiner line 1094, Cashmere is truly a pearl in view of breeding. Several of his close relatives are celebrated stars in 1.60 m classes.
Cashmere's dam, Novice, gave also birth to the licensed Carento, finalist in the Bundeschmapionat, as well as the advanced (S) level successful Capriole. In total, eight impressive offspring out of Novice are successful in sport.
The granddam Bordela inspired with an extraordinary breeding record. She produced Lukas and Champion, who are both successful in international 1.60m classes.  Five other advanced (S) level successful offspring make Bordela an absolutely top dam.
Great granddam Ordela, too, immortalised herself in the Holsteiner breeding history through outstandingly sport successful offspring. She delivered Landlord, who was internationally victorious under Achaz von Buchwald and Lars Nieberg, the internationally winning Lady Orion under Andre Sakakini, the CSI4* successful Licori/M. Vinnichenko (UKR) as well as the advanced (S**) level successful Cordela/P. Assmus.
This highly successful line is also known for the licensed and internationally CSI5* successful stallion Quick Fire/M. Brinkmann (GER), the World Cup successful Darc de Lux/A. Schou (DEN), the international 1.60 m top show jumper and Nations Cup winner Carambole/W. Greve (NED) as well as the 1.60 m victorious licensed stallion Cambridge/P. Brodhecker (GER).
Cashmere is homozygous for dark colour.
WFFS status: negative (NON carrier)
show more