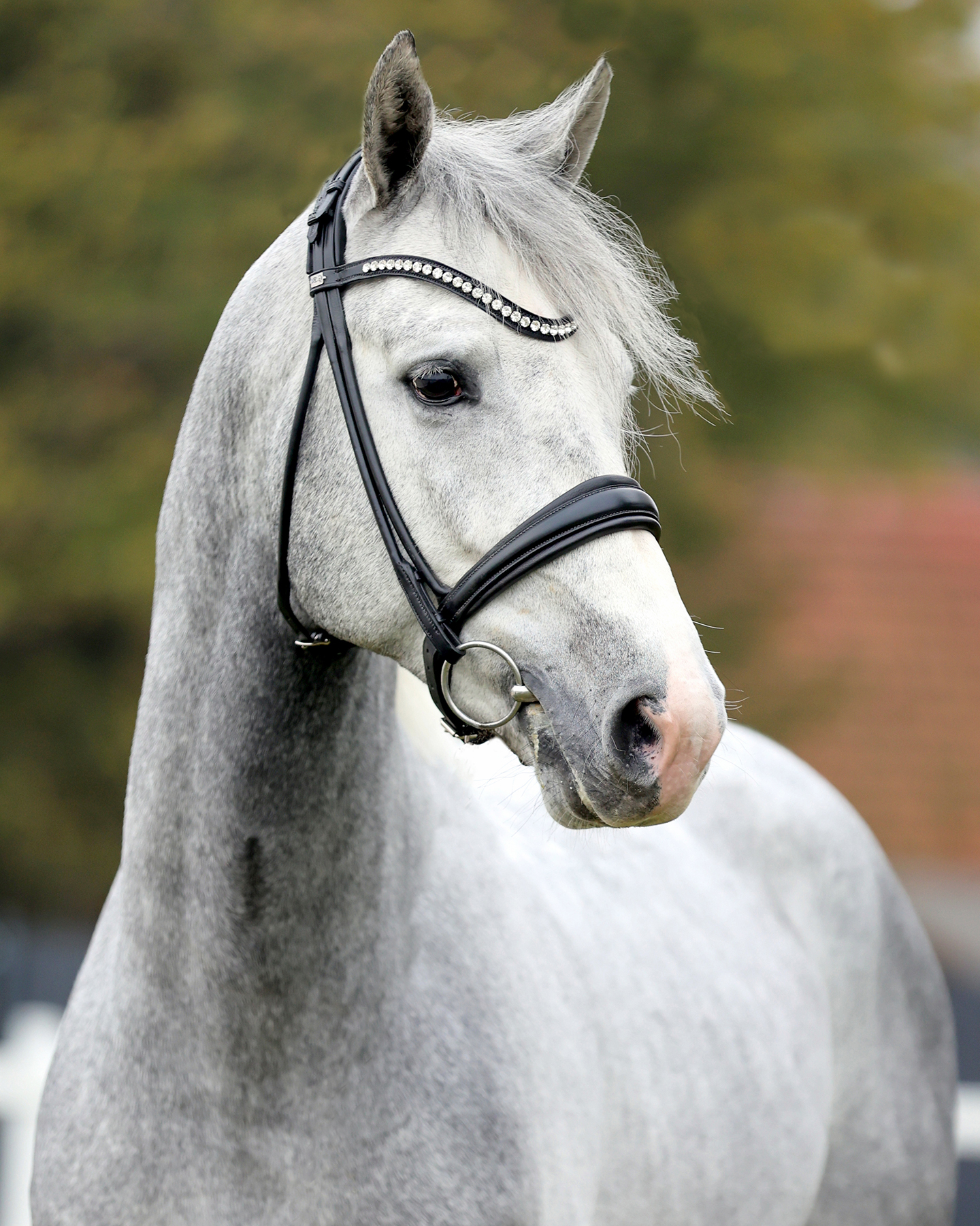 Chevalier
Modern athlete coming from a well known damline
Description
Athletic, modern and extremely smoothly moving – these words describe the thoroughbred-typed Chevalier best. This likable youngster is characterized by natural springiness, elasticity and balance in the daily training and in the jumping-course. Chevalier's modern sportiness originates from a traditionally performance-strong dam line that is well-preserved and secured.
Chevalier impressed as premium stallion at the Westphalian licensing in Münster-Handorf and finished successfully his first ability test at the age of three. In free-jumping Chevalier presented a first-class technique, jumping very elastically and regularly through the entire body. Under the saddle Chevalier knows to impress with agility and modernity.
Chevalier embodies the modern thoroughbred-typed sport horse, which is currently very demanded in the international sport. Extremely true to type, noble and light, that's how this young prospect presents himself.  Being correctly and harmoniously built, he also meets all physical requirements for a successful sports and breeding career.
His sire Checkter is as well a modern sport horse and first-class sire. Under Leonie Böckmann, Checkter celebrated, just recently, international top achievements at advanced (S***) level. Despite of Checkter's still young age, he became the Oldenburg VTV Stallion of the Year 2021 due to his outstanding performance and breeding record.
The dam's sire, Cornet Fever, collected ribbons in series as youngster, placing in both the final of the Bundeschampionat and the WC for young show jumpers in Lanaken under Gerd Könemann. Then, American owned, he continued his career by taking numerous placings in the advanced class. Cornet Fever's offspring are meanwhile successful up to advanced (S) class in the jumping-course as well.
None other than the legendary Westphalian trademark stallion Pilot can be found in third generation. With 84 licensed sons and an offspring's winning sum of about 4 million Euro Pilot justifies his life-size bronze monument in front of the doors of the Westphalian Equestrian Centre in Münster-Handorf. He influenced the Westphalian breeding of show-jumpers like no other.
Chevalier's Westphalian dam line is performance-oriented and sport-proven. Especially worth-mentioning is the stringent performance record of the direct dams as well as their offspring, which are closely related to Chevalier.
The dam Cortessa O was highly successful in show-jumping up to advanced (S) class under Philipp Winkelhaus. The granddam Pytesse, too, gave prove of her strong performance in the jumping-course up to medium (M) level and delivered two advanced (S) level successful daughters named Cortessa O and Laskaja O. The great granddam Amazone immortalized herself through her legendary licensed son Phantom, who achieved impressive 138 advanced (S) level placings, in the pedigrees of several successful sport horses. Furthermore, the heredity-strong mare Amazone gave birth to the advanced (S) level victorious offspring Phantomesse and Power.
In the further line of ancestors international top sport horses can be found like pearls on a string. Among them are the World Cup finalist Pro Pilot II/Edouard Couperie/FRA or the CSI5* successful Pernod under Gavin Moylan/CAN as well as the licensed stallions Adlerflug and Gratianus.
WFFS status: negative (NON carrier)
show more
Results
2023:
2nd place Youngster class (1.10 m), 8.2, Ostbayernhalle Kreuth
4th place Youngster class (1.10 m), 8.3, Ostbayernhalle Kreuth
8th place Youngster class (1.10 m), 7.9, Ostbayernhalle Kreuth
successful sports test part I for four year old stallions in Münster Handorf
2022:
successful stallion test for three year old stallions in Verden
2021:
Premium awarded stallion of the Westphalian licensing in Münster Handorf
Approved for
Westphalia, Oldenburg International (OS), Southern German studbooks