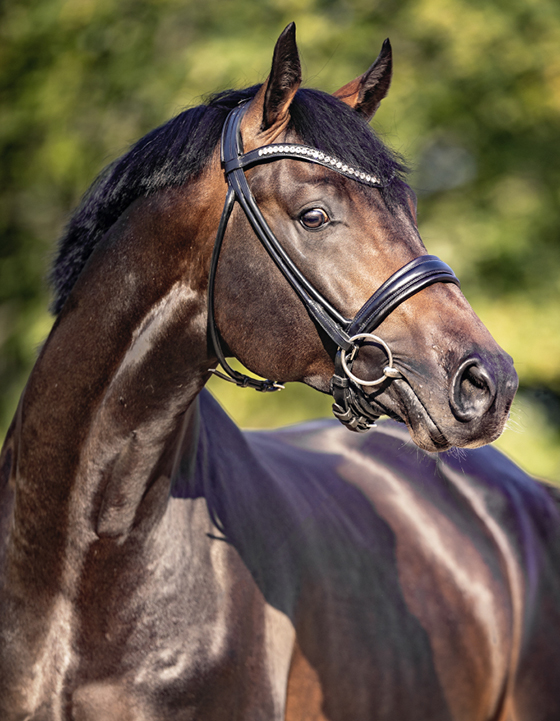 Coeur de Bella Donna
Outstanding jumper with olympic genetics
Description
Outstanding free-jumping, impressive intelligence, a dreamlike type and, additionally, the world's best genes – in short: Coeur de Bella Donna embodies an ideal of a real special young prospect for breeding and sport!
Coeur de Bella Donna became celebrated Champion Stallion at the Westphalian licensing. There, he caused sheer excitement and goose bumps when he presented his talent in free-jumping. With an extraordinary elasticity, a maximum of scope and an excellent technique Coeur de Bella Donna mastered even the highest jumps effortlessly. His natural vision and brain at the jump impress especially, which became definitely clear on the occasion of the new licensing discipline, the free-jumping with only one fence. Finally, breeding manager Thomas Münch summarised his performance: "An athlete from head to toe with top-class jumping impressions we rave about."
In 2021 Coeur de Bella Donna finished a very good 50-day test in Adelheidsdorf. Therewith, a lifelong registration in the stallion book (Hengstbuch I) is guaranteed.
Coeur de Bella Donna presents himself in an extremely beautiful, sporty modern look. He is long-legged, correct and compact. And with his engaging charisma this young athlete meets also the highest demands in view of appearance. Furthermore, his character is distinguished with coolness and intelligence. He is very confident, easy to handle, lovely and human-oriented.
Coeur de Bella Donna presented a top-class first crop. He powerfully passed on his traits, siring extremely beautiful, athletic and long-legged foals, which inspire with a certain melting impression as well as a lot elasticity. A high number of outstanding elite auction foals underline the special quality of Coeur de Bella Donna's offspring at well-known auction sites.
The line of ancestors of Coeur de Bella Donna couldn't be more interesting for breeding: World-class sire Cornet Obolensky meets Olympic mare Bella Donna, who again originates from one of the world's most successful dam lines.
His sire Cornet Obolensky dominated the international top classes in sport and breeding like no other stallion did in life-time. World-class sport horses such as Comme il faut and Cornado NRW/M. Ehning (GER), Cornet d'Amour/D. Deußer (GER), Clooney/M. Fuchs (SUI), Corbinian/S. Guerdat (SUI) or Balou du Reventon/D. Kenny (IRE) are just a few offspring of the king of inheritance. Under Marco Kutscher Cornet Obolensky became celebrated European team champion in 2011 and won many Grand Prix as well as Nation Cups. In 2008, he was member of the Olympic team in Hong Kong.
Not less prominent is the dam Bella Donna. As revelation in sport she became famous all over the world under Meredith Michaels-Beerbaum. At the age of only nine, Bella Donna represented the German colours at the 2012' Olympic Games in London. Nation Cup wins, top placings in World Cups as well as in 5*-star Grand Prix make Bella Donna being a world star around the globe. She gained a life-time prize sum of nearly 700,000 Euro in advance of the worth million sale to Qatar. Later on, under Hamad Ali Mohamed A Al Attiyah, Bella Donna collected many international successes in 1.60 classes for Qatar.
The dam's sire Baldini II was victorious in advanced (S) classes under Sarah Nagel-Tornau. He is known as strong-minded athlete – a fighter. Another world-class sire legend is found in third generation: Calido. More than 350 advanced (S) level successful offspring with life-time winnings of about 4.5 million Euro as well as 83 licensed sons leave no questions unanswered. In fourth generation, Calypso II, an undisputed progenitor, completes the pedigree perfectly.
To name all the successful horses of the Holstein line 7126, another page would be needed. Therefore the licensed stallions Acobat I-III, Acord I-III and Burggraaf as well as the international successful 5*-horses Limonchello NT/C. Kukuk (GER), Crown/G. Bloomberg (USA), USA Today/A. Kocher (USA), Fruselli/H. Smith (GB), Dienellie/ L. Nooren (NED) or Glock's Zaranza/G. Schröder (NED) shall be named representatively.
Coeur de Bella Donna is homozygous for dark colour.
WFFS status: negative (NON carrier)
show more
Results
2023:
2nd place 1.10 m Youngster class, 8.6, Ostbayernhalle Kreuth
3rd place 1.10 m Youngster class, 8.4, Ostbayernhalle Kreuth
4th place 1.10 m Youngster class, 8.1, Ostbayernhalle Kreuth
2021:
successful 50 day test in Adelheidsdorf
2020:
Champion stallion of the Westphalian licensing
Approved for
Westphalia, Hanover, Oldenburg International (OS), Southern German studbooks, Poland