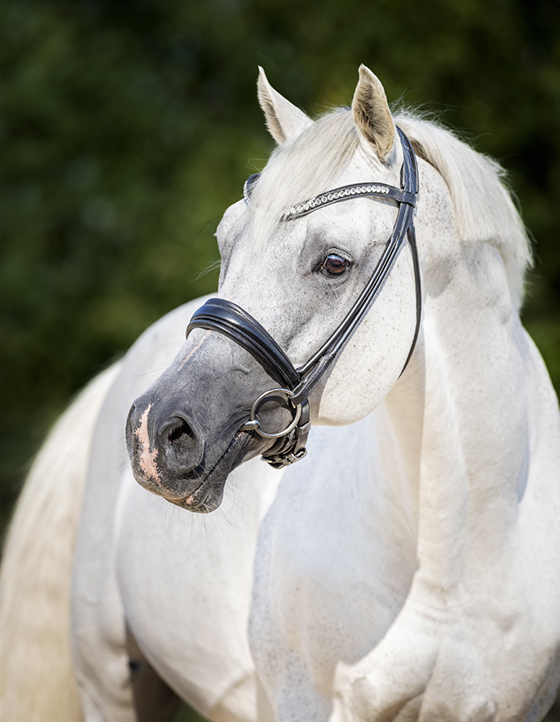 Cordess
Top 5* Global Champions Tour Athlete
Description
After printing our new stallion catalogue, we got the pleasant news that another top stallion will be stationed at Bonhomme stud for the future. So, we happily pronounce that Cordess, a world-class athlete, will enrich the lot of the EU station of Bonhomme stud. Cordess inspires experts all around the world and his fresh semen will be available for our breeders now.
Cordess succeeded brilliantly under the saddle of Philipp Weishaupt and Christian Kukuk, collecting ribbons at international 5*-level (1.60 m classes) in series, for example at the Global Champions Tours of Berlin, Monte Carlo, Paris, Hamburg, Estoril or Shanghai as well as the World Cup leg in Hong Kong. With his rider Christian Kukuk, Cordess was a fixed member of the Global Champions tour team named Cannes Stars (Ludger Beerbaum, Marco Kutscher, Christian Kukuk, Guido Klatte jun., Jane Richard Philips/SUI) and travelled even to Miami, Mexico City and Doha. In the Grand Prix of Braunschweig Cordess became the celebrated winner. And in the Grand Prix of Neumünster Cordess and Christian Kukuk took silver.
In view of breeding Cordess has presented quite a row of sport successful offspring up to advanced (S****) level (1.55 m). Six of his sons are licensed. And with Contingent, he sired the 2018' reserve champion at the Westphalian licensing in Münster-Handorf.
Cordess' offspring are distinguished by a beautiful, noble type. They are extremely modern and inspire with their sporty look as well as with an excellent basic quality, much scope and the toughness needed for becoming a top athlete.
Cordess himself originates from an absolutely time-proven blood combination. With Clinton and Heartbreaker in the line of ancestors, the same world-class sires are connected just it is in the pedigree of Cornet Obolensky. Under Dirk Demeersman (BEL) the sire Clinton competed at the 2004' Olympic Games in Athens and celebrated his silver medal in the Grand Prix of the CHIO Aachen. Clinton's offspring stand currently out with life-time winnings of more than 2 million Euro in the international top sport. 19 sons are licensed.
The dam's sire, Heartbreaker, was awarded the coveted title "preferent" because of the extraordinary successes of his offspring all over the world. Heartbreaker was himself successful at Grand Prix level under his Dutch rider Peter Geering. Among others, they took fourth rank at the Grand Prix of Aachen.
In fourth generation the Holstein stallion Burggraaf can be found as another top jumper-sire in the line of ancestors. Burggraaf, who influenced the Dutch breeding decisively, was also awarded the elite title "preferent". Furthermore, Burggraaf collected many ribbons in the international jumping-course under Roelof Bril/NED.
Cordess' dam Usminka A delivered another top international show jumper named Aminka A, who was brought into the international sport by Willem Greve. Now she places with the best in 1.60 classes under Michael Desiderio for the USA.
Origin of this success is the famous Oldenburg line of Freiminka. Beside numerous licensed sons and many international top level sport horses, there was one, who brought special attention to this dam line: Totilas. This dam line produced a high number of striking show jumpers such as the licensed Agana vat het Gerendal Z, internationally highly successful at CSI5* level (1.60 m) under Lillie Keenan/USA, Sea Cost Guiness, internationally winning in 1.60 m classes under Harrie Allen/IRE and Gudrun Patteet/BEL as well Zernike K, successful in World Cup qualifiers under Brianne Goutal-Marteau/USA.
WFFS status: negative (NON carrier)
show more
Results
Under the saddle of Christian Kukuk and Philipp Weishaupt, Cordess celebrated numerous wins and placings in advanced show-jumping classes up to S***** level. Therefore, only the most important int. successes are mentioned here:
vitorious in the Grand Prix of Braunschweig 2017 ( CSI3*, 1,60 m)
4th place Global Champions Tour Berlin 2018 (CSI5*, 1,60 m)
11th place Global Champions Tour Berlin 2018 (CSI5*, 1,55 m)
7th place Global Champions Tour Monte Carlo 2018 (CSI5*, 1,60 m)
2nd place CSI Hong Kong (CSI5*, 1,50 m)
3rd place in the Grand Prix of Riesenbeck 2017 (CSI3*, 1,50 m)
11th place in the Global Champions Tour Berlin 2017 (CSI5*, 1,55 m)
2nd place in the Grand Prix of Neumünster 2017 (CSI3*, 1,50 m)
8th place in the Grand Prix of Brussels 2015 (CSI5*-W, 1,60 m)
7th place in the Grand Prix of St. Moritz 2015 (CSI4*, 1,55 m)
4th place in the Grand Prix of Groß Viegeln (CSI3*, 1,50 m)
5th place in the Grand Prix of Münster (CSI4*, 1,55 m)
12th place in the Grand Prix of La Coruna 2014 (CSI5*-W, 1,60 m)
18th place in the Worl Cup-qualifier of Shanghai 2014 (CSI5*-W, 1,60 m)
Approved for
Hanover, Oldenburg International (OS), Westphalia, Southern German studbooks, Rhineland