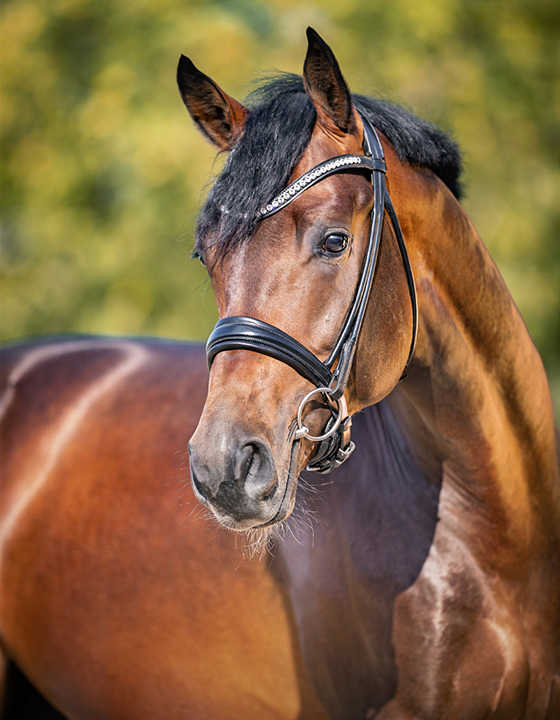 Forever Rock
Striking charming boy with great talent
Description
Forever Rock is the embodiment of perfect charm. Extremely congenial in a very noble look and distinguished with a first-class quality of movements, this living beauty is surrounded by a unique aura.
In addition to this perfect type, his confirmation is spotless as well. "He is standing in an ideal frame," praised the Westphalian breeding director Thomas Münch. The well-proportioned parts integrated into the well-developed stature on correct and strong legs with ideal joint-formation made this youngster a premium stallion at the Westphalian main licensing in Münster.
Forever Rock inspires with three very good basic gaits, which are characterized by natural suppleness, elasticity and balance. In trot the impulsion clearly emanates from the active hindquarters, powerfully pushing-off. Thereby, he always moves in rhythm with the gait, swinging through the entire body. The freedom of the shoulder is clearly evident. An absolute highlight of Forever Rock is his breath-taking canter: ground-covering, uphill with a clear three-beat-sequence stepping under the centre of gravity, that leaves nothing to be desired. The walk, too, is marked by suppleness, rhythm and regularity in combination with excellent ground-coverage. So Forever Rock gives prove of his quality in this gait as well. Forever Rock finished his stallion performance test with a total score of 8.75 (rideability 9.5, willingness to perform 9.0, trot 8.4, canter 8.6, walk 8.0).
In view of his character Forever Rock is everybody's darling. Lovely, curious and mentally balanced – he reliably keeps the vision at all times.
His sire Franziskus became a steady part of the German dressage team under Ingrid Klimke. On the occasion of the WEG in Herning/Denmark they took together the bronze medal with the German team. 34 licensed sons as well as numerous advanced (S) level successful offspring speak for themselves.
The dam's sire, Rock Forever I, impresses under Sophie Holkenbrink with an outstanding sports career up to Grand Prix level. A highlight of the career of the still young Sophie with her ribbons collector was certainly the final of the Piaff Trophy in 2017. The power of heredity of this ambitious stallion with the great character is obvious when looking at nearly 50 advanced (S) level successful dressage horses as well as seven advanced (S) level show jumpers among his offspring. Furthermore, 32 sons are licensed.
In third generation of his pedigree, the time-proven Westphalian performance-sire Ferragamo, who is highly esteemed for his multi-talented genes, can be found.
By now, Forever Rock is the third licensed son of his dam Raya RH. His full brother is the sensational premium stallion Franz Joseph Junior, who became the 2019' Vice Westphalian Champion and placed also in the 2021' Bundeschampionat of five-year-old dressage horses under Sophie Holkenbrink. When bred to Free Kick (by Franziskus), Raya RH presented another licensed son.
Forever Rock comes from the Hanoverian line of Ferbu, which is well-known for successful sport horses such as the Hanoverian champion stallion Buenos Aires.
Forever Rock is homozygous for dark colour.
WFFS status: negative (NON carrier)
show more
Results
2023:
successful sports test for 4yo. stallions in Verden
2022:
3yo. stallion test in Münster/Handorf: rideability 9,5, willingness to work 9,0, trot 8,4, canter 8,6, walk 8,0, total score: 8,75
2021:
Premium stallion of the Westphalian licensing in Münster Handorf
Approved for
Westphalia, Oldenburg (OL), Southern German studbooks, Hanover requested