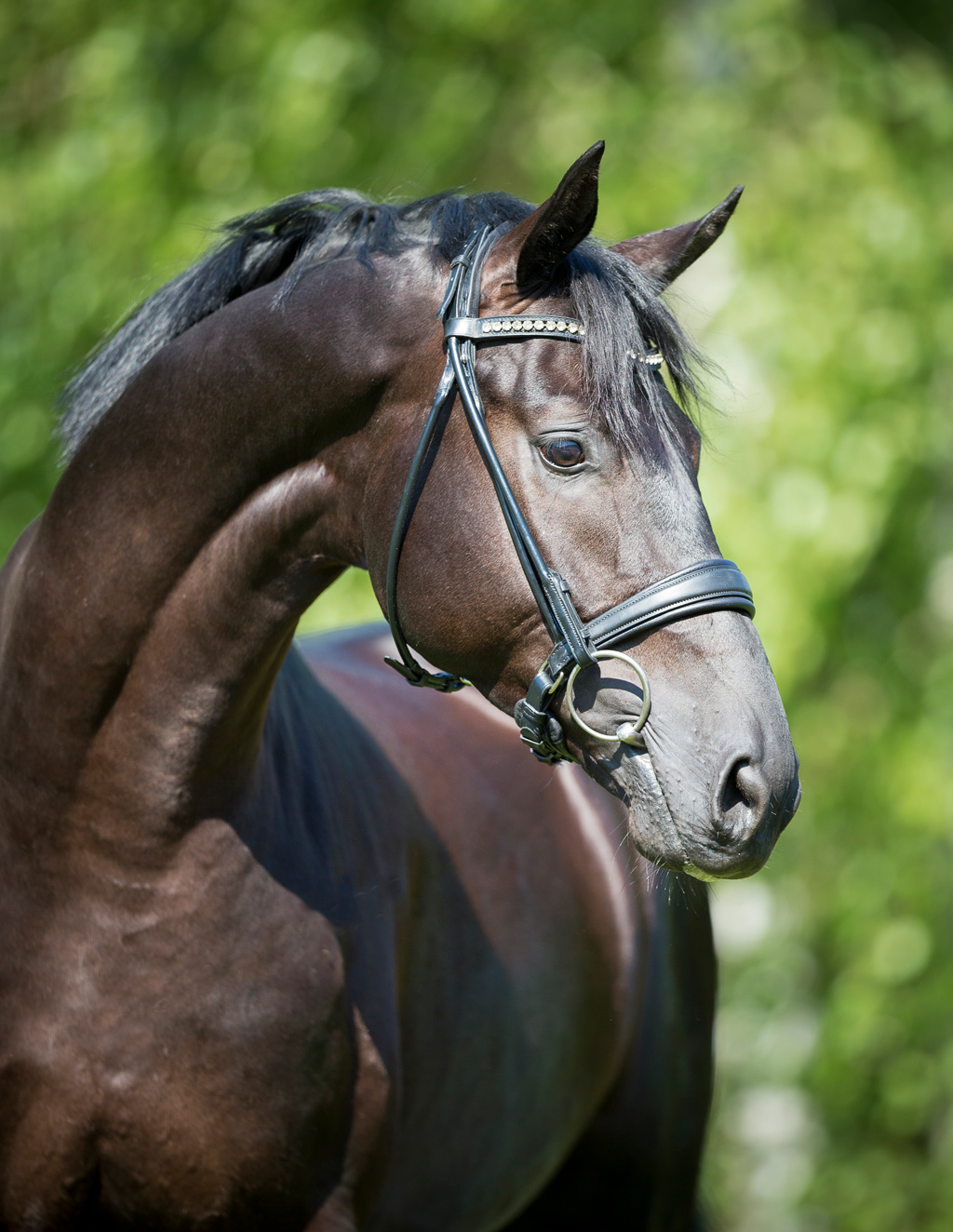 Maracaná
Motion giant with perfect appearance
Description
A dream in black – breathtaking appearance! This stallion is a really special one and second to none!
Maracanà's sports career is shaped by superlatives. In 2021 Maracanà qualified for the Bundeschampionat with a phenomenal score of 9.2. This was the second-best score among all results in the qualifiers for six-year-old dressage horses in Germany. Already in 2020, this impressive shiny black stallion won tests for young dressage horses with top scores up to 9.4 in series. As cherry on the cake of a first-class competition season Maracanà won right away his first international class on the occasion of the youngster tour at the CDI Hagen with a top score of 86.600 percent. Several times he received a perfect 10.0 for submissiveness.
In 2019 he was the winner of his sport test in Verden with an overall score of 8.62 (rideability 8.8, walk 8.8, overall impression 8.8., trot 8.5, canter 8.2). Furthermore he was victorious in his first novice (A) level test for young dressage horses with an incredible score of 9.0.
In 2017 he thrilled as a impressive premium stallion at the Westphalian licensing in Münster Handorf. It's simply impossible to look away from this striking master of movements. An excellent mechanic combined with his spectacular step-off as well as very engaged hindquarters moving always in rhythm with the gait make the stallion's motion sequence the embodied perfection. Natural elasticity and cadence let every motion swing through the entire body. Despite of his young age Maracaná is already well-balanced and collected. The continuity of his spectacular motion sequences attracts attention every time he presents himself. Maracaná fascinats with gleaming charisma and royal habitus.
Maracaná's appearance is the definition of a modern dressage stallion. His noble beauty and impressive habitus guarantee goose-bumps at every presentation. In view of his type his extremely long legs and elegance are especially eye-catching. Despite of his splendid size he embodies a noble lightness without loss of substance. Super correct, with very good legs and harmoniously built limbs, Maracaná leaves nothing to be desired in view of conformation as well.
This smart and extremely willing to work black jewel has also a very lovely character and is very people-oriented. He finished his 14-day test with a final dressage score of 8.34 and received a 9.0 for his rideability. His willingness to perform was honoured with 9.0 and his character received a 9.25.
As sire Maracaná leaves nothing to be desired. His crops inspire with an outstanding quality of movements and a modern, well-framed true to type look.
His sire Millennium is certainly the most significant Trakehner of current breeding. He is omnipresent at licensings of all breeding associations with champion stallions and, meanwhile, about 65 licensed sons. Especially, the noble type and charisma combined with extraordinary quality of movements give prove of his striking power for refinement when looking at many of his offspring.
The dam's sire Lord Loxley is worldwide known due to the inheritance of his outstanding quality of movements. As Bundeschampion and multiple winner in advanced level classes Lord Loxley I shines also with his highly successful offspring such as Lorenzo, who placed fifth in the individual class under the Spanish rider Severo Jurado Lopez at the Olympic Games in Rio de Janeiro.
In third generation, Lancer II brings the demanded genes of the great Landgraf again into play. Both, the sire and the son, influenced the breeding with highly successful jumping offspring, but also with numerous advanced level winning dressage offspring. Then, Ramiro, found in fourth generation, is another top Holsteiner sire in the pedigree of Maracaná.
Furthermore, the origin of Maracaná's dam line is Holstein. It's line 7700, which also produced the stallion Lord Star.
WFFS status: negative (NON carrier)
show more
Results
2022:
Maracaná presents a premium stallion out of a Biasini - Ehrentusch-dam for the DSP licensing in München
2021:
victorious M level test for young dressage horses with a score of 9.2, qualified for the German Bundeschampionat, Redefin
2nd place M* level test with a score of 8.0, Unna Massener Heide
More

2020:

2nd place novice (L) level test for young dressage horses with a score of 8.1, qualified for the German Bundeschampionat, Verden
victorious CDIYH Hagen International Youngster Tour 5 y., 86,600 %, Hagen a.T.W
2nd place CDIYH Hagen International Youngster Tour 5 y., 83,600 %, Hagen a.T.W
qualified for the German Bundeschampionat with a score of 8.3, Verden
victorious in novice (A) level test for young dressage horses with a score of 9.4  (trot: 9,5, walk: 8,5, canter: 9,0, submission: 10,0, Gesamteindruck 10,0), Essen-Herbergen
victorious in his first novice (L) level test for young dressage horses with a score of 8.4, Wartenberg-Angersberg
victorious in novice (A) level test for young dressage horses with a score of 8.8, Wartenberg-Angersbach

2019:

victorious in novice (A) level test for young dressage horses with a score of 9.0
winner of the stallion sport test in Verden with extremely high marks: total score: 8.62 (rideability 8.8, walk 8.8 , overall impression 8.8, trot 8.5, canter 8.2)

2018:

successful 14-day test in Adelheidsdorf: final score with emphasis on dressage: 8.34 (willingness to work 9.5 , character 9.25 , rideability 9.0, temperament 9.0 , canter 8.5 , walk and trot 8.0)

2017:

Premium Stallion and price highlight at the Westphalian licensing in Münster-Handorf
Approved for
Hanover, Oldenburg (OL), Westphalia, Southern German studbooks, Rhineland, Hessen, Poland, Baden-Württemberg, Bavarian, Mecklenburg-Vorpommern, Rheinland-Pfalz-Saar, Sachsen-Thüringen