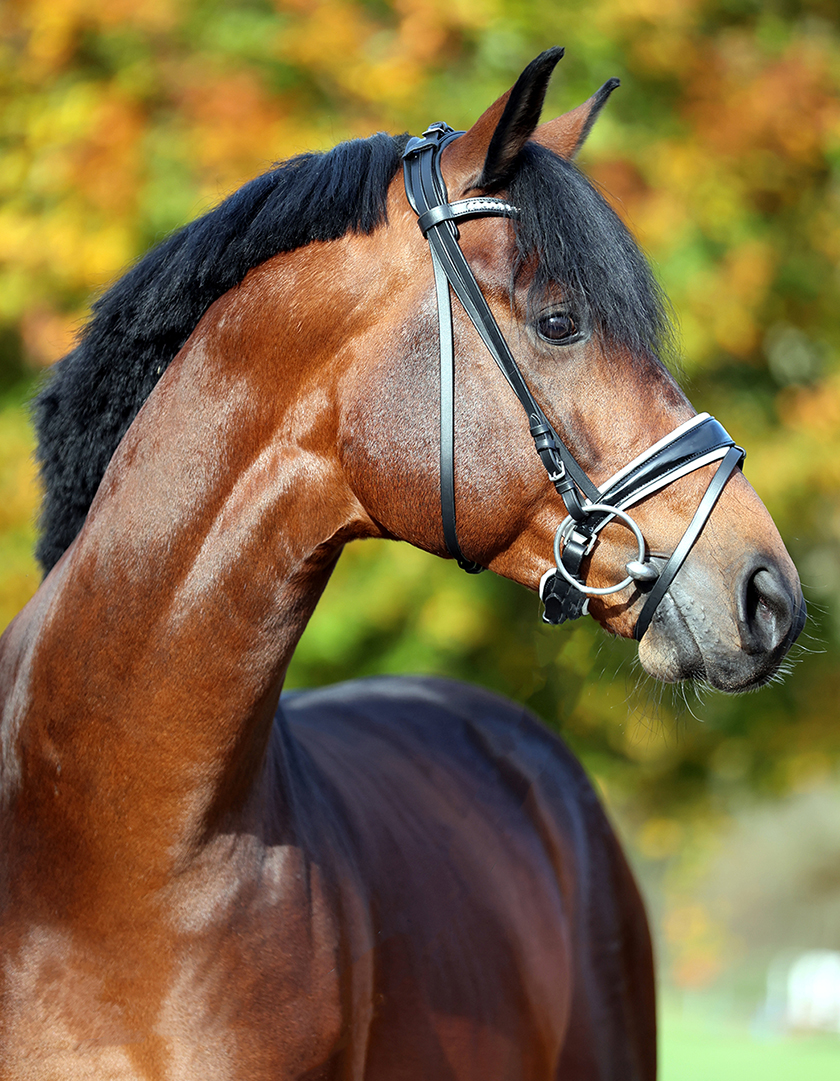 Maxim
Stunning type and top quality
Description
Maxim – what an appearance! Maxim embodies the perfect silhouette of a modern sport horse, gifted with pure elegance, but also sparkling athletic power. Quite natural, Maxim reveals spectacularly his enormous basic quality with striking elasticity. A Grand Prix prospect, if there ever was one!
With his charisma, big eyes, his well-set neck and noble head Maxim knows how to capture all hearts. Maxim's look is especially characterized by his modern long, but strong and straight legs, as well as his absolutely harmonious and correct conformation.
Maxim's spectacular power of movements in both trot and canter make him an absolute eye-catcher. Especially delighting are his powerful active hindquarters in combination with his maximum freedom of shoulder and high-knee action. Due to it Maxim's action of movements looks very natural, cadenced and safe, despite of his imposing appearance. Furthermore, he is also gifted with a ground-covering, fluent and regular walk. Olympic rider and trainer Simone Pearce certifies Maxim a naturally given talent for Grand Prix, especially for piaffe and passage.
With ease, Maxim qualified for the 2022' Bundeschampionat of five-year old dressage horses with a score of 8.4. In this competition, too, the uniform high quality of the stallion as total package was emphasized. Trot, canter, submissiveness and overall impression received a score of 8.5 and an 8.0 for walk. He also passed sovereignly all parts of the stallion performance test system, so that a lifetime registration in den stallion book I (Hengstbuch I) is guaranteed.
In breeding Maxim passes his extraordinary quality of movements on to his offspring. His first crops present themselves remarkably well-moving, incredibly true to type, large-framed and long-legged. The offspring's natural uphill tendency, modernity and charisma give prove of the performance-oriented genetic, which fills the veins of Maxim.
Maxim's pedigree is characterized by internationally Grand Prix successful top stallions. His sire, Glock's Toto JR, who himself was highly victorious in international Grand Prix classes under Edward Gal, is sired by the world-class championship stallions Totilas/EdwardGal and Desperados FRH/Kristina Sprehe. 11 licensed sons as well as numerous advanced (S) level successful offspring give prove of the power of inheritance of this relatively young stallion.
The exceptional Dutch stallion Johnson can be found in second generation. Over several years he had been the championship horse of the Dutch team member Hans-Peter Minderhoud. Numerous international Grand Prix victories, EC team gold and individual bronze medal in Aachen in 2015, sixth place in the 2014' World Cup final in Lyon as well as a fourth place with the team at the 2016' Olympic Games in Rio de Janeiro decorate the full performance record of this world-class pair. Also phenomenal is Johnson's power of inheritance in view of sportiness: Remarkable 54 offspring are successful in Grand Prix classes all around the world.
In third generation the KWPN champion stallion Uptown follows in the line of ancestors. Uptown placed fifth in the final of the WC for five-year old dressage horses under Hans-Peter Minderhoud. As refining basis of Maxim's noble pedigree the finest jumping blood can be found through the sire Gershwin (by Voltaire/Nimmerdor), who himself was successful in advanced (S***) show jumping.
Maxim's dam Helina passed a very good mare performance test and was honoured the title Elite Mare of KWPN Breeding. The granddam Capetown inspired in advanced (S) level dressage classes. She, too, took the title Elite Mare. Great granddam Let it be produced an advanced (S) dressage class successful progeny when bred to Ricardo by Juventos. The further KWPN dam line is also known for a high number of dressage horses who are successful at advanced (S) level.
WFFS status: negative (NON carrier)
show more
Results
2022:
3rd place in L level test for young horses with a score of 8.4, qualification for the Bundeschampionat of 5-year old dressage horses, Hof Bettenrode
2nd place in L level test for young dressage horses with a score of 8.1, warm up for Bundeschampionat qualifier, Note 8.1, Hof Bettenrode
2021:
victorious in novice (A) level test for young dressage horses with a score of 8.5, Salzkotten
2019:
licensed at the Oldenburg licensing in Vechta
Approved for
Oldenburg (OL), Hanover, Westphalia, Southern German studbooks