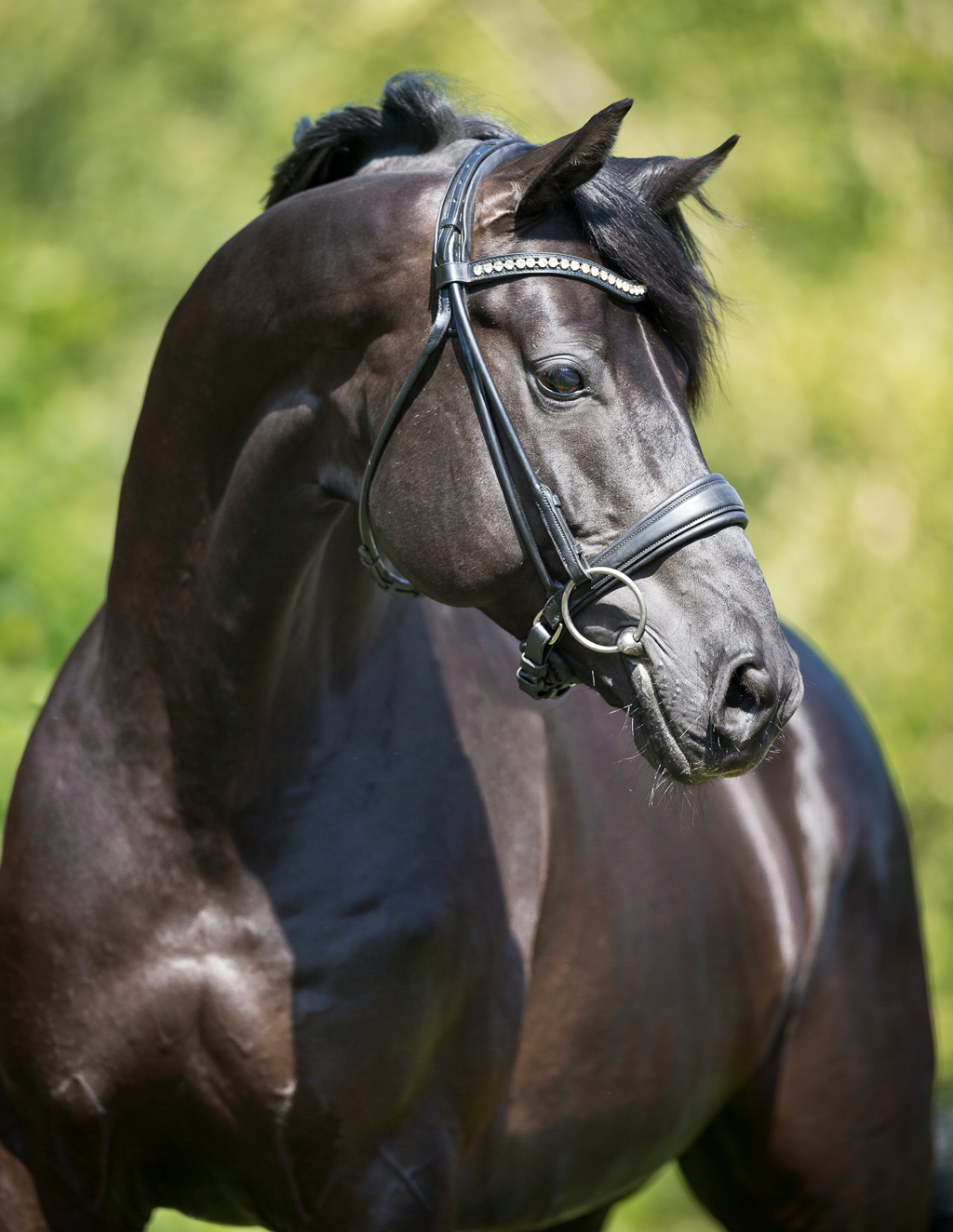 Morricone
Shining Champion Stallion and phenomenon of rideability
Description
"Loved by the public – ennobled with the band – celebrated as Champion" – in short, Morricone inspires as multi champion – and this up to date! Whether sport or breeding, there are no limits for Morricone!
Like no other, Morricone unites an optimum in view of noble and top modern type, striking quality of movements as well as extremely brilliant rideability and strength of character. His resounding power of heredity made him a precious trademark stallion already at young age.
VTV-Oldenburg Sire of the Year 2021, Main Premium Winner 2016, the 2015' Dressage Champion of the stallion performance test and 2014' Oldenburg Champion Stallion – Morricone took all possible honorary titles in breeding. As Grand Prix winner Morricone fulfils all requirements in view of dressage sport. Beside qualifying for the final of the Louisdor Trophy, he collected several victories and placed with the best at horse shows with many strong competitors, such as the German Championships in Balve or at Horses & Dreams in Hagen a.TW. Already in 2019, Morricone inspired in the final of the Nürnberg Burg Trophy.
In his stallion performance test he won superiorly the dressage part with a score of 9.33 and received the maximum score 10.0 for rideability and walk four times. All basic gaits as well as constitution, character, temperament and willingness to perform were praised with scores of 9.5 and 9.0.
Morricone's offspring exceeded all expectations. They stand out with their beautiful and noble type like they were all of a piece. Especially under saddle, Morricones offspring performs absolutely amazing. His daughter Macadamja was the striking 2022' Bundeschampion of four-year old mares and geldings in Warendorf. Among the five-year old dressage horses the licensed stallion Macchiato became Vice Bundeschampion under Greta Heemsoth. Two other Morricone-sons placed with the best in the final. In total, Morricone sent 12 offspring to this year's Bundeschampionat. Furthermore, Morricone presented twice the price highlights, Mister Universe (340,000 €) and Movie Star (250,000 €), at the Oldenburg auction. In addition, there are numerous champion foals at well-know foal championships as well as a high number of elite auction horses that were sold for high prices. 17 sons of Morricone are licensed including four premium stallions in Oldenburg, Hanover and Westphalia.
Morricone's progeny is wanted as extremely rideable, powerfully moving beauties who conquer every rider's heart instantly.
His classic line of ancestors appears like a fairytale: His sire Millennium was second reserve Champion at the 2010′ Trakehner main licensing and leads over his sire Easy Game to the noble blood of the Trakehner Gribaldi directly.
The dam's sire Rubin Royal OLD is Main Premium Winner in Oldenburg and international serial Grand Prix winner under Hendrik Lochthowe.
The grandsire is none other than De Niro.  It would go beyond the scope to honor his breeding record in detail.
In fourth generation the Grand Prix winner Rubinstein manifests the pedigree as founder of the modern R-line. This line is also known for the performance-sires Admiral I as well as Thoroughbred Guter Gast xx.
Therefore, origin of success is the dam line of Hainbuche, which also produced Donnerhall's dam's sire Markus, Weltgeist I, San Remo as well as numerous successful Grand Prix horses.
WFFS status: negative (NON carrier)
show more
Results
2021:
9th place Grand Prix, Louisdor Preis Final, 70,460 %, Kronberg
victorious Grand Prix, 74,500 %, Redefin
Morricone is honored with the title "Oldenburger VTV stallion of the year 2021"
victorious S**-dressage (Intermediaire I Freestyle), 78,583 %, Chemnitz
2nd place S***-dressage (Intermediaire II),72,061 %, Schenefeld
2nd place S***-dressage (Intermediaire II),72,974 %, Görlitz
2nd place S***-dressage (Intermediaire II),72,193 %, Rastede
3rd place S***-dressage (Intermediaire II), 74,368 %, Youngster Tour, German Championships Balve-Optimum
victorious S***-dressage (Intermediaire II), 73,536 %, qualifier for the Louisdor Prei final qualification, Horses & Dreams Hagen a.TW.
victorious S***-dressage (Intermediaire II), 72, 895 %, Verden
Morricone presents the Oldenburg Vice-Champion of 3y. old stallions Moreno by Morricone - San Amour, bred by Wilhelm Strohm
Morricones daughter Morricona by Morricone - Sandro Hit gets the Id-premium in the brillant ring of the Oldenburg Elite mare show
Morricone presents the Westphalian champion of 3y. old stallions Macchiato by Morricone - Just Perfect, bred by Norbert van Laak
Morricone presents the DSP champion of 3y. old stallions Montgomery by Morricone - Foundation, bred by Reinhold Marschall
Morricones son Mister Universe (4 year old gelding by Morricone - San Amour), becomes the most expensive horse at the Oldenburg Special Edition auction. He was sold for 340.000,00 €.
Morricones son Movie Star becomes the most expensive horse at the Oldenburg Elite auction. He was sold for 250.000,00 €.
More

2019:

5th place in the final of NÜRNBERGER BURGPOKAL, 75,073 % Frankfurter Festhalle
4th place in Prix St. Georges Special, warming up for the final of NÜRNBERGER BURGPOKAL, 75,268 %, Frankfurter Festhalle
Morricone presented a premium stallion for the Westphalian licensing in Münster-Handorf
Morricone presented a premium stallion for the Oldenburg licensing in Vechta
Morricone presented a licensed stallion for Brandenburg licensing in Neustadt-Dosse
Morricone presented a licensed stallion for Hannoverian licensing in Verden
2nd place in the qualifier of NÜRNBERGER BURG-POKAL, 75,042 %, Verden
victorious in S*-dressage (advanced level), 71,5 %, Berlin-Brandenburg indoor championships, Tremsdorf
Morricone made an extraordinary debut in advanced (S*) class, finishing with a result of 72 percent in a group of strong competitors in the Yougster Tour of the K+K Cup in Münster! Morricone took fourth place, finishing as best seven-year old horse. In the final of the Youngster Tour he confirmed his extraordinary performance again with a result of 71 percent, placing seventh.

2018:

presented three licensed sons, including a premium stallion, at the Oldenburg licensing in Vechta
presented a premium stallion as well as a further licensed son at the Mecklenburg licensing in Redefin
presented his first premium stallion at the Hanoverian licensing in Verden, where he was sold for 110,000 Euro
nultiple winner of medium (M* and M**) level dressage classes
presented the Bundeschampion Foal in Austria

2017:

winner of a qualifier for the Bundeschampionat of five-year old dressage horses
several price-highlights at different elite foal auctions in Germany and abroad

2016:

Oldenburg main premium winner
several Foals at Elite Auctions of all established Auctions

2015:

Striking dressage winner at his 30-day test in Adelheidsdorf, final score of 9.33, four times the maximum score 10.0 (twice for walk and twice for rideability). The scores 9.5 und 9.0  were given nine times - for trot, canter, constitution, character, temperament and willingness to perform.

2014:

Champion Stallion at the Oldenburg Stallion Days
Approved for
Oldenburg (OL), Hanover, Westphalia, Southern German studbooks, Rhineland, Poland