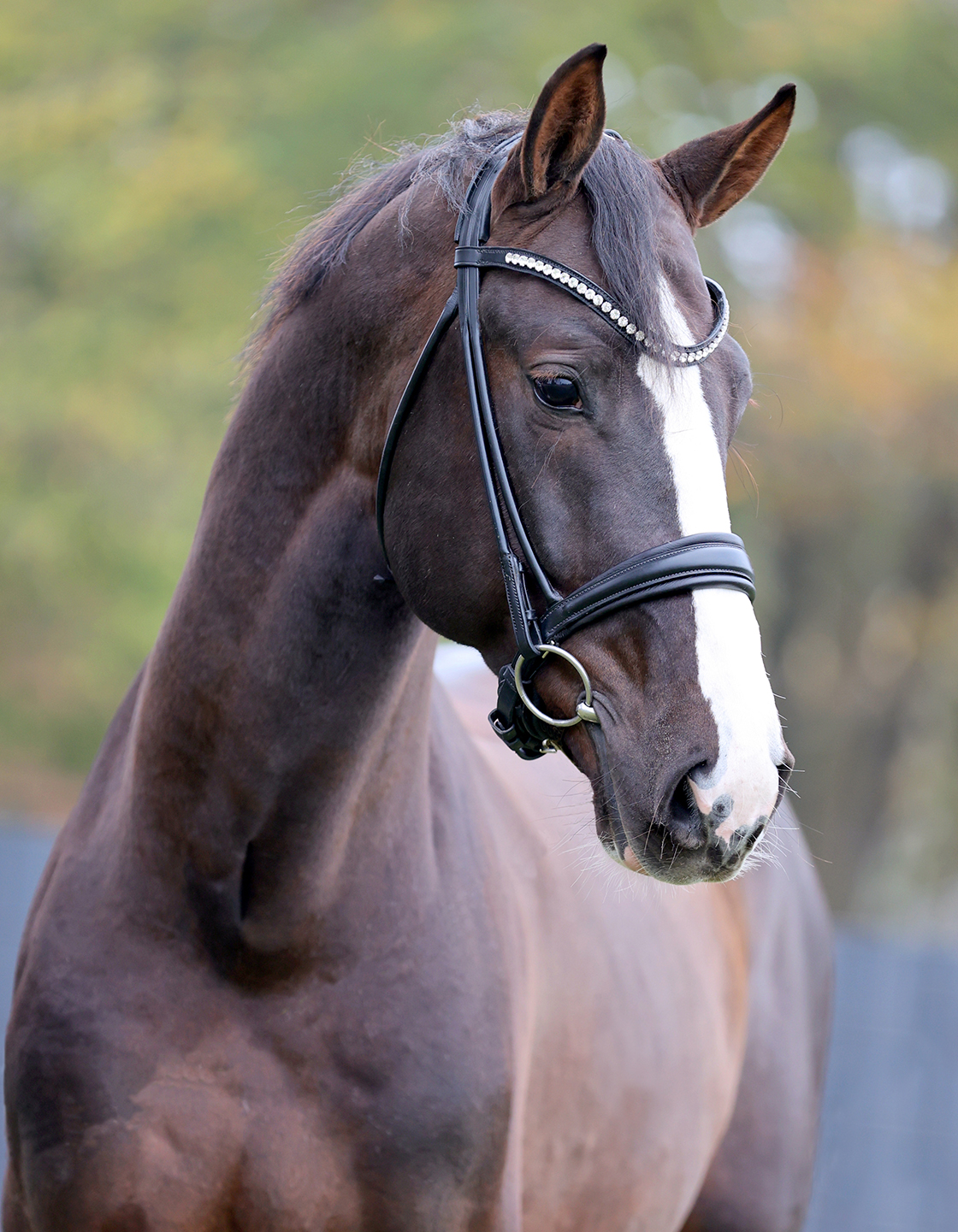 Nikan's Diamond
Youngster with loads of scope and world class pedigree
Description
Enormous ability combined with rideability, much vision and an exquisite pedigree – Nikan's Diamond presents himself as highly interesting youngster, who certainly can't deny his legendary sire Kannan.
Approved by the Hanoverian Breeding Association, Nikan's Diamond finished a very good 14-day test in Adelheidsdorf and a first-class sports test in Münster-Handorf. Receiving a final score of 8.52, Nikan's Diamond took the silver rank in the sports test. There, his extraordinary rideability was praised with the daily's best score of 9.0.
Large-framed and distinguished with a strong back and a type just like his famous fathers', Nikan's Diamond is simply bursting with strength. And this young athlete knows to implement this strength carefully and is always focussed in the jumping-course. With ease, this extremely scopey youngster overcomes any obstacle. Furthermore, Nikan's Diamond is a real eye-catcher due to his beautiful liver chestnut coloured coat, the big blaze and stockings on all four legs.
His sire, Kannan, is undoubtedly one of the world's best jumper sires ever. At the moment he is placed fourth in the WBFSH Rankings of the best jumper sires worldwide. He is the only stallion in the world, who has continually been among the top ten in this prestigious ranking since 2010. Kannan gave prove of his outstanding sports talent under the saddle of the French Michel Hécart, e.g., at the EC in San Patrignano in 2005. Among the offspring of the exceptional sire Kannan are world-class horses such as Olympic winner Nino des Buissonnets/Steve Guerdat, World Cup champion Paille de la Roque/Steve Guerdat and CSI5*-Grand Prix stars Quabri de L'Isle/Pedro Veniss or Molly Malone/Betram Allen.
The dam's sire of Nikan's Diamond is the successful Holsteiner sire C-Indoctro. About 20 licensed sons as well as an offspring's winning sum of nearly 1.3 million Euro speak for themselves.
The Dutch stallion Ahorn can be found in third generation. Through his ancestors Nimmerdor and Ladykiller xx he is known as reliable sire of top-performing sport horses such as the highly successful Ursula XII, who collects ribbons in series under Scott Brash at CSI5* level.
Worth-mentioning is Nikan's Diamond's dam Maraminka, who was successful under her sports name Minka's Diamond in 1.60 m classes such as Nations Cups with the Dutch team under Emile Tacken. Nikan's Diamond has even three internationally advanced level successful siblings: Diamond of Minka, Enjoy Blue Diamond and Freiminka's Blue Diamond.
Great granddam Geminka gave birth to Desiran and Rhett, who are both successful in international 1.45 m jumping-courses.
The origin of success establishes on the dam line of Freiminka, one of the best Oldenburg dam lines. Beside our exceptional 1.60 m athlete and top sire Cordess, this line is known of numerous top sport horses as well as several licensed stallions. Especially Totilas caused a lot of attraction to this dam line. And for the international show-jumping, this dam line produced several models, such as the licensed Agana vat het Gerendal Z, who is internationally highly successful at CSI5* (1,60 m) level under Lillie Keenan/USA, Sea Cost Guiness, who is internationally victorious in 1,60 m classes under Harrie Allen/IRE and Gudrun Patteet/BEL, or Zernike K, who succeeds in World Cup qualifiers under Brianne Goutal-Marteau/USA.
show more
Results
2023:
sports test part II Münster-Handorf: total score of 8.72
2022:
sports test part I Münster-Handorf: total score of 8.52
2021:
14-day-test Adelheidsdorf: total score of: 8.08, final jumping score 8.35, final dressage score: 7.63
Approved for
Hanover, Oldenburg International (OS), Westphalia, Southern German studbooks