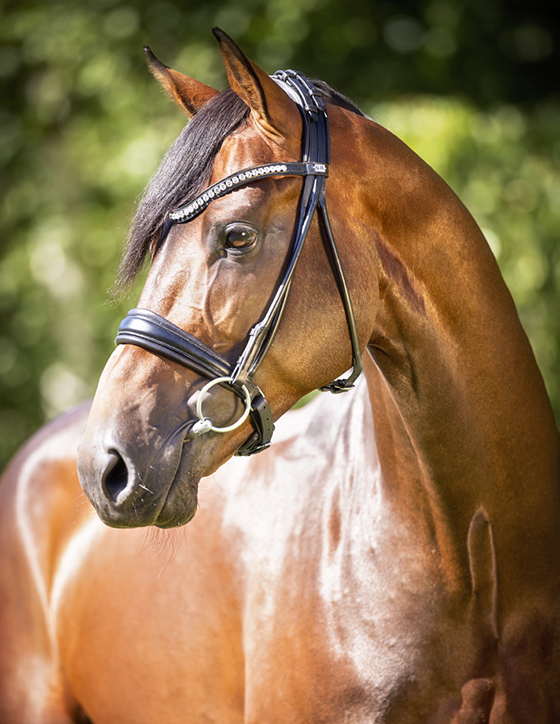 Zinedream
OS-International Champion Stallion
Description
Champion stallion Zinedream caused inspiring sensations whenever he presented himself. This exceptional stallion embodies a seldom seen combination of the greatest jumping-course talent, ideal rideability, brilliant type, heredity power and a dreamlike character.
In 2021 Zinedream celebrated many victories and high placings in the international youngster tours up to advanced (S*/1,40 m) class. Under the saddle of Felix Haßmann he presented clear rounds in series, like he did in 2020. In a group of strong competitors, he proved that he isn't just gifted with a practically perfect manner of jumping, but he also stands out due to speed and cleverness.
In 2019 Zinedream finished his sport test for five-year-old stallions with a top score of 9.58. His subscores were: 9.8 for canter, 9.5 for jumping-ability, 9.5 for jumping-technique, 9.5 for rideability and 9.7 for the overall impression. In 2018 he completed his success and finished his sport test for four-year-old stallion with a top score of 9.0. At his 14-day test in Adelheidsdorf, Zinedream received a final jumping score of 8.75. In 2016 Zinedream took the title Champion Stallion at the licensing of Springpferdezuchtverband Oldenburg International.
In the jumping-course the great talent of this stallion shows itself. Distinguished with enormous scope, the best technique and excellent canter, this top modern sport stallion jumps over the most challenging heights with an impressive elasticity. It's not always natural for a jumper stallion, but Zinedream is gifted with a very beautiful type and a very good character. Especially his character is absolutely lovely and he masters every situation with coolness and vision.
In breeding Zinedream had a first-class debut as sire: Six licensed sons including three premium stallions and a stallion performance test winner speak for themselves. All stallions attract attention due to their extremely light-footed and elastic jumping as well as their beautiful type.
Zinedream's offspring are characterized by a modern sporty look and type. Correctly built, well-sized and distinguished with a great canter – his foals are appreciated beyond borders. Under the saddle, too, Zinedream's offspring delight their riders not just with their outstanding jumping talent, but also with the finest rideability and natural coolness and vision.
The sire Zinedine caused attraction in sport under Ludger Beerbaum. Victories and placings in 1,60 m Grand Prixs at CSIO5* level, World Cups as well as in the Global Champions Tour speak for themselves.
Zinedream is no less than a half brother of Quiwi Dream, who succeeded internationally in 1,60 m show jumping classes, including fantastic achievements under Hans-Dieter Dreher at the CSIO5* in Spruce Meadows. In breeding, the licensed Quiwi Dream attracted already attention with three licensed sons. His dam, Panam Air, is also dam of the successful advanced (S) level show jumper Colour Air/R. Heerlein. The granddam Lauda Air Eins delivered the licensed stallions and advanced (S) level successful show jumpers Com Air I and II by Contender. The great granddam E-Rijeka produced the licensed stallion Canon by Calido as well as the internationally successful advanced (S) level show jumper Copenhagen GK/C. Dührkop.
Origin of success is the Holstein line 8888, which also produced the sire Akribori as well as the internationally successful show jumpers MCB Carriere Eins/P.-L-. Aufrecht, Lucentino by Linton/F.-J. Dahlmann and Co Pilot/R. Goodwin.
In the further generations of Zinedream, the major trademark sires of Holstein breeding Contender, Landadel, Ramiro and Landgraf I, who are all absolutely impeachable in view of jumper-breeding, can be found. In sixth generation Manometer xx provides the precious refinement-blood, which can still be seen in the noble type of Zinedream. It is not possible to breed a show jumper even more consistently. This can be seen especially  in Zinedream's first crop reflecting clearly the power of inheritance of this performance line.
WFFS status: negative (NON carrier)
show more
Results
2022
6th place,  international Medium Tour  final (1,35 m), CSI2* Kronberg/NED
2021
Zinedream presents a premium stallion out of a Stolzenberg-dam at the Hanoverian licensing in Verden, sold on the auction for 88.000 € to the USA
2nd place first qualification Youngster Tour CSIYH Peelbergen/NED
6th place second qualification Youngster Tour CSIYH Peelbergen/NED
8th place final Youngster Tour (1,40 m) CSIYH Maubeuge/FRA
12th place second qualification Youngster Tour CSIYH Maubeuge/FRA
victorious first qualification Youngster Tour CSIYH Maubeuge/FRA
Zinedream presents a licensed son out of an Acobat II-dam for the Swedish licensing
9th place final Youngster Tour, CSIYH* Oplabbeek/BEL
8th place Youngster Tour, CSIYH* Oplabbeek/BEL
13th place Youngster Tour, CSIYH* Oplabbeek/BEL
Zinedream presents a premium stallion out of a Lordanos-dam for the DSP licensing in Neustadt/Dosse
Zinedream spresents a licensed son out of a Quiz-dam for the DSP licensing in Neustadt/Dosse
international placing Youngster Tour, CSIYH*  Oplabbeek/BEL
2020:
Zinedream presents a premium stallion out of a Stolzenberg-dam at the Hanoverian licensing in Verden
Zinedream presents a licensed son out of a Comte-dam at the Hanoverian licensing in Verden
12th place international Youngster Tour, CSIYH* Riesenbeck
3rd place Youngster class (1.30 m), Bad Oeynhausen
2nd place Youngster class (1.20 m), Bad Oeynhausen
10th place international Youngster Tour, CSIYH* Riesenbeck
12th place international Youngster Tour, CSIYH* Riesenbeck
2nd place  Youngster class (1,30 m), score of 8,7, Greven
qualified for the Bundeschampionat of 6 year old show jumpers
victorious Youngster class (1.30 m), score of 8,7, Isernhagen
victorious Youngster class (1.20 m), score of 8,9, Isernhagen
victorious Youngster class (1.20 m), score of 8.8, Vechta
victorious Youngster class (1.10 m), score of 8.8, Vechta
More

2019:

Zinedream thrills in his sport test for five year old show jumpers in Münster with a total score of 9.58!  (canter 9.8, overall impression 9.7, rideability 9.5, manner of jumping 9.5, scope 9.5)

2018:

successful sport test in Verden: Zinedream presented his hgih quality and his excellent attitude and intelligence. All three days this young athlete kept very motivated and attentive in the jumping-course. Zinedream was the only stallion celebrated with abundant applause. He received a score of 9.5 for rideability and 9.2 for his scope, 8.8 for manner of jumping and an 8.5 for his round uphill canter. In total Zinedream finished with a score of 9.0.

2017:

successful 14-day test: final jumping score of 8.75 (jumping-talent in free-jumping: 9.0; rideability: 8.0), important overall score of 8.0
licensed by the Holsteiner Verband in Elmshorn
licensed by the Hanoverian Verband in Verden

2016:

OS-International Champion Stallion
Approved for
Oldenburg International (OS), Oldenburg International (OS), Westphalia, Southern German studbooks, Holstein, Poland, Baden-Württemberg, Bavarian, Brandenburg-Anhalt, Mecklenburg-Vorpommern, Sachsen-Thüringen