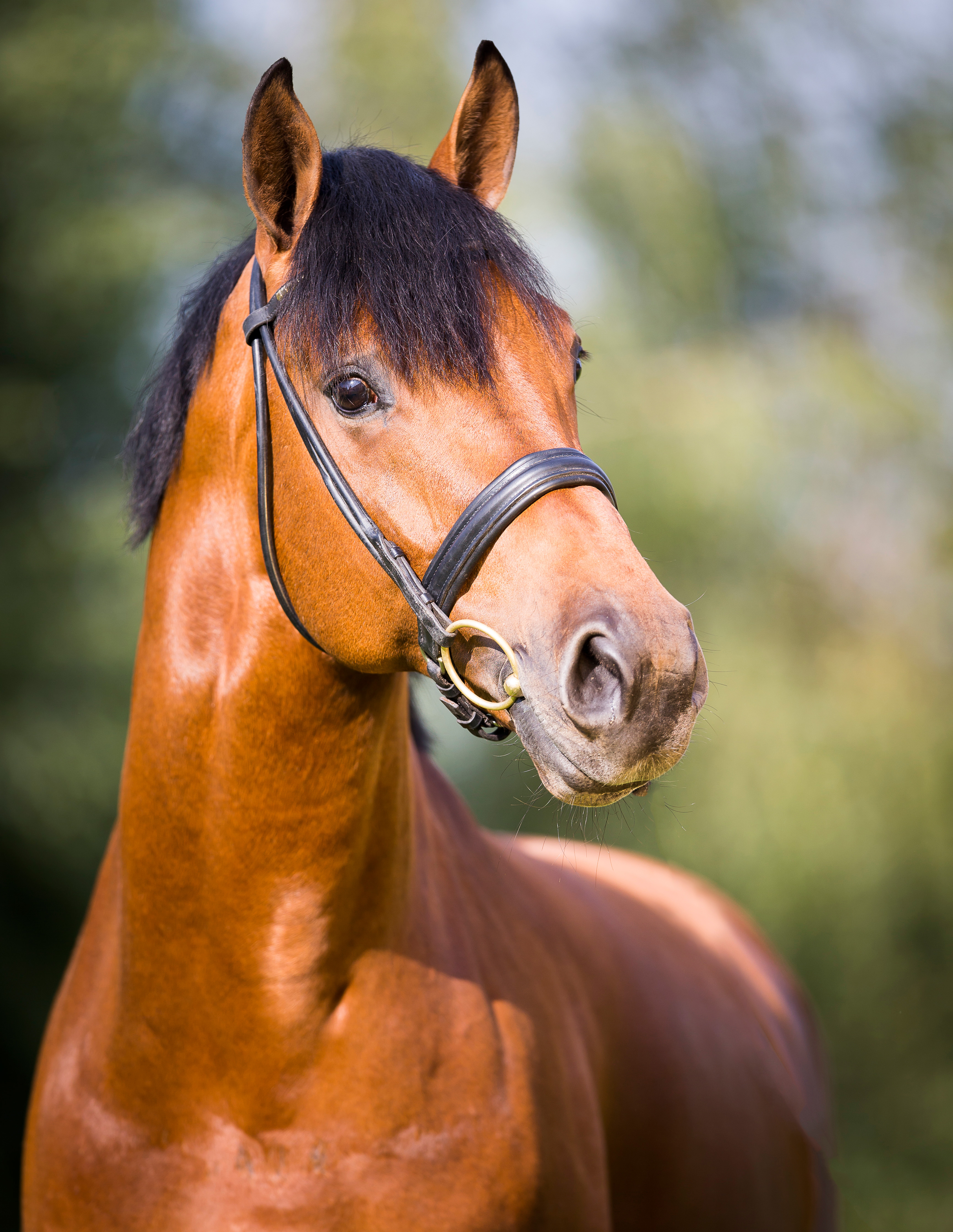 DSP Araldik
Scopey dream type
Description
An outstanding technique and bascule as well as unlimited jumping-ability distinguish this top athlete. But it's his excellent character that makes DSP Araldik something really special. A sheer inexhaustible willingness to perform combined with the best rideability-values give every jumping rider an ideal feeling in the jumping-course.
Already at his licensing in Brandenburg in 2009, when he received the title Premium Stallion, Araldik attracted us with his charisma, his exemplary free-jumping and outstanding canter.
DSP Araldik celebrated an extraordinary success by winning the title of the Vice Bundeschampion of five-year old show jumpers in Warendorf in 2012. Due to his performance record Araldik was awarded the name affix "DSP" for "Deutsches Sportpferd" (German sport horse) by the breeding association.
The season 2013 was also very successful for DSP Araldik: He won several times in medium (M) level tests for young show jumpers with scores above 9.0 and qualified for the Bundeschampionat of six-year old show jumpers. This likeable stallion could also always place with the best in his first regular show jumping classes at medium (M**) level, therefore he also competed directly at the World Championship of young show jumpers in Lanaken. In 2014, he wasn't less successful. He collected many ribbons in the Youngster Tour.
DSP Araldik passes also on his quality of movements as well as his elasticity to his offspring, which is additionally gifted with his look and charisma. His eldest offspring have already competed victoriously in show-jumping and dressage classes for young horses up to medium (M) level by now. In 2017 Araldik presented his striking son Abraxas at the Hanoverian licensing. This true to type stallion inspired the audience and licensing committee with enormous jumping-talent as well as the brilliant mechanic of movements and jumping-ability inherited by his sire. He was licensed and then auctioned for 50,000 Euro. In 2020 Abraxas became celebrated Vice Bundeschampion of five-year-old eventers.
Araldik's sire is the beautifully built stallion Askari, who goes back to the highly-esteemed blood of Cor de la Bryère on both the paternal and maternal side of the pedigree. Furthermore, the pedigree is perfectly refined through the exceptional Thoroughbred stallions Ladykiller xx and Sacramento Song xx. Askari himself was Vice Bundeschampion and won in international jumping-courses up to advanced (S***) class.
Particularly interesting is the maternal blood-connection through the Thoroughbred Heraldik xx, whose list of offspring, competing successfully in dressage, show-jumping and eventing up to international four-stars (****) classes, is long. Araldik's full sister Asha P was the striking 2018′ World Champion of seven-year old eventers under Olympic winner Ingrid Klimke. Asha P is currently internationally victorious in Nation Cups at CCI4* level.
WFFS status: negative (NON carrier)
show more
Results
2020:
Araldik presents the Vice-Bundeschampion of 5y. old eventing horses with his son Abraxas (by Araldik - Now or Never)
More

2017:

licensed son at the Hanoverian licensing in Verden, where the son was finally sold for 50,000 Euro through the stallion auction to a well-known studfarm in Rhineland-Pfalz

2015 & 2016:

several Elite Auction Foals in Verden

2014:

Placings in the international Youngster Tour, among others, in Redefin

2013:

13th place in the 2nd qualifier of the World Championship for young show jumpers in Lanaken (NED)
Qualifying for the Bundeschampionat of six-year old show jumpers
Serial winner in tests for young show jumpers at medium (M) level with scores of 9.0 and higher
Victories in medium (M**) level show jumping classes

2012:

Vice Bundeschampion of five-year old show jumpers
Serial winner in tests for young show jumpers at elementary (L) and medium (M) level

2010:

30-day test Schlieckau: Final score for jumping: 8.74, score for jumping-talent: 9.13

2009:

Premium Stallion at the main licensing in Neustadt / Dosse
Approved for
Brandenburg-Anhalt, Hanover, Oldenburg (OL), Oldenburg International (OS), Westphalia, Southern German studbooks, Rhineland, Poland