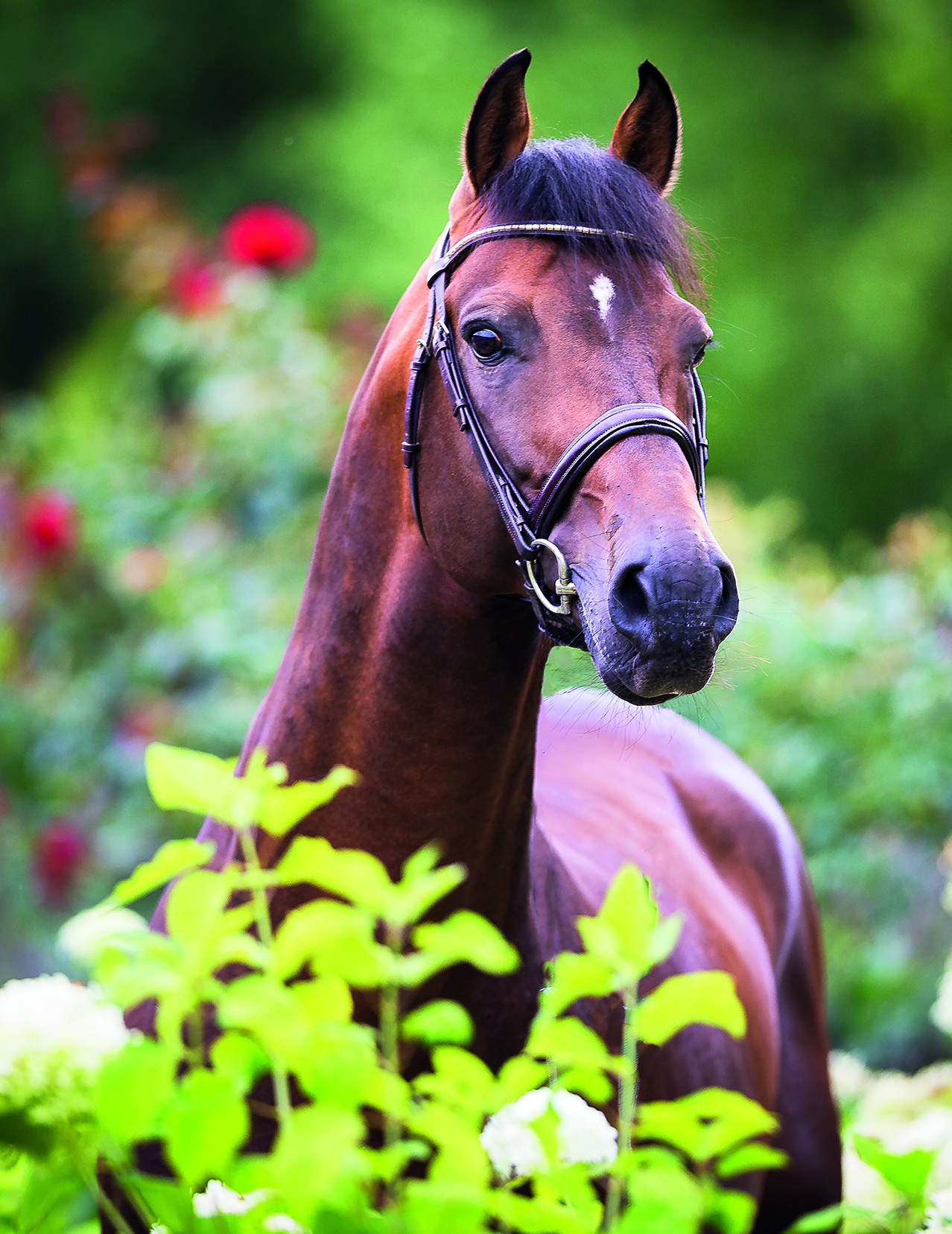 Castino
A top-class jumper-maker
Description
Already at the Holsteiner licensing it had been talked only positively about him: "Impressive stallion who could convince as true to type athlete rightaway. A conformation beyond reproach, expressive look, modern habitus."
In sport Castino presents achievements up to advanced (S) class, including several international placings, e.g. at the CSI* competitions at the Global Champions Tour legs, Global Jumping Berlin and the Hamburg Derby.
Already at the age of four, Castino was striking winner of the traditional Dobrock Show Jumping Championship. When he was five-years old he qualified effortlessly for the Bundeschampionat. At his 70-day test Castino won sovereignly the jumping index with 133.44 points and placed fourth in total with 124.70 points behind stallions such as Fürstenball and Bentley. His free-jumping and jumping a course were both scored with 10.0, for character and willingness to perform he received a 9.0 and for his jumping-talent a 9.58.
But also in breeding Castino got himself much talked about. His foals convince with sportiness, maximum elasticity in conformation and excellent jumping-talent. In the meantime he presented five licensed sons, three of them awarded a premium. A prime example for a well-moving and extremely scopey show jumper sired by Castino was out of a Calido-dam: Comerade was sold as Premium Stallion at the 2014′ Oldenburg licensing in Vechta for a princely sum of 135,000 Euro. In sport he presented over 50 successful offspring by now. His eldest offspring is meanwhile victorious under the saddle in the international Youngster Tour and collects ribbons at advanced (S) level. They are distinguished with an excellent rideability, fantastic vision as well an enormous intelligence in the jumping-course. Due to Castino's secured inheritance of high-quality movements and first-class rideability many of his offspring celebrated even victories in dressage and eventing.
The sire Cassini II refers to offspring's life-time earnings of more than 1.9 million Euro – 44 licensed sons and several state premium mares. He combines the genes of success of the multiple Olympic horse purveyor Capitol I with Caletto II.
The offspring of dam's sire Caretino earned more than six million Euro in prize money. His son Casall is celebrated as one of the most successful Holsteiner of all times due to his breeding record but also his achievements in sport under Rolf-Göran Bengtsson.
But also Castino's maternal breeding is attractive: The dam O-Caretina received the dream score of 10.0 for jumping at her mare performance test, full brother Carino qualified for the 2008′ World Cup final, full brother Canzero was licensed and competed successfully in tests for young show jumpers up to medium (M) level. A full sister finished her field test as the very best in 2009. The Holstein line 5951 is a guarantor for successful sport horses and produced stallions such as Moltke and Quadrigo.
Castino is homozygous for dark colour.
WFFS status: negative (NON carrier)
show more
Results
2021
7th place Large Tour (1,40 m), CSI* Global Tour Hamburg
5th place final Large Tour (1,40 m), CSI* Global Jumping Berlin
7th place S* (1,40 m), Scharnebeck
10th place S* (1,40 m), Neu-Benthen
More

2020

4th place S* (1,40 m), Harsum
13th place S* (1,40 m), Nienburg

2019

6th place large tour (1,40 m) international show of Verden
8th place large tour (1,40 m) international show of Verden
placed in the qualifier for the state championships Berlin-Brandenburg

2018

3rd place large tour (1,35 m) international Pferdefestival Chiemsee
placed in the international show of Verden (1,40 m)
a lot of national placing in show jumping (1,35 m)

2013 - 2017:

four licensed sons, two of them awarded a premium
several Elite Auction horses at the Hanoverian auction in Verden
victorious in medium (M) level show-jumping

2011 - 2012:

several times victorious and placed with the best in tests for young show jumpers at elementary (L) and medium (M) level

2010:

2009:

70-day test in Schlieckau: Jumping winner with an index of 133.40 points and subscores, among others, 9.58 for jumping-talent, 10.0 in the jumping-course and a  9.0 each for willingness to work and character
Approved for
Holstein, Hanover, Oldenburg International (OS), Westphalia, Rhineland, Poland, Baden-Württemberg, Bavarian, Brandenburg-Anhalt, Mecklenburg-Vorpommern, Rheinland-Pfalz-Saar, Sachsen-Thüringen