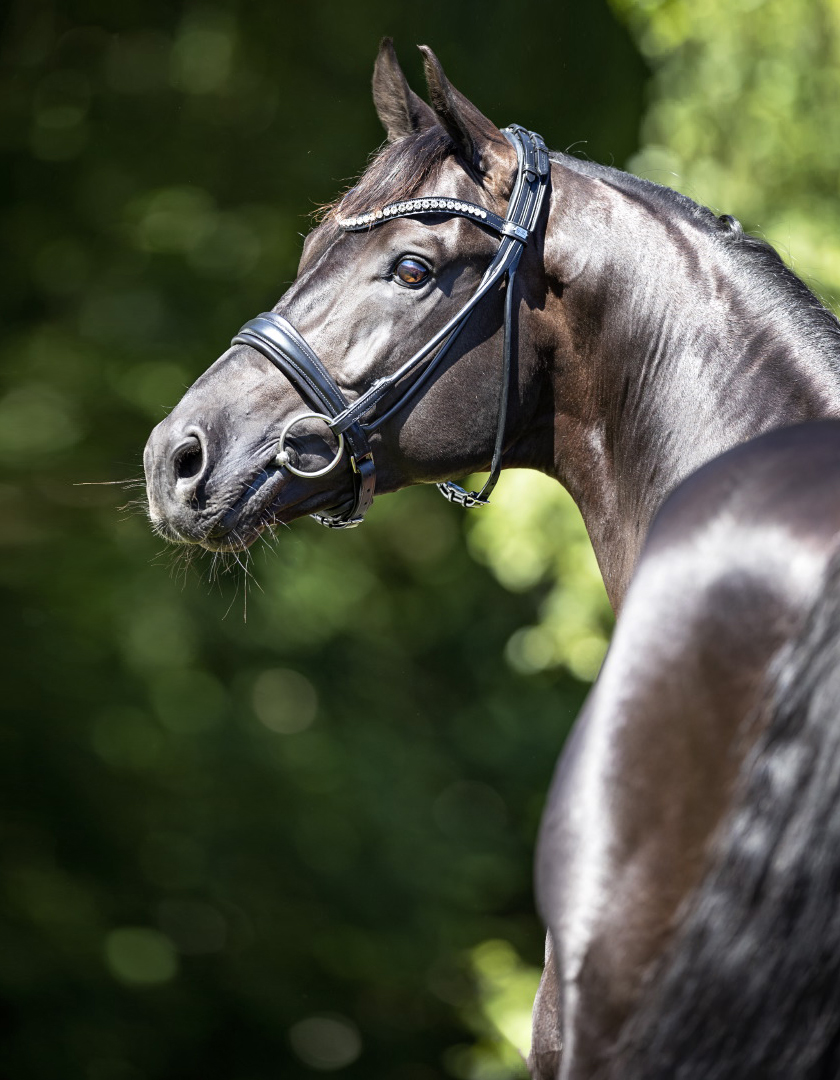 D'Egalité
Westphalian Champion Stallion from the best breeding lines
Description
D'Egalité inspired as the most striking stallion of all licensings in 2015. Frenetically celebrated by the crowd, D'Egalité became undisputed winner of a a group of strong competitors at the Westphalian licensing in Muenster-Handorf. In the meantime, D'Egalité thrills in sports with victories and placings up to Intermediaire I.
D'Egalité impresses especially with his noblesse, light-footedness and mechanic of movements. In the dressage arena he celebrates successes up to Inter I-classes. Numerous victories and placings in advanced classes in both national and international arenas speak for themselves.
The shiny black nobleman distinguishes himself with an inimitable elegance and grandeur. Three equally excellent basic gaits, long legs and modernity as well as the certain habitus of a capital dressage stallion round the overall impression perfectly. D'Egalité unites perfectly the spectacular action of movements through the Dutch genes with the strength of character, the well-framed top-line and the lovely temperament from Stedinger and Rohdiamant. As jewel in the crown D'Egalité is distinguished with an excellent walk as well as an exemplary rideability.
In breeding this noble black stallion convinces with extremely modern and powerfully moving offspring. In 2021 D'Egalité was sire of the mare D'Amour, who was price highlight at the Oldenburg Elite Auction in Vechta, selling for 260.000 Euro. Furthermore, he presented a licensed son named Der Edelstein at the DSP licensing. D'Egalité's son Douglas became Champion of four-year old horses of Brandenburg-Anhalt and further offspring collect victories in tests for young dressage horses.
The breeding of D'Egalité is highly interesting: The sire Don Juan de Hus is certainly one of the most interesting Dutch sires. Unfortunately he died in 2017 at the age of only nine. Don Juan de Hus won his 70-day test with a fantastic final dressage score of 9.25 in Schlieckau at the age of three. Over Jazz and Krack C Don Juan de Hus unites proven Dutch dressage genes in his veins.
The dam's sire Stedinger was the striking Champion Stallion at the Oldenburg licensing  and became first Reserve Champion of the main premium. Stedinger himself competed successfully up to Inter I classes and produced 39 licensed sons as well as 60 advanced (S) level dressage horses, including the international Grand Prix winner Spirit of the Age OLD/B. Brune.
Rohdiamant, found in third generation, was serial winner in the international dressage arena under Lisa Wilcox. In total, the R-line is well-known for fantastic rideability values.
On the maternal side D'Egalité originates from the famous Oldenburg dam line of Egale, which is also well-known for numerous licensed stallion such as the 2013′ Oldenburg Champion Stallion Don Deluxe by De Niro, Grand Prix horses like London Eye OLD/S. Kruse as well as many Elite Broodmares.
WFFS status: negative (NON carrier)
show more
Results
2021
D'Egalité presents with Da Fiore out of a Florencio - Donnerhall-dam a licensed Son and the reserve champion for Warmblood Studbook UK
5th place St. Georg Special, 73,073 %, qualification for the NÜRNBERGER BURGPOKAL, Görlitz
victorious St. Georg Special, 73,943 %, Neustadt/Dosse
2nd place S* dressage level, 72,544 %, Neustadt/Dosse
2nd place St. Georg Special, 73,024 %, qualification for the NÜRNBERGER BURGPOKAL, Kronberg
3rd place St. Georg Special, 71,317 %, qualifier for the qualification of NÜRNBERGER BURGPOKAL, Kronberg
3rd place St. Georg Special, 72,659 %, qualification NÜRNBERGER BURGPOKAL, München international
3rd place St. Georg Special, 72,439 %, qualifier for the qualification of NÜRNBERGER BURGPOKAL, München international
3rd place St. Georg Special, 73, 512 %, qualification NÜRNBERGER BURGPOKAL, Redefin
5th place St. Georg Special, 69,934 %, qualifier for the qualification of NÜRNBERGER BURGPOKAL, Redefin
D'Egalités son Der Edelstein by D'Egalité - Surprice - Rosario gets licensed for DSP
6th place international Small Tour FEI Prix St. Georges, 69,824 %, Horses & Dreams Hagen a.TW.
D'Egalités daughter D'Amour (D'Egalité - Ampére - De Niro) becomes the most expensive horse at the Oldenburg Elite auction (260.000 €)
victorious S*-level dressage, 8,3, Pausin
victorious M*-level dressage, 8,5, Pausin
4th place S*-level dressage (Prix St. Georges), 71,053 %, Vechta
2nd place S*-level dressage, 71,865 %, Buchholz
2nd place S*-level dressage, 8,1, Unna Massener Heide
victorious M*-level dressage, 8,5, Unna Massener Heide
More

2020

3rd place test for young horses (M-level), Berlin-Ruhlsdorf

2018

victorious in a test for young horses (L-level) with a score of 8,5
qualified for the German Bundeschampionat with a score of 8,2
victorious in his first test for young dressage horses (L-level) with a score of 8,2
victorious in his first test for young dressage horses (A-level) with a score of 8,4
successful sport test in Verden

2017:

successful sport test in Muenster-Handorf
a high number of high-priced elite foals at all well-known foal auctions

2016:

14-day-test in Adelheidsdorf: D'Egalité thrilled the audience with his movements and especially with his outstanding interieur, which was rewarded with a score of 8.75. The score of 9.0 was given for his very nice character and temperament. His willingness to perform as well as the canter got the score 8.5. A very good score of 8.0 for walk, trot and rideability round the result.

2015:

Champion Stallion at the Westphalian main licensing
Approved for
Westphalia, Hanover, Oldenburg (OL), Southern German studbooks, Poland, Baden-Württemberg, Bavarian, Brandenburg-Anhalt, Mecklenburg-Vorpommern, Sachsen-Thüringen, Southern German studbooks requested