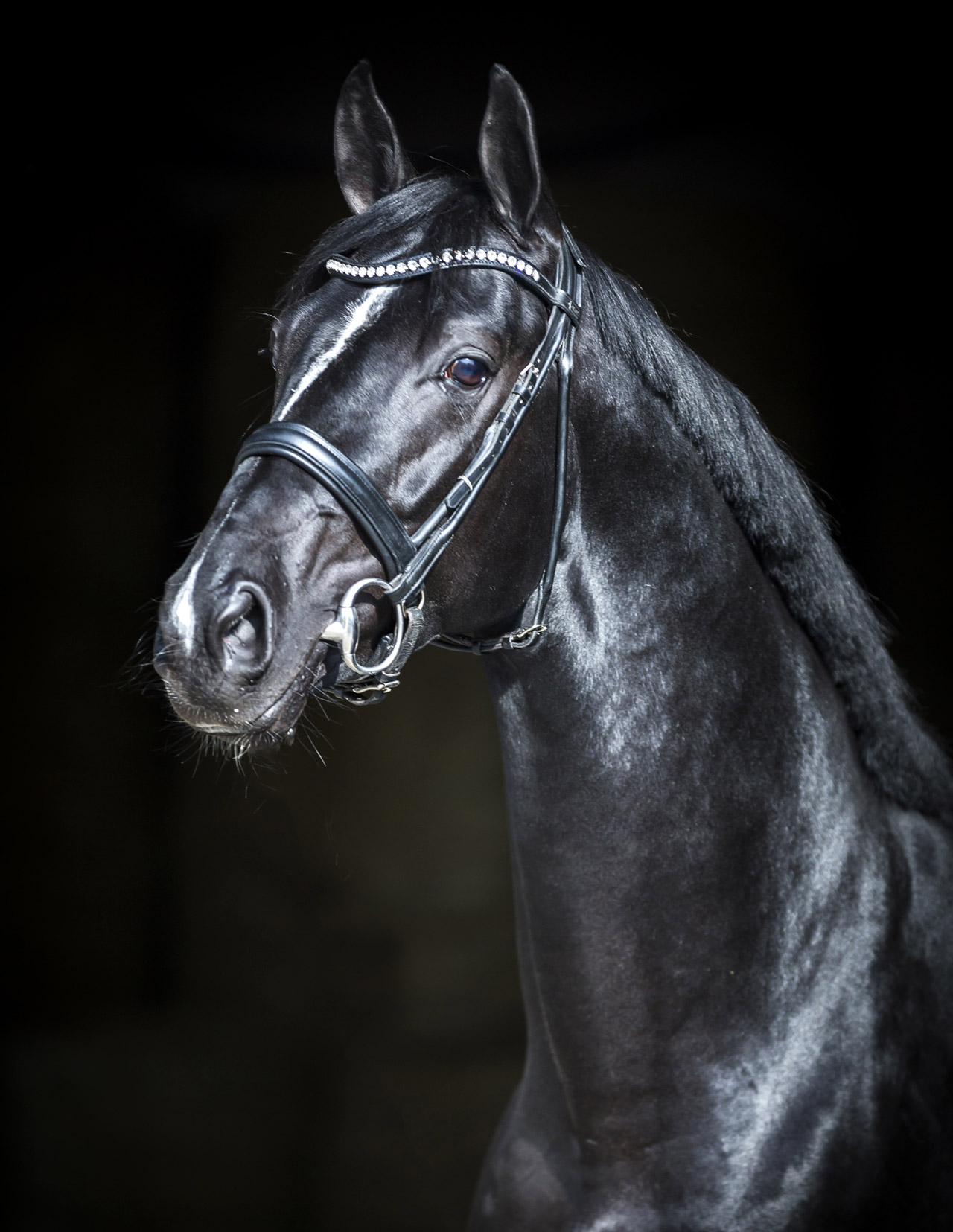 DeLorean
Stallion performance test dressage winner - optimum rideability
Description
This Premium Stallion presented himself always in rhythm of the gait, well-balanced, serene and gifted with an enormous quality of movements visible in three equally outstanding basic gaits. Beside his ground-covering walk and his striking uphill canter DeLorean impresses with his trot that clearly emanates from the hindquarters, traveling through a relaxed back swinging in rhythm with the gait and maintaining the cadence. Especially an exemplary rideability combined with outstanding quality of movements characterize this impressive shiny black stallion and inspires every spectator.
In 2014 he thrilled with an incredible performance at his 30-day test in Muenster-Handorf where he became sovereignly the dressage winner. This tests was filled with competitors from champion stallions to Bundeschampions and was therewith the mostly occupied, and one of the strongest tests of the year. DeLorean shone in all sections and placed in front with a final score with emphasis on dressage of 9.15 and fabulous 149 index points for dressage. No fewer than ten times the judges gave a score of 9.0 and higher. He was also undisputed in view of rideability, which was confirmed by both guest riders with a clear 10.0! Additionally he received a 10.0 for canter. A score of 9.5 for trot and character and a very good score of 8.0 for walk round the result. In 2016 DeLorean won the qualifier for the Bundeschampionat with a score of 8.4.
DeLoreans crop of foals are distinguished with an excellent quality of movements orginating from an always engaged powerful hindquarter. Carrying-power and cadence define his offspring's mechanic of movements. They stand out with their natural relaxedness and always smooth action. Both DeLorean and his offspring inspire with a very best character. The strong nerves, courage, amiable nature and extremely acute sense for humans of DeLorean's offspring bring joy for everyone.
In 2022, DeLoreans's offspring attracted a lot of attention at the Bundeschampionat for six-year-old dressage horses especially. His daughter Danza del Sol and Tessa Frank were celebrated winner of the qualifier. On second place in the qualifier and fourth in the final was Diafys. The former DSP Champion Diamante Negro performed best in the Small Final and won with a top 8.7. On DeLoreans breeding record are additionally several quite expensive elite auction foals as well as championship foals (e.g. in Lienen), placing with the best. DeLorean presented also three licensed sons at the Hanoverian and Westphalian licensing sites.
In his pedigree the most precious blood-lines are represented: Dancier, who unfortunately died in 2017, was the 2004′ Hanoverian Champion Stallion, 2005′ stallion performance test winner, in 2006 best stallion of his age group and was victorious in advanced (S) level dressage classes. Dancier belonged to Germany's best rideability-sires – 42 sons are licensed, including numerous premium stallions. In 2017 full brother Dancier Gold was licensed in Hanover. Half brother Diablo, by Don Frederic, is licensed, too.
The dam's sire Weltmeyer is a sire-legend: Over 2,300 registered sport horses, numerous Grand Prix offspring, Olympians, seven Bundeschampions, 112 licensed stallions, over 400 state premium mares – Weltmeyer has established an entire dynasty.
The best Hanoverian performance-blood of Argentan can be found in the further generations over Airport and Lugano I through Ludendorff.
DeLorean belongs to the Hanoverian dam line of Justena which produced beside the Warendorf state stud sire Arpeggio also numerous sport horses in both dressage and show-jumping. One of them is e.g. the Grand Prix horses Picadilly/Tina Röttgen and Pamina/Otto Becker (WEG Team silver medalist in 1990).
WFFS status: negative (NON carrier)
show more
Results
2020:
DeLorean presented with his son "Diamante Negro" the DSP champion of 4y. old mares  geldings
More

2018:

DeLorean presented his licensed son "Daim" out of a Sir Donnerhall I-dam at Westphalian licensing in Münster-Handorf
DeLorean presented a licensed son out of a Stedinger-dam at the Hanoverian licensing in Verden
DeLorean presented his licensed son "Delray" out of a Drombusch-dam at the breeding association Mecklenburg-Vorpommern

2017:

DeLorean presented the Bundeschampion Foal in Austria

2016:

victorious in the qualifier for the Bundeschampionat with a score of 8.4
several Elite foals at Hannovarian and Oldenburg Auctions

2014:

became dressage winner at his 30-day test in Muenster-Handorf with a final score of 9.15 and 149 index points for dressage (rideability 10.0, canter 10.0, trot and character 9.5, walk 8.0)

2013:

Premium Stallion at the Hanoverian main licensing
Approved for
Hanover, Oldenburg (OL), Southern German studbooks, Rhineland, Poland, Baden-Württemberg, Bavarian, Brandenburg-Anhalt, Rheinland-Pfalz-Saar, Sachsen-Thüringen