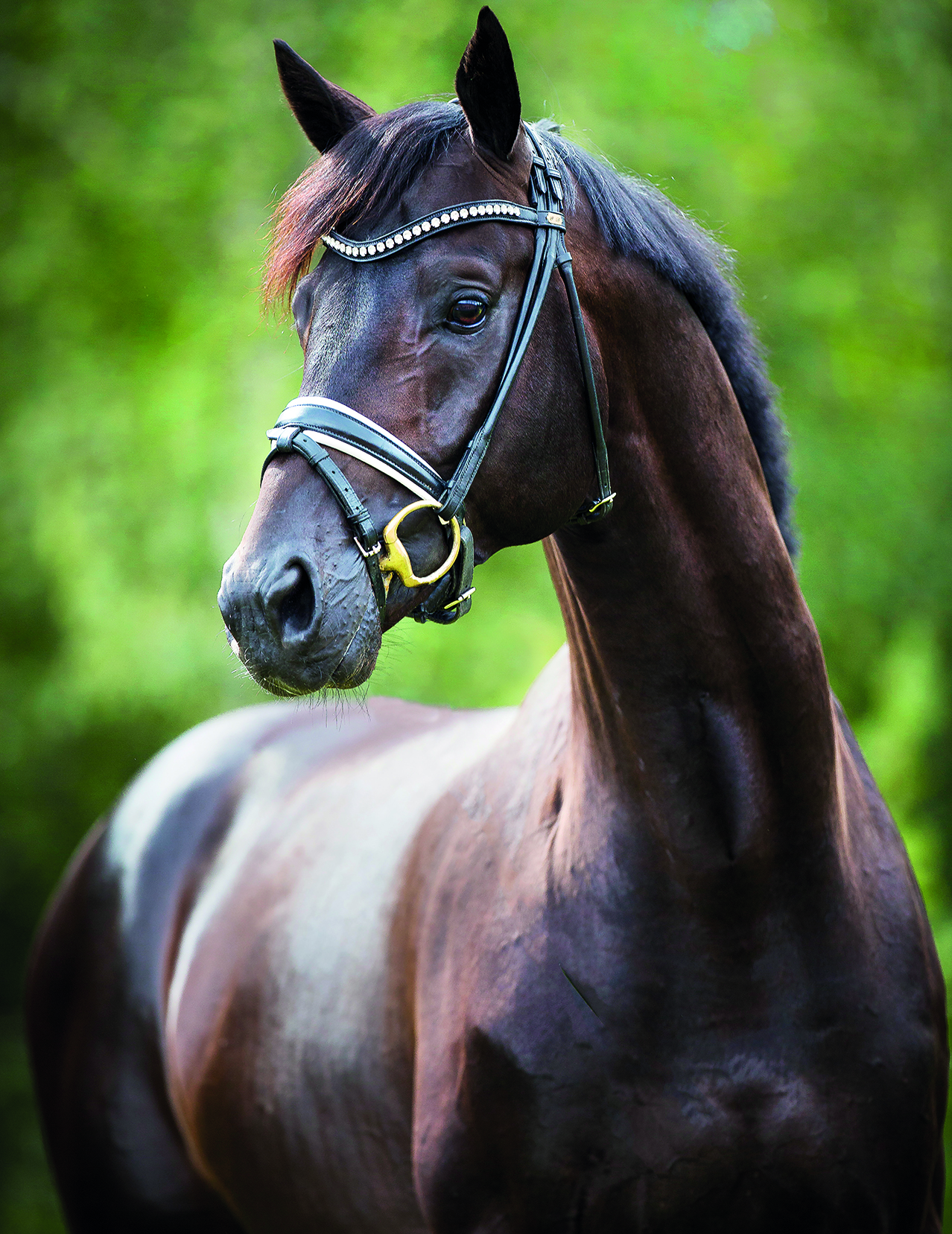 Grey Flanell
Main premium winner and Louisdor Trophy finalist
Description
This jewel, with his highly interesting blood line, was one of the most eye-catching stallions at the Oldenburg licensing in 2012. An incredible quality of movements, enormous power from the hindquarters, an outstanding walk as well as a perfect character, charm and noblesse.
In 2021 Grey Flanell gave his debut in the international Grand Prix arena. Right away, he placed in the Grand Prix at the World Cup in Polish Zakrzów. With scores up to 74 percent in the Grand Prix and the Grand Prix Special Grey Flanell underlined decisively that he is going to be a steady factor in the royal class of dressage. Furthermore, Grey Flanell placed tenth in the final of the prestigious Louisdor Trophy, the most important series for up-and-coming Grand Prix horses in the Frankfurt Festhalle in 2020.
In the course of his first public presentations under the saddle Grey Flanell caused a wave of enthusiasm due to his natural cadence and outstandingly reliable rhythm, making him one of the most frequented stallions in Germany.
Because of his extraordinary first crop Grey Flanell was awarded the band of Oldenburg Main Premium Winner in 2014. Since then, many high-priced champion and auction foals have characterized the sites of different breeding areas. Grey Flanell produced auction highlights in series. A high number of his offspring were sold for high five-figure prices.
He also made a very successful career in sport: At the Pavo Cup 2014 he became best stallion of his age in a group of strong Dutch competitors.
Grey Flanell's power of inheritance is refelcted by his very successful sons and daughters. With exceptional horses such as the Oldenburg champion Aurelia OLD or Bundeschampionat finalist and Wiesbaden winner Go Twitter OLD, Grey Flanell knows to attract as sire with his impressive breeding record. Additionally, there are seven licensed sons as well as several premium and elite daughters.
Grey Flanell passes resoundingly on his own spectacular mechanic of movements, especially his powerful hindquarters, to his offspring.
The sire Gribaldi was often the number one at the WBFSH ranking, is Elite Stallion and made it to the top as international Grand Prix horse under Edward Gal. Furthermore, Gribaldi marked distinctively  the modern sport horse breeding all over the world. The list of top-class offspring is long: Elite Stallion Hofrat, Distelzar, Painted Black and Sisther de Jeu – just to name a few –  but since Totilas has become famous, everybody knows his name.
The dam's sire Clavecimbel won and placed with the best many times in Grand Prix classes, but then died in a tragic accident on the way to a competition unfortunately.
None other than Ferro rounds this pedigree of performance. He placed fifth in the individual test and second with the team in the Olympic Games in Sydney, took sixth place in the World Championship in Rome and second place in the World Cup final. Ferro produced numerous top horses, including the licensed sons Metall and Vice World Champion of young dressage horses, Rousseau. Grey Flanell's granddam Janoeska, who was a successful advanced (S) level show jumper, is out of the advanced (S) level successful dressage and show-jumping mare Zanoeska (by Farn).
Grey Flanell is homozygous for dark colour.
WFFS status: negative (NON carrier)
show more
Results
2021:
10th place Platz international short Grand Prix, 68,921 %, CDI-W Zakrzów (Polen)
victorious S***-Dressur (Intermediaire II), 74,386 %, Schenefeld
2md place Grand Prix Special, 74,804 %, Schenefeld
2nd place Grand Prix, 74,280 %, Schenefeld
victorious S***-dressage (Intermediaire II), 74,789 %, Görlitz
4th place Grand Prix, 71,667 %, Görlitz
5th place Grand Prix, 71,060 %, Görlitz
4th place Grand Prix, 70,833 %, Vechta
Grey Flanell presents a licensed son for the Austrian licensing in Stadl-Paura
2020:
8th place Grand Prix, 70,40 %, Louisdor Preis Finale, Kronberg
10th place Kurz Grand Prix, 71,047 %, warm up Louisdor Preis Finale, Kronberg
victorious Grand Prix, 70,500 %, Vreschen-Bokel
victorious S***level, 72,149 %, Zierow
victorious S***level, 72,149 %, Zierow
2nd place Kurz-Grand Prix (S***-level), CDI2* Herzlake
4th place Intermediaire II (S***), CDI2* Herzlake
victorious S***level, 74,12 %, Görlitz
3rd place Intermediaire A (S***-level), Stubben-Brunshausen
7th place Kurz-Grand Prix (S***-level) Louisdor Preis Finalqualifikation, 72,054 %, Hagen a. TW
4th place S***-level, 70,614 %, Wartenberg-Angersbach
4th place S***-dressage, Zweibrücken
3rd place Grand Prix (Derby Dressage Cup), K+K Cup Münster
2019:
Grey Flanells daughter Aurelia becomes championesse of Oldenburg state championships of 4 year old mares and geldings with a total score of 8.8
2 Grey Flanell daughters are invited to the brilliant ring of the Oldenburg elite mare show in Rastede
Grey Flanells daughter Great Time is the highest priced horse of Oldenburg Special Edition auction (165.000 Euro)
More

2018:

Grey Flanells son Blue Hors Giccolo was licensed at the Westphalian licensing in Münster
2nd place Prix St. Georges in Dallgow, scoring 72,8 %
4th place Prix St. Georges & 5th place Intermediaire I, International Chiemsee Pferdefestival
2nd place Prix St. Georges in Neu-Anspach, scoring 71,9 %
victorious in a dressage test at medium (M) level in Drsesden
2nd place in a dressage test at medium (M) level in Tremsdorf

2017:

Grey Flanell presented a Premium Stallion at the Oldenburg licensing in Vechta
Grey Flanell presented a licensed son at the Oldenburg saddle licensing, where his son was finally sold for 83,000 Euro at the elite spring auction.
State Premium Mare (from his first crop) was invited to the Oldenburg Elite Broodmare Show in Rastede
Grey Flanell presented again numerous high priced elite auction foals as well as a three-year old riding horse (from his first crop), which was sold for 52,000 Euro at the Westphalian Elite Auction.

2016:

straightaway, he presented three licensed sons from his first crop

2015:

qualified for the Bundeschampionat of five-year old dressage horses

2014:

Oldenburg Main Premium Winner due to his brilliant first crop as well as his outstanding performance record
best stallion in the Pavo Trophy (Dutch version of the German Bundeschampionat)
victorious in novice (A) level tests for young dressage horses
Approved for
Oldenburg (OL), Southern German studbooks, Rhineland, Poland, Brandenburg-Anhalt, Rheinland-Pfalz-Saar, Sachsen-Thüringen