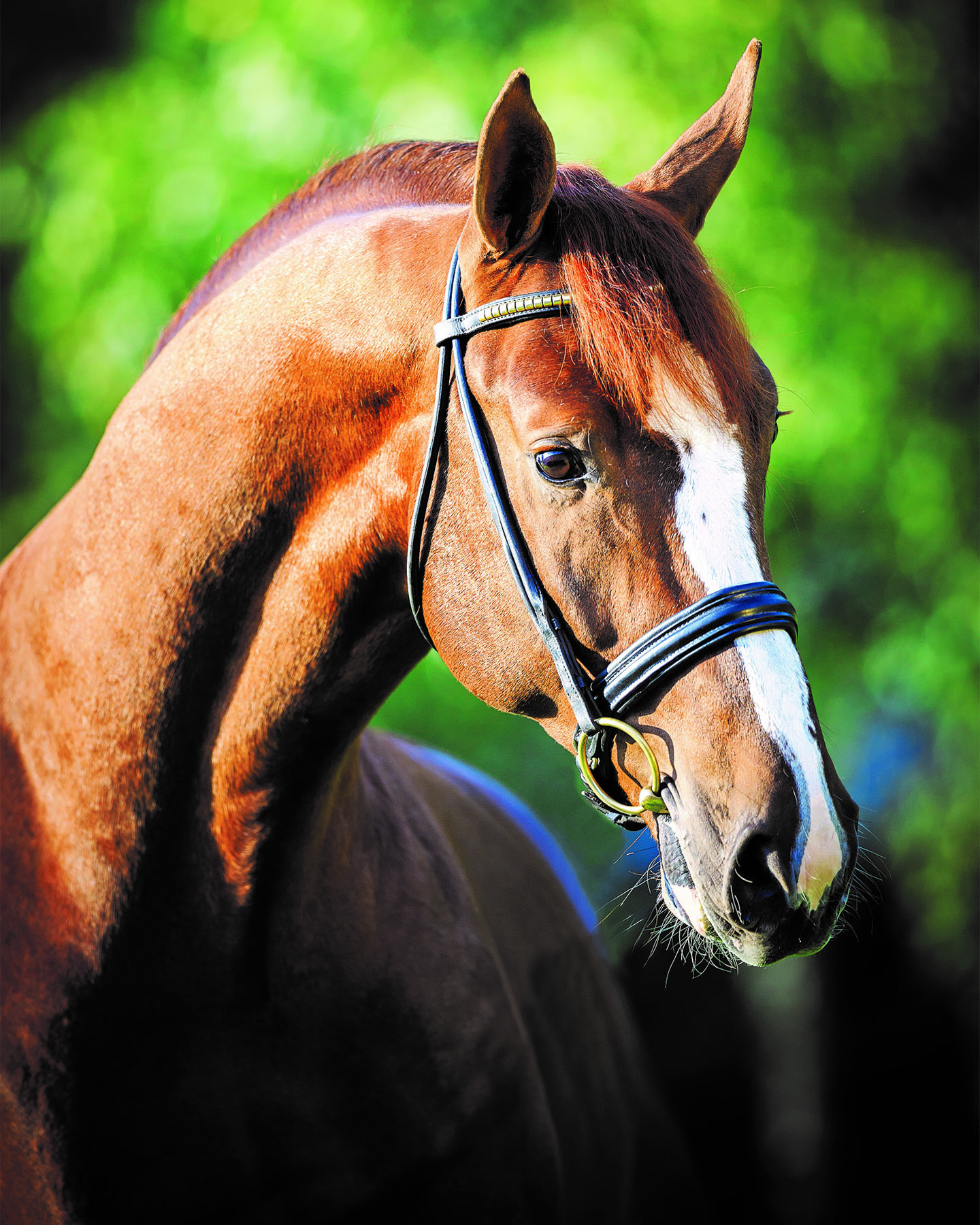 Schenkenberg
Jumping-talent at its best
Description
Enormous scope, vision and attentiveness, an outstandingly excellent bascule, a spotless leg-technique and fast reflexes – with these attributes this stately, expressive and masculine Premium Stallion knew to inspire the licensing committee as well as the audience,which celebrated his quality at the jump with enthusiastic applause. His genetically determined jumping talent gets completed by a perfect character and excellent rideability.
Schenkenberg is an athletic guarantee for success. Quiet a row of national and international advanced (S*) achievements are on his performance record. In breeding, too, Schenkenberg attracts impressively attention. His licensed son Sixpack (see EU stallions) inspires as reserve champion at his 14-day test with a score of 9.4 for jumping and a perfect 10.0 for free-jumping.
Schenkenberg completed his 30-day test in Münster-Handorf in 2014. There he received only top scores for free-jumping and basic gaits with emphasis on jumping. In 2016 Schenkenberg celebrated a highly successfull season in sport. Many times he won in tests for young show jumpers up to medium (M) level and qualified for the Bundeschampionat for young show jumpers as well as for the final of the Hanoverian championships. Also in 2017 he confirmed his great athletic talent.
He had his first international competition in Verden where he made a great success out of it by finishing the final of the Small Tour as silver medalist. In 2018 he continued his successful career with placings in the Youngster Tour at medium (M**) level.
Schenkenberg's offspring are characterized by great jumping-ability as well as a strong character and his coolness. In 2018 Schenkenberg presented his first licensed son.
Each generation of his pedigree is filled with successful top sires: His sire, Celle state stud sire Stolzenberg, is known for his good character and the very best performance characteristics. In 2002, he dominated the group of jumping competitors in his stallion performance test with 142 points, was himself serial winner in medium (M) level tests for young show jumpers and collected many ribbons in the advanced (S**) class. Furthermore, he inspires with about 80 advanced (S) level successful offspring, including the internationally successful Grand Prix winner BSC Skipper/H. Wulschner. Due to his outstanding qualities as sire, Stolzenberg was granted the Grande Award in 2011 and operates as number one as son and heir of his father, star sire Stakkato, who stands out due to his sports achievements under Eva Bitter, but also due to his breeding record.
Also dam's sire Montendro has international successes in sport on his account: Under Henrik von Eckermann and Marco Kutscher he collected international victories and placings up to advanced (S**) class, before he was sold to China where he competes in World Cups now. One of these really significant sires on the international parquet is undoubtedly Montender, who became, under Marco Kutscher, European Champion twice and took the team gold medal as well as the individual bronze medal at the Olympic Games in Athens.
In the descending line Lord Liberty (by Lord) can be found. Despite of his short life of only six years he performed great: Among his most famous offspring are Leena (M. Beerbaum), Le Patron (R. Tebbel) and Liberty Life (G. Böckmann). This performance pedigree is rounded by Ramino by Ramiro, who was victorious and placed with the best in Nations Cups and Grand Prixs.
Schenkenberg belongs to the Hanoverian dam line of Kilimare, which also produced the internationally successful show jumpers Indigo (A. Brenner) and Proseco (U. Fäh).
WFFS status: negative (NON carrier)
show more
Results
2022:
10th place S* (1,40 m), Nienburg Führser Mühle
2021:
11th place M** (1,35 m) 1. qualification Brandenburger indoor championat, Tremsdorf
13th place S* (1,40m) Final Medium Tour, Chiemsee Pferdefestival Gut Ising
3rd place S* (1,40m), Harsum-Hüddesum
2020:
12th place S* (1,40 m), Nienburg
9th place international S* (1,40 m), Signal Iduna Cup Dortmund Westfalenhalle
2019:
presented the reswerve champion of the 14-day-test: Sixpack by Schenkenberg scores 9.4 (free jumping 10.0)
international placing in the Medium tour of Chiemsee Festival, Ising
12th place large tour (1,40m) international show of Verden
6th place 1,40m class, Kitzscher
placed in the qualifier for the state championships of Mecklenburg-Vorpommern, Redefin
5th place medium level, Werder
2018:
presented a licensed son at the Mecklenburg licensing in Redefin
placings in show jumping up to medium (M**) level (1,35 m)
international placings in the Small Tour at the CSI Poznan
2017:
2nd place in the final of the small tour of the international horse show in Verden
2016:
qualified for the Bundeschampionat of five-year old jumping horses
3rd place in tests for young show jumpers at medium (M) level
victorious in tests for young show jumpers at elementary (L) level
2015:
victorious in novice (A) level tests for young show jumpers
2014:
stallion performance test in Muenster with consistently good scores for free-jumping, basic gaits and character
2013:
Premium Stallion at the Hanoverian licensing
Approved for
Hanover, Oldenburg International (OS), Southern German studbooks, Rhineland, Poland, Baden-Württemberg, Bavarian, Brandenburg-Anhalt, Rheinland-Pfalz-Saar, Sachsen-Thüringen