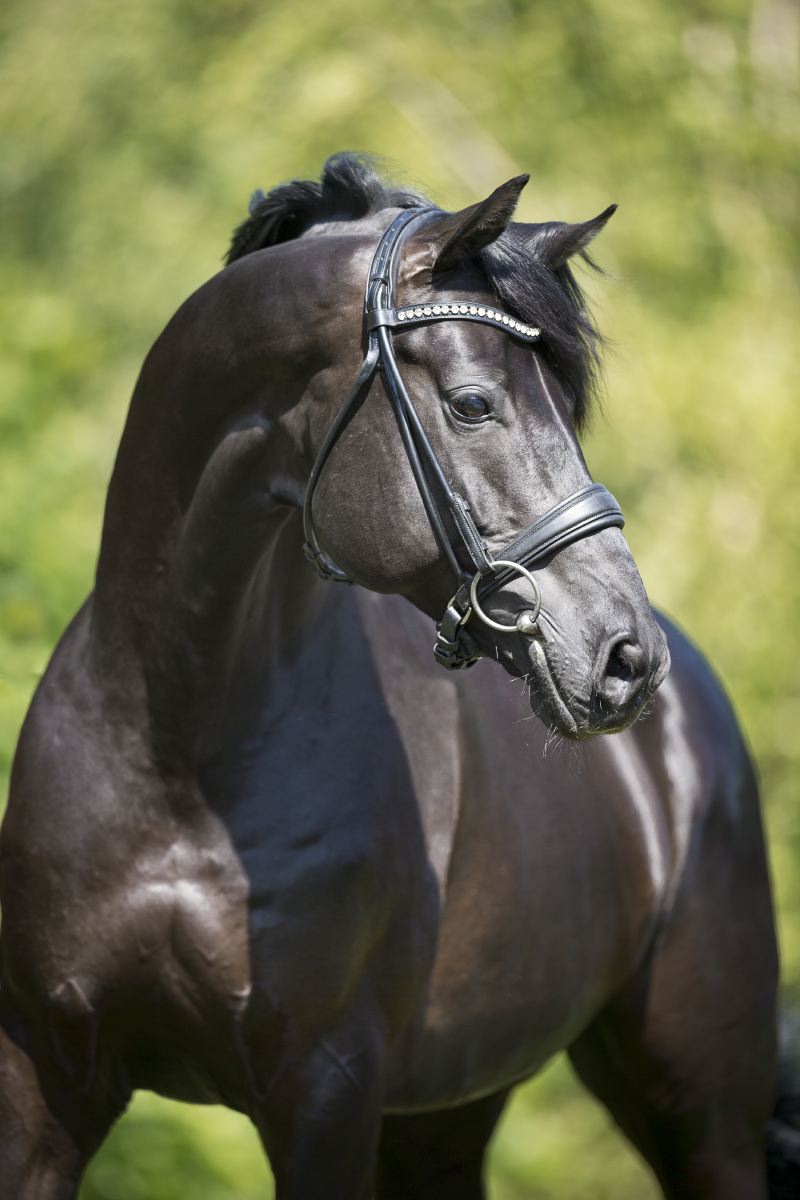 Morricone
Shining Champion Stallion and phenomenon of rideability
Description
"Loved by the public – ennobled with the band – celebrated as Champion" – The 2014′ Oldenburg Champion Stallion and dressage winner at his stallion performance test in 2015 and 2016′ main premium winner.
"Our Champion Stallion is hard to beat in view of his elegance, type and manner. With his royal appearance and his outstanding movements, always keeping his perfect self-carriage, this noble black stallion, from the breeding of Heinrich Vahle in Friesoythe, inspired the audience and the committee", so commented the Oldenburg Breeding Manager Dr. Schulze Schleppinghoff. Since then, Morricone has been attracting attention at every presentation.
In his stallion performance test he won superiorly the dressage part with a score of 9.33 and received the maximum score 10.0 for rideability and walk four times. All basic gaits as well as constitution, character, temperament and willingness to perform were praised with scores of 9.5 and 9.0.
On the one hand this noble dancer impresses with three fantastic basic gaits, rhythm and a striking engagement of the hindquarters, but on the other hand is the rideability and the imperturbable strength of character, which is absolutely unique for such a youthful stallion.
Morricone's first crops exceeded all expectations. They stand out with their beautiful and noble type like they were all of a piece. Many champion foals as well as numerous price-highlights feature prominently  well-known elite foal auctions and foal championships worldwide.
As highlight of the year 2016 the Oldenburg Verband proclaimed Morricone celebrated main premium winner due to his outstanding power of heredity combined with his first-class performance record. In 2017 Morricone gave prove of his extraordinary quality by winning dominantly the qualifier for the Bundeschampionat.
His classic line of ancestors appears like a fairytale: His sire Millennium was second reserve Champion at the 2010′ Trakehner main licensing and leads over his sire Easy Game to the noble blood of the Trakehner Gribaldi directly.
His direct dam Hartima is hardly to beat in view of noblesse and, among her ancestors, there are even three significant Grand Prix victors named Rubin Royal OLD, De Niro and Rubinstein.
The dam's sire Rubin Royal OLD is Main Premium Winner in Oldenburg and international serial Grand Prix winner under Hendrik Lochthowe.
The grandsire is none other than De Niro.  It would go beyond the scope to honor his breeding record in detail.
In fourth generation the Grand Prix winner Rubinstein manifests the pedigree as founder of the modern R-line. This line is also known for the performance-sires Admiral I as well as Thoroughbred Guter Gast xx. Even Morricone's great great granddam, State Premium Mare Hartine, competed successfully in dressage and show-jumping at medium (M) and advanced (S) level.
Therefore, origin of success is the dam line of Hainbuche, which also produced Donnerhall's dam's sire Markus, Weltgeist I, San Remo as well as numerous successful Grand Prix horses.
WFFS status: negative (NON carrier)
show more
Results
2017:
winner of a qualifier for the Bundeschampionat of five-year old dressage horses
several price-highlights at different elite foal auctions in Germany and abroad
2016:
Oldenburg main premium winner
several Foals at Elite Auctions of all established Auctions
2015:
Striking dressage winner at his 30-day test in Adelheidsdorf, final score of 9.33, four times the maximum score 10.0 (twice for walk and twice for rideability). The scores 9.5 und 9.0  were given nine times - for trot, canter, constitution, character, temperament and willingness to perform.
2014:
Champion Stallion at the Oldenburg Stallion Days
show more
Approved for
Oldenburg (OL), Hanover, Westphalia, Southern German studbooks, Rhineland, Poland, Baden-Württemberg, Bavarian, Brandenburg-Anhalt, Rheinland-Pfalz-Saar, Sachsen-Thüringen