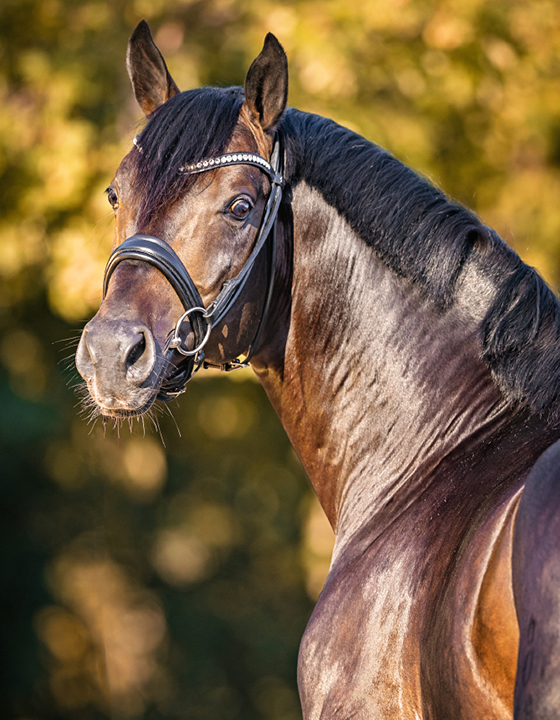 Fidelity
Thoroughbred-typed motion artist with highly modern appearance
Pedigree
Fiderdance × Sandro Hit × Riccione
Fiderdance
Fidertanz
Fidermark
St.Pr.St. Reine Freude
Donna
Don Schufro
St.Pr.St. Shakira
Senorita G
Sandro Hit
Sandro Song
El.St. Loretta
Riccibelly
Riccione
St.Pr.St. Bellvue by Brentano II
Description
Impressively moving, highly modern, long-legged and gifted with striking elegance – with these attributes this noble stallion knew to inspire at the Oldenburg licensing in Vechta. Especially his excellent engagement of hindquarters, characterized by his powerful push-off and stepping easily under the centre of gravity, as well as his exemplary high-knee action and freedom of the shoulders created goose bumps at every presentation.
Fidelity stands out with a fantastic presence in sport. He made his debut in sport with a dream score of 9.5 in a novice level test for young dressage horses. Wins in series followed up to elementary tests for young dressage horses, qualifying effortlessly for the Bundeschampionat with an impressive score of 8.7 and taking the title of the Oldenburg Vice Champion in Rastede. At the moment he celebrates victories in M-level young horse tests.
Fidelity's rideability and his approachable, fearless and absolutely lovely character was already certified on the occasion of his stallion performance test. At his 14-day test this elegant dancer received a score of 8.29 with emphasis on dressage. For his character, his temperament and his canter he received a clear 9.0. His exemplary rideability was honoured with an 8.75. Fidelity is very easy to handle, is really human-oriented and, just like his sire, very eager to learn. Fidelity passed successfully all parts of the stallion performance testing system and is now registered in stallion book 1 for life-time.
Fidelity is an eye-catcher par excellence. Due to his fine appearance, his striking quality of movements as well as his overpowering presence he simply expresses his very own special charm. Even his foals present themselves just like that. Extremely beautiful in type, noble and with absolutely extraordinary movements, they know how to attract attention with their smart appearance.
Fidelity, born at Bonhomme stud, inspires with a first-class character. The stallion is easy to handle, has an extremely acute sense for humans and is very eager to learn, just like his sire. Absolutely delighting is his astonishing intelligence along with superior comprehension.
In 2022 Fiderdance impressed under Simone Pearce/AUS in the international sport at the highest level, achieving placings at top events such as the WEG in Herning/DEN and the 5* Grand Prix Tour at the CHIO in Aachen. Furthermore, in Herning, Fiderdance made it to achieve the needed result for a timely qualifying of the Australian team for the 2024' Olympics Games in Paris/FRA.
The dam's sire Sandro Hit, who is sired by the Bonhomme prime stallion Sandro Song, is taken as line-founding stallion and an absolute trademark stallion. Around 200 licensed sons and an offspring's lifetime winning sum of over 1.6 million Euro speak for themselves.
Riccione, found in third generation, is a representative of the popular R-line. He became the most demanded candidate at the Hanoverian licensing in 1998 and was dressage champion at his stallion performance where he also received a score of 10.0 for rideability. In sport Riccione competed victoriously up to Intermediaire I.
Fidelity's great granddam Bellvue (by Brentano II) was winner of her class four times in a row and presented the licensed and powerfully inheriting stallion Samarant (by Sandro Hit), who succeeds internationally for Denmark under young riders, as well as the licensed Worcester by Weltmeyer. Great great granddam Wise Girl xx gave birth to the licensed stallion Wild Life by Warkant. This highly successful dam line of Sedbury Royal Mare xx produced several advanced level successful sport horses and numerous licensed sons such as Dantander Hit by Dancier, Livingstone by Lancer II, Frühlingshaft by Frühlingsball or Royal by Roderich as well as myriads of licensed Thoroughbred stallions.
Due to the fact that Fidelity's genetic origin is a pure Thoroughbred line he is enormously interesting for breeding. In the following generations the Thoroughbreds Andrang xx, Fiorino xx and Mamertus xx can also be found. To this day, they characterize the extremely noble and Thoroughbred-typed appearance of Fidelity.
WFFS status: negative (NON carrier)
show more
Results
2021:
Oldenburger Vice-State Champion, L level test for young dressage horses with a score of 8.4, Rastede
2nd place in L level test for young dressage horses with a score of 8.3, Bundeschampionat qualifier, Rastede
victorious in L level test for young dressage horses with a score of 8.5, Bundeschampionat qualifier, Neustadt/Dosse
victorious in L level test for young dressage horses with a score of 8.4, warm up for Bundeschampionat qualifier, Neustadt/Dosse
2nd place in L level test for young dressage horses with a score of 8.7, qualification for the Bundeschampionat of 5-year old dressage horses, Redefin
victorious in L level test for young dressage horses with a score of 8.7,warm up for Bundeschampionat qualifier, Redefin
victorious in L level test for young dressage horses with a score of 9.1, Pausin
victorious in novice (A) level test for young dressage horses with a score of 9.0, Pausin
victorious in L level test for young dressage horses with a score of 8.9, Vechta
victorious in novice (A) level test for young dressage horses with a score of 9.5, Buchholz
More

2020:

victorious in novice (A) level test for young dressage horses with a score of 8.3, Prussendorf
victorious in novice (A) level test for young dressage horses with a score of 8.2, Prussendorf
successful sport test in Münster Handorf, 7.63

2019:

successful 14 day test in Adelheidsdorf: final score with emphasis on dressage: 8.2 (willingness to work 9.0 , character 9.0 , temperament 9.0 , canter 9.0)

2018:

licensed at the Oldenburg licensing in Vechta
Approved for
Hanover, Oldenburg (OL), Westphalia, Southern German studbooks, Poland