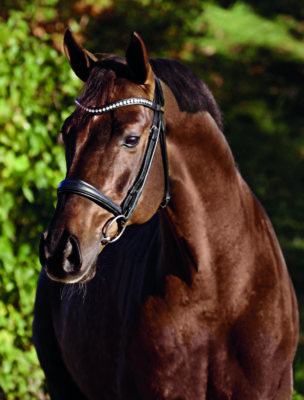 Fiderdance
Burgpokal finalist and Short-Grand Prix winner
| | |
| --- | --- |
| Color | Chestnut |
| Date of birth | 2009 |
| Height | 170 cm |
| Stud fee | 600,- € |
| | frozen semen |
[borlabs-cookie id="youtube" type="content-blocker"] [/borlabs-cookie]
Description
Highly modern appearance paired with a striking mechanic of movement, light-footedness and elegance – that's what Fiderdance embodied when he presented himself at the Oldenburg licensing in 2011. Due to his charisma, his three excellent basic gaits, his ideal freedom of shoulder and his serene character he belonged to the most exceptional stallions there. At his 30-day test in Schlieckau Fiderdance inspired again with brillliant scores for all basic gaits, willingness to perform and rideability.
Already as youngster Fiderdance was a guarantor for success at the show grounds. Thus, he placed first in many tests for young dressage horses and was victor of a qualifier for the Bundeschampionat 2015 with a score of 8.2. In 2016 Fiderdance pleased us with further achievements up to Intermediare I classes and even victories in Prix St. Georges, all this just at the age of seven.
The jewel in the crown of his exemplary career was the result in the final of the Nürnberger Burgpokal, finishing on 8th place as Germany's best seven-year old stallion. The Nürnberger Burgpokal is known as Germany's most important series for up-and-coming horses and a "talent factory" for future championship horses. In the meantime Fiderdance he collected several victories in Short-Grand Prixs, won the qualifier of the "Stars von morgen" (Stars of tomorrow) series and celebrated placings with the best at international horse shows in Muenster, Dortmund and at the Chiemsee Horse Festival. Furthermore, the highly talented and eager Fiderdance inspired by qualifying for the prestigious final of the Louisdor Trophy.
His foals distinguish themselves by long-legged modernity as well as excellent quality of movements and freedom of the shoulders. Also under the saddle, the offspring please with exquisite elegance and rideability passed on resoundingly by their sire Fiderdance. His eldest offspring compete successfully in novice (A) level tests for young dressage horses. In 2018, his son Fidelity impressed at the Oldenburg licensing with an outstanding basic quality and received the coveted license.
In the pedigree the currently most popular sires of dressage horse breeding are united: Sire Fidertanz, NRW Champion Stallion, stallion performance test winner, Vice Bundeschampion and main premium winner, is successful in Grand Prix classes. He presented about 50 licensed sons. More than 62 of them have already achieved placings in advanced (S) level dressage classes.
The dam's sire Don Schufro ranks as ingenious sire, being ranked on top of FN's estimated breeding value statistics ten times. He himself competed highly successful in international Grand Prix classes, became Danish Champion in 2008 and crowned his sports career with the team bronze medal at the 2008′ Olympic Games. At the moment, the most famous horses among his offspring are Weihegold OLD, Olympic team gold medalist and individual silver medalist.
The pedigree is rounded by great grandsire Sandro Hit. He presents also an ingenious breeding record with numerous licensed sons, eleven Bundeschampions and countless top sport horses.
The further dam line is known for 50 licensed stallions such as Dobrock, Donatelli I and II and Placido as well as highly successful sport horses, including the winner of the Nürnberger Burgpokal Trophy Blind Date by Breitling under Victoria Max Theurer.
WFFS status: positive (carrier)
show more
Results
2020:
4th place international Grand Prix, 71,712 %, CDI4* Signal Iduna Cup Dortmund Westfalenhallen
2nd place Grand Prix Special, 71,830 %, Zweibrücken
victorious S***-dressage, 72,752 %, Zweibrücken
2019:
2nd place in the final of Louisdor Preis, Grand Prix, 72,300 %, Frankfurter Festhalle
3rd in the warming up for the final of Louisdor Preis, 73,395 Prozent, Frankfurter Festhalle
victorious in Intermediaire II, Kreuth
victorious in Intermediaire II, 74,386 Prozent, Adelheidsdorf
victorious in Grand Prix, Wintermühle Neu-Anspach
victorious in Grand Prix, 72,880 %, Meggle Champion of Honour, Werder
Fiderdance qualifies for the final of Louisdor-Preis (most important series for young Grand Prix horses in Germany)
2nd place in his first Grand Prix de Dressage, Redefin
victorious in advanced (S***) level dressage class in Braunschweig
 2018:
licensed son "Fidelity" at the Oldenburg stallion days in Vechta
3rd place short Grand Prix, qualification for the "Louisdor Preis"
victorious in his first short Grand Prix, Isernhagen
victorious in Intermediaire II, qualification for the "Stars von Morgen"
victorious in Intermediaire II, Wernsdorf
4th place in his first Intermediaire II at the K+K Cup in Münster
4th place in an Intermediaire II and 5th place in an advanced (S***) level dressage test at the Derby dressage Cup in Dortmund
2016:
8th place in the final of the Nürnberger Burgpokal, Festhalle Frankfurt
victorious in a Prix St. Georges Special
4th place in a Prix St. Georges in Wiesbaden
7th place in an Intermediaire I in Wiesbaden
2nd place in the qualifier for the Nürnberger Burgpokal in Verden
2015:
2nd place in a medium (M**) level dressage test
2014:
victorious in the qualifier for the Bundeschampionat with a score of 8.2
victorious and placed with the best in elementary (L) tests for young dressage horses
2013:
victorious and placed with the best in novice (A) tests for young dressage horses
2012:
30-day test in Schlieckau: Dressage score of 8.3 with subscores of 9.0 for willingness to work and constitution as well as 8.5 for walk
show more
Approved for
Oldenburg (OL), Westphalia, Southern German studbooks, Rhineland, Poland, Baden-Württemberg, Bavarian, Brandenburg-Anhalt, Mecklenburg-Vorpommern, Sachsen-Thüringen