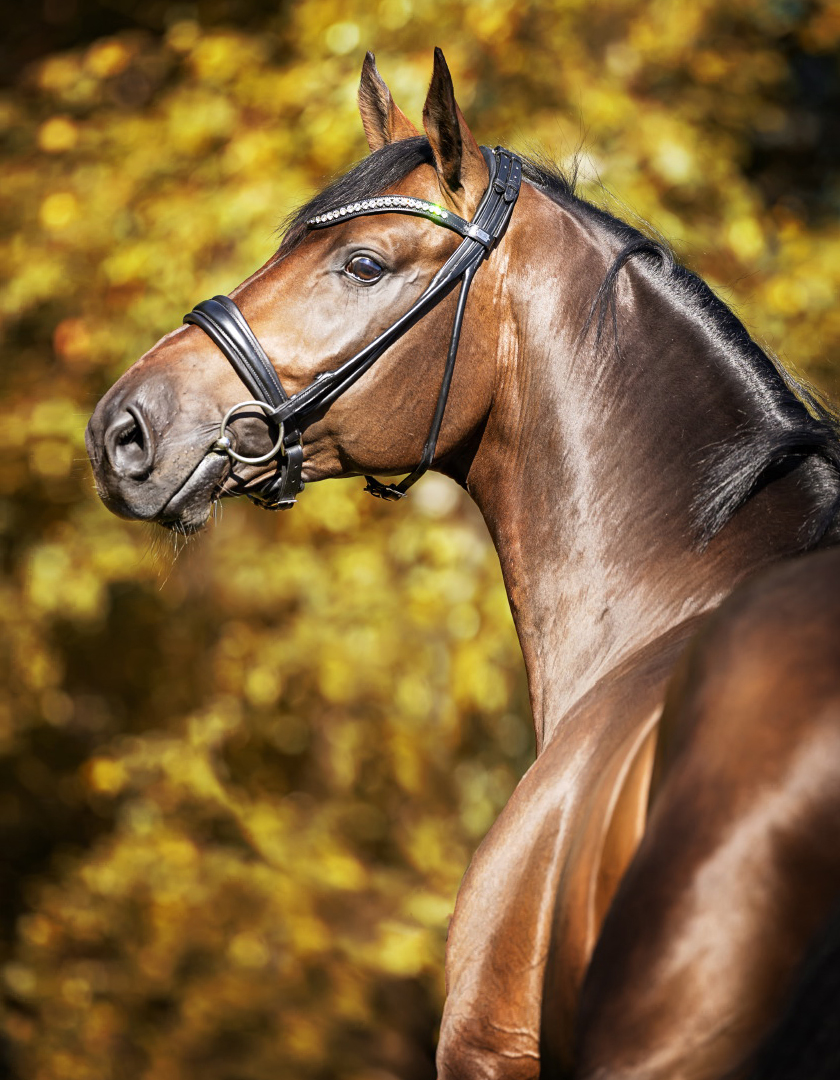 Sixpack
Jumping giant with top character
Description
Spectacular scope with the best technique, three very good basic gaits, the best rideability values, a spotless look and an ideal character complete the overall impression of Sixpack.
In 2021 Sixpack inspired in sport all along the line. Victories and placings up to medium (M) level tests for young show jumpers, numerous clear rounds in youngster show jumping classes up to medium (M**) level as well as first international placings at the CSI* Global Jumping Berlin characterize his extremely successful competition season. So Sixpack attracted a lot of attention among the experts with his steady perfect performance in the competitions, showing off what true ability, attentiveness and scope in the jumping-course means.
This glowing young stallion, from the breeding of Bonhomme stud, inspired at his 14-day test in Adelheidsdorf in 2019, where he became reserve champion. There he received the dream score 10.0 for his excellent free-jumping. The final score with emphasis on jumping was 9.40, so, the final overall score was 8.68. Sixpack received the following subscores: 9.25 for character, 9.0 for temperament, 9.5 for willingness to perform, 8.9 for canter, 8.0 for rideabiltiy and 10.0 for free-jumping.
Sixpack's outstanding quality at the jump is distinguished by an extremely powerful push-off, perfect bascule and lightning fast reflexes. His scope seems to be unlimited. Already at his licensing he had an easy job with the requirements of the jumping-lane. Furthermore, he is gifted with vision and coolness, which he proves again and again.
His legs are absolutely correct. And his first-class conformation as well as his beautiful type and habitus make Sixpack a feast for the eyes. But also under the saddle Sixpack is a real pleasure. His fantastic attitude and willingness to learn present him as model student under the saddle and in his first jumping-course. The best rideability values, characterized by easy handling, willingness to perform, natural balance and good body awareness make Sixpack a sport partner that promises fun.
Sixpack's sire is Schenkenberg who is also stationed at Bonhomme stud (view stallions: only frozen semen) and succeeded internationally up to advanced (S) class.
The dam's sire Calido is certainly one of the most successful Holsteiner sires: 83 licensed sons as well as 350 progeny, who collect ribbons in classes up to advanced (S) level winning more than 4 Mio. Euros in prize money, give prove of Calido's heredity power.
Sire legend Landgraf I, found in third generation, rounds the pedigree. Landgraf I influenced decisively the Holstein breeding by producing 102 licensed sons including significant trademark stallion such as Achill-Libero H, Lancer I-III or Landadel. Then, in fourth generation, Manometer xx brings the precious Thoroughbred-blood into the sporty pedigree of Sixpack.
Sixpack originates from the Holstein dam line 317 A, which is known for numerous licensed stallions and many 1.60m successful show jumpers including the int. CSI5* show jumper For Germany/Marcus Ehning or Lausbub/Achaz von Buchwald.
WFFS status: negative (NON carrier)
show more
Results
2021:
victorious Youngster class L level (1,20 m), score of  8.7, Nienburg
victorious Youngster class L level (1,20 m), score of  8.6, Wutzetz
12th place international Small Tour, CSI* Global Jumping Berlin
11th place international Small Tour, CSI* Global Jumping Berlin
3rd place Youngster class L level (1,20 m), score of 8.2, Scharnebeck
4th place Youngster class M level (1,30 m), score of 8.2, Pausin
4th place Youngster class L level (1,20 m), score of 8.3, Pausin
2nd place Youngster class L level (1,20 m), score of 8.6, Gadow
6th place Youngster class L level (1,20 m), score of 8.3, Neustadt/Dosse
6th place Youngster class L level (1,20 m), score of 8.1, Gadow
More

2020:

victoroius Youngster class A** level (1,15 m), score of 8.6, Pietzpuhl
2nd place Youngster class A*level (1,10m), score of 8.5, Pietzpuhl
4th place Youngster class A**level, score of 8.3, (1,15 m), Neustadt/Dosse
successful sport test in Münster-Handdorf with a score of 7.92
successful sport test in Verden with a score of 7.88

2019:

Reserve champion at his 14-day test with outstanding scores: There he received the dream score 10.0 for his excellent free-jumping. The final score with emphasis on jumping was 9.40, so, the final overall score was 8.68. Sixpack received the following subscores: 9.25 for character, 9.0 for temperament, 9.5 for willingness to perform, 8.9 for canter, 8.0 for rideabiltiy and 10.0 for free-jumping

2018:

licensed at the Mecklenburg licensing in Redefin
Approved for
Hanover, Oldenburg International (OS), Westphalia, Southern German studbooks, Rhineland, Poland